Tim
Despic
Composer
---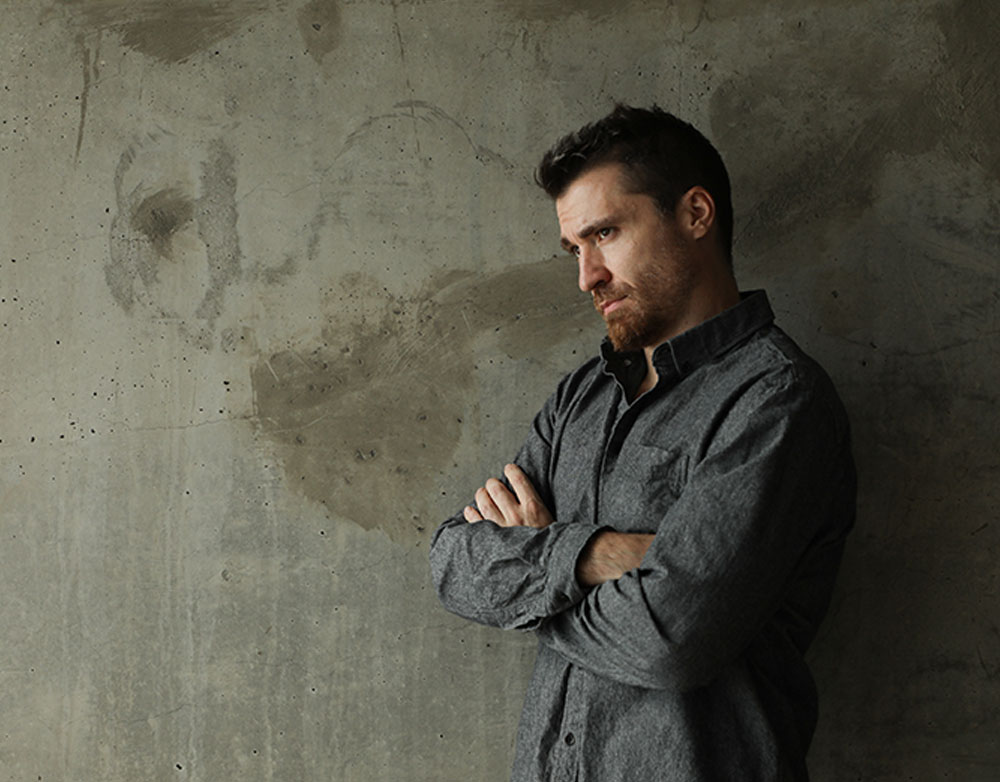 Tim Despic was born in Montreal Canada, and at age three his family immigrated to the United Kingdom. He was educated at the University of Bath where hegraduated with an honours degree in Politics and Economics. He been classically trained from a young age as a pianist and returned to university for a master's degree in Creative Music Technology from Newcastle University. He is a multi-instrumentalist specialises in traditional orchestrations fuzed with contemporary acoustic and electronic soundscapes. He cites Bernard Herman, Phillip Glass and Scott Walker amongst his main influences.
His recent film scores include The Courier starring Gary Oldman and Olga Kurylenko, the Lionsgate thrillers Heist (dir Scott Mann) starring Robert De Niro and Kate Bosworth and Precious Cargo (dir Max Adams) starring Bruce Willis. Along with the 2017 remake of the 1950 classic Dead On Arrival (dir Stephen Zepher).
In 2005 along with fellow composer and collaborator James Edward Barker he co-founded Veneration Music Ltd with a UK-based music production company, coordinating and composing scores for feature films. His first feature, The Best Man (2005 film) was an $11 m romantic comedy starring Seth Green, Stuart Townsend, Amy Smart and Simon Callow and was directed by Shooting Fish director Stefan Schwartz. He then went on to work with veteran director Robert Young, known for his comedies such as Fierce Creatures, the sequel to A Fish Called Wanda. In 2007, he scored the British ITV television production, The History of Mr Polly, starring Lee Evans, and the DVD–BBC release of Jim Threapleton's Extraordinary Rendition, starring Andy Serkis and Omar Berdouni. The film received critical acclaim and was nominated for awards or screened at a number of festivals including the British Independent Film Awards, Locarno and Edinburgh Film Festivals.
In 2007 he composed the score for Ashley Judd's role as a manic depressive in the Sundance selected Helen, directed by the critically acclaimed Sandra Nettelbeck of Mostly Martha. The score, described by Variety magazine as 'moody and evocative' , also featured cello performed by the Grammy Award winning David Darling (musician). He has also worked in tandem with the Relentless energy drink's company as an additional composer to score two features, Powers of Three and the groundbreaking – Lives of the Artists featuring Gallows (band) and world-renowned snowboarder Xavier de Le Rue.
In 2012 took an album's worth of songs he had written on various instruments for analogue specific recordings , and used them to form the London-based indie band Go Tell The Eskimo who within months were signed by Emmy Award winner Jim Roach (Salmon Fishing in the Yemen, The Internship) to US based indie label Red Parade and their subsequent recordings
secured them a publishing deal with the Los Angeles based Secret Road Music Services. While working as the band's songwriter, Tim wrote the track 'This Is Our Time' used as the 2015 Super Bowl Halftime track for Redfin's commercial campaign and also as the theme for NBCs 2014 Winter Olympics campaign.
In 2013-14 Tim signed a management deal with the American music industry executive and artist manager Justin Goldberg (Rage Against The Machine, Willie Nelson, Dave Grohl), formerly of Sony Music Entertainment, Red Light Management and Razor & Tie, to be managed by Measurement Arts. Tim's television broadcast credits include HBO's The Royals and The Office, NBC's Winter Olympics campaign, the 2015 Superbowl halftime commercial spot for Redfin, ABC's Switched At Birth, Mixology and Chasing Life, ITV's feature length period drama The History of Mr. Polly, starring Lee Evans, and co-composing for David Attenborough's The Bachelor King for Sky 3D and Imax cinema.
Tim also regularly composes for advertising campaigns including Shell, Nissan, Ford, HSBC, Heinz, Denny's, Wilkinson Sword, Sudafed, and Redfin. He has also completed numerous commissions for clients as diverse as Vodaphone, Audi, Kellogs, Guiness, Dove, 02 and Ralph Lauren.
FILM
Fall
Director: Scott Mann
Producers: David Haring, James Harris, Mark Lane, Scott Mann, Christian Mercuri
Starring: Grace Caroline Currey, Virginia Gardner , Mason Gooding
Game Show Hurt (Short)
Director: Elyes Gabel
Producers: Josh Foglio, Elyes Gabel
Starring: Elyes Gabel, Kevin Weisman, Glenn Keogh
The Courier
Angel Productions
Director: Zackary Adler
Producers: James Edward Barker, Marc Goldberg, David Haring
Starring: Olga Kurylenko, Gary Oldman, Dermot Mulroney
Final Score
thefyzz
Director: Scott Mann
Producers: Dave Bautista, Wayne Marc Godfrey, Marc Goldberg
Starring: Dave Bautista, Pierce Brosnan, Ray Stevenson
Grimshaw (Short)
Stay Cool Productions
Director: Elyes Gabriel
Producers: Christian Adkins, Cottrell Guidry, Krisd Mauga
Starring: Jonathan Kowalsky, Cottrell Guidry, Cornell Womack
Rise of the Footsoldier 3
Carnaby International
Director: Zackary Adler
Producers: Tiernan Hanby, Andrew Loveday, Michael Loveday
Starring: Craig Fairbrass, Terry Stone, Roland Manookian
Dead On Arrival
Boatyard Productions
Director: Stephen C. Sepher
Producers: Kim Barnard, Rory Fradella, Stephen C. Sepher
Starring: Scottie Thompson, Christa B. Allen, D.B. Sweeney
Leni. Leni. (Short) Rosebud Pictures
Director: Adrian Vitoria
Producers: John Adams, Alistair Audsley, Rosie Fellner
Starring: Hildegard Neil, Luca Matteo Zizzari, Rhydian Jones
Precious Cargo
Emmett/Furla/Oasis Films
Director: Max Adams
Producers: James Edward Barker, Randall Emmett, George Furla
Starring: Bruce Willis, Mark-Paul Gosselaar, Claire Forlani
FILM (CONTINUED)
Heist
Emmett/Furla/Oasis Films
Director: Scott Mann
Producers: Randall Emmett, George Furla, Robert Jones
Starring: Robert De Niro, Jeffrey Dean Morgan, Dave Bautista
The Elves and the Poomaker (Short)
Director: Frank Morris
Producer: Jesse Llande
Starring: Anthony Clegg, Ariana Fraval, Alexander Kirk
Adventures of the Penguin King (Additional Music)
Cinedigm Entertainment
Director: Anthony Geffen, Sias Wilson
Producer: Sias Wilson
Starring: Tim Allen
Penguins
Atlantic Productions
Director: Sias Wilson
Producers: Anthony Geffen, Sias Wilson
Starring: Tim Allen
Lives of the Artists (Additional Music)
Between the Eyes
Director: Ross Cairns
Producers: Rory Aitken, Ben Pugh, Charlotte Woodhead
Starring: Gallows, Xavier De Le Rue, Tom Lowe
Powers of Three (Short)
Between the Eyes
Director: Ross Cairns
Producers: Rory Aitken, Ben Pugh
Starring: Fergal Smith, Tom Lowe, Mickey Smith
Helen
Egoli Tossell Film
Director: Sandra Nettelbeck
Producers: Christine Haebler, Judy Tossel
Starring: Ashley Judd, Goran Visnjic, Lauren Lee Smith
Reverb
Swipe Films
Director: Eitan Arrusi
Producer: Frank Mannion
Starring: Leo Gregory, Eva Birthistle, Margo Stilley
FILM (CONTINUED)
Extraordinary Rendition (Additional Music)
Ultrafilm
Director: Jim Threapleton
Producer: Andrew Noble
Starring: Omar Berdouni, Andy Serkis, Ania Sowinski
Dog's Mercury (Short)
Warp Films
Director: Martin Radich
Producer: Jane Hooks
Starring: Georgia Leggett, Mike Rowland, Ryan Mitchell
Pocket Thief (Short)
Mann Made Films
Director: Scott Mann
Producer: Keith Bell
Starring: Daymon Britton, Bill Fellows
The Chaos Theory
Fat Cats Productions
Directors: Ali Marshall, Si Tapley
Producers: James Edward Barker, Ali Marshall
Starring: Tom Emerson, Daz Jones, Ali Marshall
Bye Bye Harry!
Banana Films
Director: Robert Young
Producers: Gabriela Bfändner, Alexander Thies
Starring: Tim Dutton, Veronica Ferres, Iddo Goldberg
The Best Man
Endgame Entertainment
Director: Stefan Schwartz
Producer: Neil Peplow
Starring: Stuart Townsend, Seth Green, Amy Smart
SERIES
Great British Hairdresser
Splash Media/E4
Producer: Steven Kidgell
The Betty Driver Story (TV Documentary)
ITV Films
Director: Scott Mann
Producers: Sarah Cain, Scott Mann
Starring: Betty Driver
The History of Mr Polly (TV Film)
Granada Television/ITV
Director: Gillies MacKinnon
Producers: Michele Buck, Katherine Lannon, Damien Timmer
Starring: Lee Evans, Anne-Marie Duff, Julie Graham