Stefan Wesołowski
Composer
---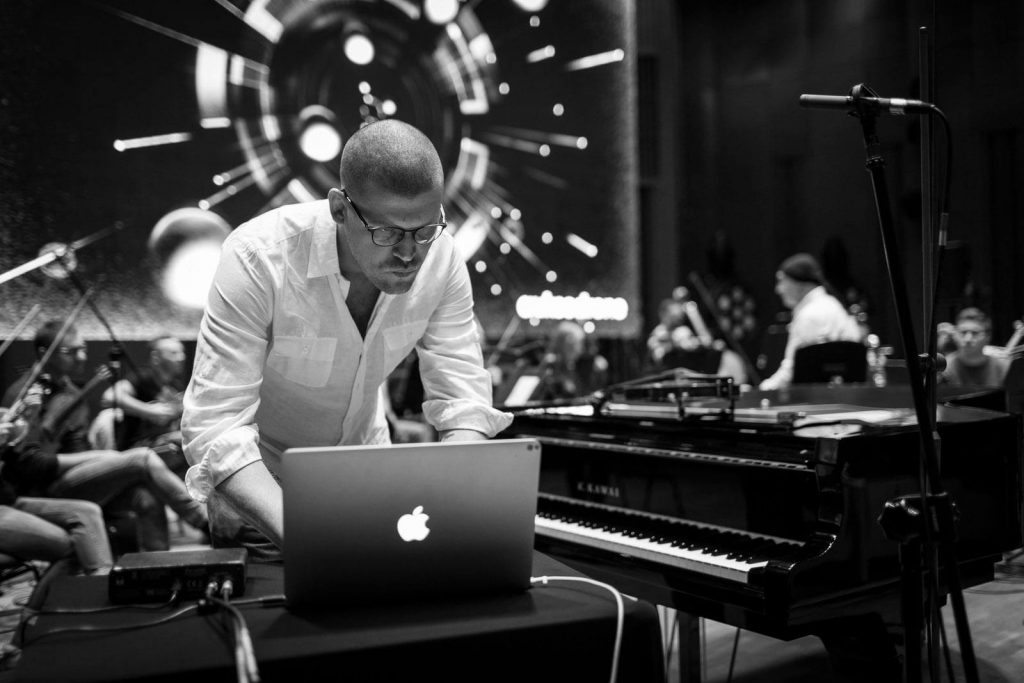 A Polish, Gdansk-born composer and violinist, graduate of Academie Musicale de Villecroze, currently working with a British publisher Mute Song (Nick Cave, Swans, Ben Frost, Max Richter and many others), an American label Important Records (Pauline Oliveros, Coil, Josef van Wissem, Eliane Radigue) and a French label Ici D'ailleurs (Chapelier Fou, Yann Tiersen). He is an author of three critically acclaimed original albums.
Wesołowski's album "Liebestod" was first presented to the audience in October 2013 at Unsound Festival. Published by Important Records, the material was enthusiastically received by international critics. An infuential American portal Indie Shuffe described the album as "real dope," a Canadian magazine Textura reviewed it as "provocative, surprising and moving" and a Dutch Caleidoscoop as a "breathtaking masterpiece.".
His next album "Rite of the End" received a great international recognition. The most important British music magazine UNCUT reviewed it as "Horribly satisfying!" and put on the highlights of the Month, as well as WIRE magazine and many more. The album was awarded Album of the Year 2017 by major Polish daily Gazeta Wyborcza and by international music platform Beehy.pe. "Had Wesołowski lived in the 19th century, he would be on pages of music history textbooks now"- wrote Jacek Hawryluk, a journalist of national PR2 radio. The album was also nominated for "Paszport Polityki 2017" – the most prestigious Polish award for artists.
One of the most important areas of Wesołowski's work is film music. His latest work is an original score to "Wolf" by Nathalie Biancheri (Focus Features) – an arthouse drama starring Lily-Rose Depp and George MacKay, world premiered at 2021 Toronto International Film Festival. He is also an author of original soundtrack to "Listen to me Marlon" (Universal) – BAFTA-nominated and OSCAR-shortlisted documentary on Marlon Brando directed by Stevan Riley, HBO documentary "Love Express. The Disappearance of Walerian Borowczyk" directed by Kuba Mikurda and "Escape to the Silver Globe" – a documentary on a cult director Andrzej Żuławski. He is also an author of the music for the Netflix Original animated series "Kayko & Kokosh" based on cult Polish comic book.
FILM
Wolf
Focus Features
Director: Nathalie Biancheri
Producer: Jessie Fisk
Starring: Lily-Rose Depp, George MacKay, Paddy Considine
Escape to the Silver Globe
DI Factory
Director: Kuba Mikurda
Producers: Daria Maslona, Stanislaw Zaborowski
Starring: Malgorzata Braunek, Andrzej J. Jaroszewicz, Andrzej Seweryn
Bartkowiak
Netflix
Director: Daniel Markowicz
Producers: Daniel Markowicz, Mike Zawadzki
Starring: Jozef Pawlowski, Zofia Domalik, Szymon Bobrowski
Tony Halik
Mayfly
Director: Marcin Borchardt
Producers: Karolina Galuba, Malgorzata Malysa, Ewa Szwarc
Starring: Elzbieta Dzikowska, Tony Halik
Love Express. The Disappearance of Walerian Borowczyk
Altered Innocence
Director: Kuba Mikurda
Producers: Danuta Krasnohorska, Katarzyna Siniarska
Starring: Thierry Bazin, Bertrand Bonello, Walerian Borowcyck
Listen to Me Marlon (Documentary)
Universal Pictures
Director: Stevan Riley
Producers: John Battsek, George Chingnell, R.J. Cutler
Starring: Marlon Brando, Stella Adler, Bernardo Bertolucci
SERIES
Kayko and Kokosh
Netflix Animation
Director: Lukasz Kacprowicz, Marcin Wasilewski, Robert Jaszczurowski,|Michal Sledzinski
Producers: Robert Jaszczurowski, Lukasz Kacprowicz, Marcin Wasilewski
Starring: Artur Pontek, Michal Piela

Kroniki Zarazy
Hueckel Studio
Director: Tomasz Sliwinski
Producers: Tomasz Sliwinski
Starring: Lena Frankiewicz, Tomasz Maslakowski
Television Theater (Episode)
Telewizja Polksa (TVP) – I Program
Director: Jaroslaw Tumidajski
Producers: Anna Kulawik-Rzonca
Starring: Paulina Galazka, Arkadiusz Janiczek,
Artur Zmijewski
SHORT FILM
One Dreams, the Other Doesn't
Mazurkiewicz Produkcja Filmowa
Director: Lukasz Machowski
Producers: Katarzyna Mazurkiewicz
I Dreamed of Seeing Myself
Moxiejoe
Director: Jamal Ademola
Producers: Cat Miles, Kris Simms, Sumer Zuberi
Starring: Yrsa Daley-Ward