Roger
Neill
Composer
---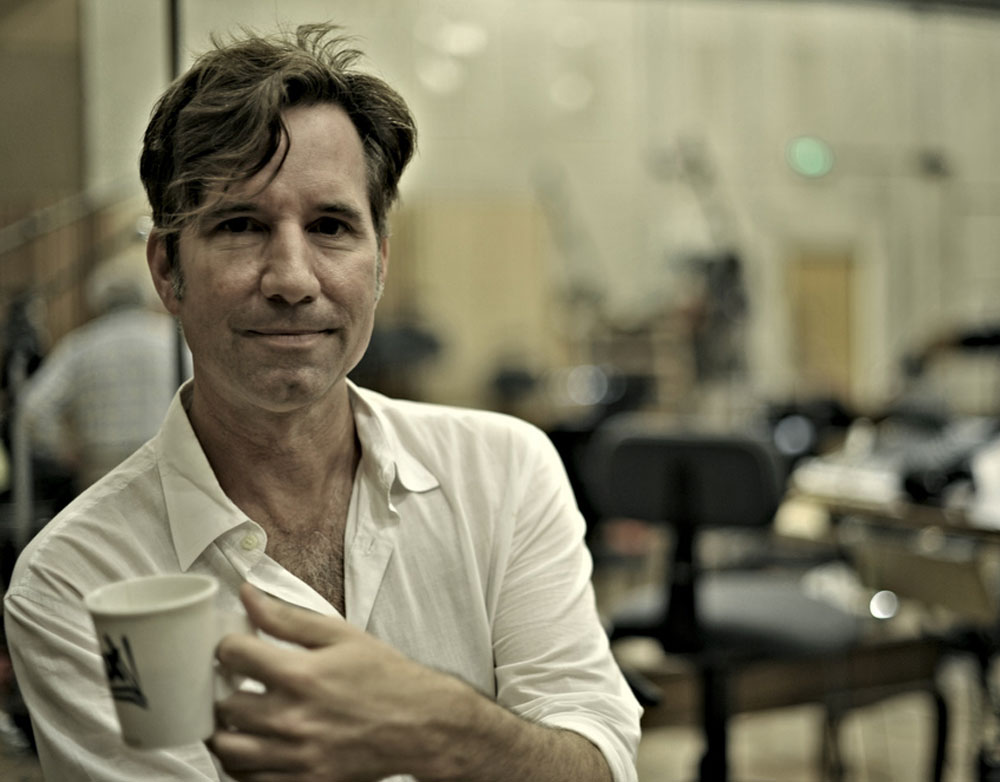 Roger Neill is an LA-based composer, orchestrator, and musician. He is
perhaps best known for his work on films and special projects with director Mike
Mills, including A24's 20th Century Women, and Focus Features' Beginners,
as well as his work on FOX's King of the Hill and Amazon's Mozart in the
Jungle. Throughout his career, Roger has received high recognition for his work,
including multiple Emmy nominations, as well as ASCAP and BMI TV Music
Awards.
Neill's most recent work includes two films for emerging director Rachel
Goldenberg, Valley Girl (MGM), and Unpregnant (HBO Max), as well as the
independent feature Alex/October which screened at the Dances With Films
festival in Los Angeles recently, and the upcoming Three Months for MTV
Studios.
A multi-instrumentalist, Roger began playing music early, and went on to earn a
degree in composition from USC and a PhD from Harvard. Roger has arranged,
conducted, and orchestrated music for a number of artists, including a long-time
collaboration with French band AIR, for which he served as conductor and
arranger for their legendary concerts in LA and Paris.
In addition, Roger has collaborated with Ira Glass on the film Don't Think
Twice and on his beloved podcast This American Life, as well as the animated
Adult Swim series JJ Villard's Fairy Tales.
FILMS
Three Months (Upcoming)
MTV Studios
Director: Jared Frieder
Producers: Jared Frieder
Starring: Brianne Tju, Scott Daniel Johnson, Carlos Guerro
Alex/October
One Good Man Productions
Director: Josh Hope
Producers: Lisa J. Freberg, Josh Hope, Tara Shayne
Starring: Ethan Cutkosky, Rivkah Reyes, Stacy Edwards
Unpregnant
HBO Max
Director: Rachel Goldenberg
Producers: Greg Berlanti, Erik Feig, Sarah Schechter
Starring: Haley Lu Richardson, Barbie Ferreira, Giancarlo Esposito
Valley Girl
MGM
Director: Rachel Goldenberg
Producers: Matt Smith, Steven J. Wolfe
Starring: Mae Whitman, Chloe Bennet, Jessica Rothe
Like Father
Netflix
Director: Lauren Miller
Producers: Anders Bard, Amanda Bowers, Molly Conners
Starring: Kristen Bell, Seth Rogen, Kelsey Grammer
A Kid Like Jake
Bankside Films
Director: Silas Howard
Producers: Paul Bernon, Eric Norsoph, Jim Parsons
Starring: Priyanka Chopra, Claire Danes, Jim Parsons
20th Century Women
Annapurna Pictures
Director: Mike Mills
Producers: Anne Carey, Megan Ellison, Youree Henley
Starring: Elle Fanning, Alia Shawkat, Billy Crudup
Don't Think Twice
Cold Iron Pictures
Director: Mike Birbiglia
Producers: Miranda Bailey, Amanda Marshall, Mike Birbiglia
Starring: Keegan-Michael Key, Gillian Jacobs, Kate Micucci
* SXSW 2016 Headliner Premiere
Max Rose (Additional Music, Music Supervisor)
Lightstream Pictures
Director: Daniel Noah
Producers: Lawrence Inglee, Garrett Kelleher
Starring: Kevin Pollak, Jerry Lewis, Kerry Bishé
A Glimpse Inside the Mind of Charles Swan III
American Zoetrope
Director: Roman Coppola
Producers: Roman Coppola, Youree Henley
Starring: Charlie Sheen
Beginners
Olympus Pictures
Director: Mike Mills
Producers: Miranda de Pencier, Lars Knudsen, Leslie Urdang
Starring: Ewan McGregor, Christopher Plummer, Mélanie Laurent
Tanner Hall
Two Prong Lesson
Director: Tatiana von Furstenberg, Francesca Gregorini
Producers: Julie Snyder, Tatiana von Furstenberg
Starring: Rooney Mara, Brie Larson, Georgia King
The Brothers Bloom (Music Arranger, Orchestrator)
Endgame Entertainment
Director: Rian Johnson
Producers: Ram Bergman, James D. Stern
Starring: Rachel Weisz, Adrien Brody, Mark Ruffalo
Scar
Norman Twain Productions
Director: Jed Weintrob
Producers: Douglas Berquist, Jamie Gordon, Courtney Potts
Starring: Angela Bettis, Kirby Bliss Blanton, Ben Cotton
Take
Crossing Paths
Director: Charles Oliver
Producers: Chet Thomas
Starring: Jeremy Renner, Minnie Driver
Griffin & Phoenix
Sidney Kimmel Entertainment
Director: Ed Stone
Producers: Jason Blum, Paul Brooks, Amy Israel, Sidney Kimmel
Starring: Dermott Mulroney, Amanda Peet
Stranger Than Fiction (Orchestral Arranger)
Columbia Pictures
Director: Marc Forster
Producers: Lindsay Doran
Starring: Will Ferrell, Maggie Gyllenhaal
Marie Antoinette (Historic Music Consultant)
Columbia Pictures
Director: Sofia Coppola
Producers: Sofia Coppola, Ross Katz
Starring: Kirsten Dunst, Jason Schwartzman
The Killer Within (Documentary)
OpalEye Productions
Director: Macky Alston
Producers: Sandra Itkoff
Starring: Bob Bechtel
The F Word
DitlevFilms
Director: Jed Weintrob
Producers: Christian D. Bruun, Nicholas Goldfarb
Starring: Josh Hamilton, Yul Vazquez
On_Line
Plinyminor
Director: Jed Weintrob
Producers: Adam Brightman, Tanya Selvaratnam
Starring: Josh Hamilton, Harold Perrineau
CQ (Orchestrator, Score Collaboration with Mellow)
United Artists
Director: Roman Coppola
Producers: Gary Marcus
Starring: Jeremy Davies, Jason Schwartzman, Billy Zane
Trixie (Co-Composer)
Pandora Cinema
Director: Alan Rudolph
Producers: Robert Altman
Starring: Emily Watson, Nick Nolte, Dermott Mulroney
Where the Money Is (Co-Composer)
Gramercy Pictures
Director: Marek Kanievska
Producers: Tony Scott, Ridley Scott, Charles Weinstock
Starring: Paul Newman, Linda Fiorentino
Big Monster on Campus
Regent Entertainment
Director: Mitch Marcus
Producers: Paul Colichman, Mark R. Harris
Starring: Matthew Lawrence, Justin Walker, Christine Lakin
Taxman
Counterclock Productions
Director: Avi Nesher
Producers: Kathy Jordan, Avi Nesher
Starring: Joe Pantoliano, Elizabeth Berkley, Michael Chiklis
Free Money (Additional Music, Orchestrator)
Filmline International
Director: Yves Simoneau
Producers: Nicolas Clermont
Starring: Marlon Brando, Donald Sutherland, Charlie Sheen
Bury Me in Kern County
Krank Production
Director: Julien Nitzberg
Producers: Hayley Marcus Simpson, Rachel Winter
Starring: Judson Mills, Mary Lynn Rajskub, Johnny Strong
Under Oath
Concorde-New Horizons
Director: Dave Payne
Producers: Cheryl Parnell
Starring: Eddie Velez, Abraham Benrubi, Robert LaSardo
Savage
Conquistador Entertainment
Director: Avi Nesher
Producers: Avi Nesher
Starring: Olivier Gruner, Jennifer Grant, Kario Salem
SERIES
Mozart in the Jungle (Music Producer and Composer)
Amazon
Director: Paul Weitz
Producers: Caroline Baron, Michael Zakin
Starring: Gael Garcia Bernal, Malcolm McDowell, Bernadette Peters
Mom (Music Consultant)
CBS
Producers: Chuck Lorre, Eddie Gorodetsky, Gemma Baker
Starring: Allison Janney, Anna Faris
Experience 3D
Discovery
Producers: Nicholas Goldfarb, Jed Weintrob
Starring: Josh Hamilton
Mongo Wrestling Alliance
Adult Swim
Producers: Ollie Green, Raduca Kaplan, Jukka Montonen
Starring: Pamela Adlon, Georgette Perna, Tommy Blacha
King Star King (Pilot)
Adult Swim
Producers: J.J. Villard
Gimme Shelter (Pilot) Warner Bros TV
Producers: John Wells
Starring: Sissy Spacek, Janeane Garofalo, Skeet Ulrich
King of the Hill
Fox
Producers: Joseph A. Boucher, Norm Hiscock, Sivert Glarum
Starring: Mike Judge, Kathy Najimy, Pamela Adlon
The Simple Life (20 Episodes)
E!
Producers: Jeff Jenkins, Farnaz Farjam, Patrick Murphy
Starring: Paris Hilton, Nicole Richie
The Weekenders
Disney Channel
Producers: Douglas Langdale
Starring: Kath Soucie, Grey DeLisle, Phil LaMarr
A.U.S.A.
NBC
Producers: Scott Foley, Robert Lloyd Lewis, Al Lowenstein
Starring: Scott Foley, Amanda Detmer, Eddie McClintock
The Lone Ranger (TV Movie)
TNT
Director: Jack Bender
Producers: Suzanne Daniels, Stacy Title, Jonathan Penner
Starring: Chad Michael Murray, Nathaniel Arcand, Anita Brown
UC: Undercover (Co-Composer)
NBC
Producers: Regis Kimble, Erik Bork, Thomas Carter
Starring: Vera Farmiga, Oded Fehr, Jon Seda
Chicago Hope (22 Episodes)
Fox
Producers: David E. Kelly, John Tinker, Tim Kring
Starring: Adam Arkin, Hector Elizondo, Peter Berg
Renegade
USA
Producers: Stu Segall, Bill Nuss, Richard C. Okie
Starring: Lorenzo Lamas, Branscombe Richmond, Kathleen Kinmont
Roughnecks
BBC One
Producers: Charles Elton, Moira Williams
Starring: Liam Cunningham, Clive Russell
Silk Stalkings
USA
Producers: Stu Segall, David E. Peckinpah, Kim LeMasters
Starring: Charlie Brill, Mitzi Kapture, Rob Estes
RADIO
This American Life
NPR
Producers: Ira Glass, Julie Snyder, Nancy Updike