Paul
Buckley
Composer
---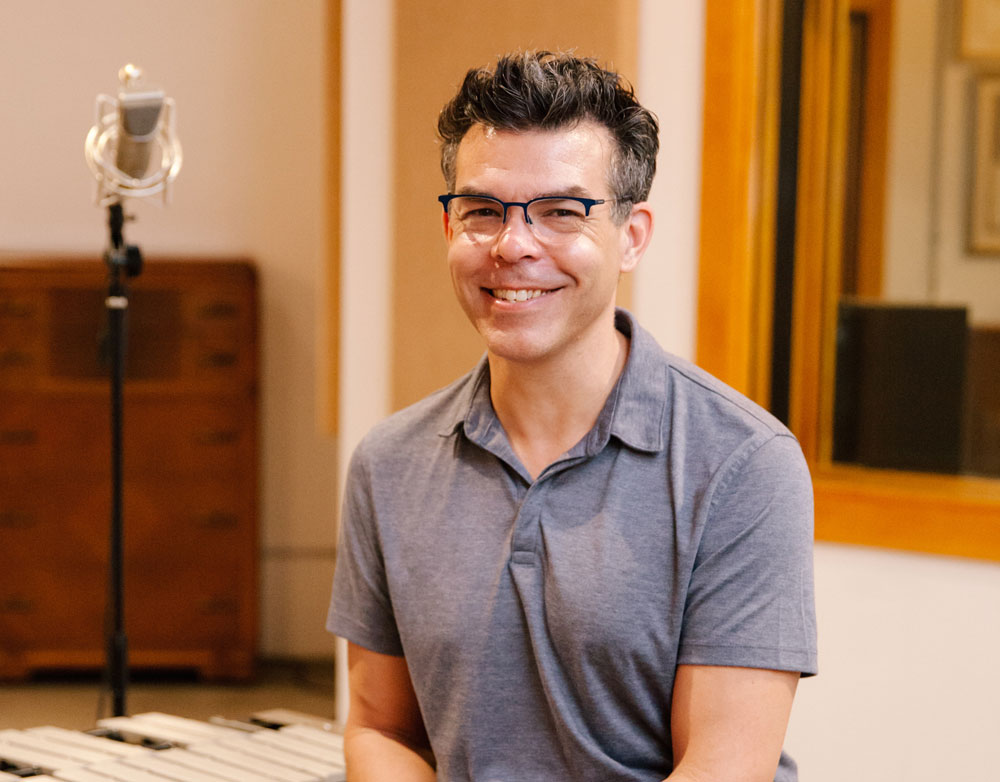 Paul Buckley earned his BA in Media Studies from Pomona College in 1992, and quickly found a musical home in the Burbank studio of now-retired "Seinfeld" composer Jonathan Wolff. Buckley scored dozens of television comedies as part of Wolff's team, including NBC's hit Will & Grace and FOX's critically acclaimed Action, before leaving in 2001.
In the ensuing years, and across a succession of workspaces that included a Chinatown art gallery, Buckley wrote songs and scores for feature films (Happily N'ever After, Happily N'ever After 2 from Lionsgate), animated series (Wallykazam, Spaceballs: The Animated Series), and a steady stream of prime time TV comedies (Oliver Beene, 2 Broke Girls).
In 2015, Buckley built a new studio in downtown Los Angeles, designed to be a permanent professional home for an ever-broadening scope of work, with a recent focus on kids' TV (Octonauts, Odd Squad, Ada Twist ). His most recent project is Go Dog Go from DHX Media and DreamWorks Animation.
The composer's wife, Leticia, is Senior Civic Strategist at The Music Center. They have a fifteen-year-old daughter, Liliana, and a ten-year-old son, Miles.
FILM
Journeys (Upcoming)
Moonlight Man Productions
Director: Olive Gallagher
Producers: Dawn Green
Starring: James Morrison, Laila Robins, Julie Fain Lawrence
Hatched (Short)
Jora Creative
Director: Rachel Annette Helson
Producers: Josh Banks, Rachel Annette Helson
Starring: Melissa Ponzio, Nicole Pacent, Josh Banks
Odd Squad: The Movie
PBS
Director: J.J. Johnson
Producers: Blair Powers, Paul Siefken
Starring: Millie Davis, Olivia Presti, Isaac Kragten
BFFs
Sneaky Pete Productions
Director: Andrew Putschoegl
Producers: Andrea Grano, Tara Karsian
Starring: Larisa Oleynik, Sean Maher, Pat Carroll
Happily N'Ever After 2
Lionsgate
Director: Steven E. Gordon, Boyd Kirkland
Producers: Loris Kramer Lunsford, Jason Netter, Susan Norkin
The Eye (Additional Songs)
Lionsgate
Director: David Moreau, Xavier Palud
Producers: Tom Cruise, Don Granger, Paula Wagner
Starring: Jessica Alba
Happily N'Ever After
Lionsgate
Director: Paul Bolger
Producers: John H. Williams
Starring: Sarah Michelle Gellar, Freddie Prinze Jr., Siqourney Weaver, George Carlin
SERIES
Ada Twist, Scientist (Composer)
Netflix
Producers: Chris Nee, Barack Obama, Michelle Obama, Andrea Beaty, Mark Burton
Starring: Amanda Christine, Nicholas Crovetti, Taye Diggs
Go Dog, Go! (Composer, Songs)
Netflix
Producers: Morgana Duque | Adam Peltzman
Starring: Michela Luci, Callum Shoniker, Lyon Smith
Octonauts and the Great Barrier Reef (Composer, Songs)
Netflix
Producers: Kim Dent Wilder, Michael Hefferon, Rachel Simon
Starring: Teresa Gallagher, Simon Greenall, Richard Grieve
Helpsters (Composer, Songs)
Apple TV+
Producers: Alex Fox, Rachel Lewis, Michael J. Cargill, Jackie Stolfi
Starring: Jennifer Barnhart, Stephanie D'Abruzzo, Ingrid Hansen
Odd Squad
PBS
Director: Ryan McFaul
Producer: Koyalee Chanda
Wallykazam
Nick Jr.
Producers: Adam Peltzman, Koyalee Chanda
Starring: Dan Bittner, Thomas Langston, Jorge Vega
2 Broke Girls (Additional Music)
CBS
Producers: Michael Patrick King, Whitney Cummings
Starring: Kat Dennings, Beth Behrs, Garrett Morris
$#*! My Dad Says
CBS
Producers: David Kohan, Max Mutchnick, Jeffrey Astrof, Justin Halpern
Starring: William Shatner, Jonathan Sadowski, Nicole Sullivan
Sherri
Lifetime
Producers: David Flebotte, Nina Wass, Werner Walian, Gene Stein
Starring: Sherri Shepherd
Gary Unmarried
CBS
Producers: Ed Yeager, Ric Swartzlander
Starring: Jay Mohr, Larry Miller, Ashley Farley
Hot in Cleveland (Pilot)
TV Land
Producers: Suzanne Martin, Sean Hayes, Todd Milliner, Bob Heath
Starring: Valerie Bertinelli, Jane Leeves, Wendie Malick, Betty White
SERIES (CONTINUED)
Retired at 35 (Pilot)
TV Land
Producers: Christopher Case, Michael Hanel, Mindy Schultheis
Starring: George Segal, Johnathan McClain, Josh McDermitt, Ryan Michelle Bathe
Do Not Disturb
FOX
Producers: Carolyn Bernstein, Brian Dobbins, H.T. Owens
Starring: Alina Andrei
Untitled David Kohan/Max Mutchnick Project (Pilot)
ABC
Producers: David Kohan, Max Mutchnick
Starring: Ayda Field, Josh Cooke, Diana-Maria Riva
The Fleeps (Pilot)
Nickelodeon
Producers: Tim McKeon
Spaceballs: The Animated Series
BFC Berliner Film Companie
Producers: Mel Brooks, Antje Burkard, Lawrence Longo
Starring: Mel Brooks, Daphne Zuniga
Roommates (Pilot)
ABC Family Channel
Producers: Franco Bario, Robin French, Kieron Quirke
Starring: David Weidoff
Back to You
FOX
Producers: Steve Levitan, Christopher Lloyd, Andy Gordon, Gail Lerner
Starring: Ty Burrell, Kelsey Grammar, Patricia Heaton, Laura Marano
Out of Jimmy's Head
Cartoon Network
Producers: David Brookwell, Bruce Hurwit, Eric Kaplan, Timothy McKeon
Starring: Dominic Janes, Jon Kent Ethridge, Bill Dwyer, Matt Knudsen
Thick and Thin
NBC
Producers: Lorne Michaels, Paula Pell, JoAnn Alfano
Starring: Jessica Capshaw, Sharon Gless
Twins
WB
Producers: David Kohan, Max Mutchnick
Starring: Sara Gilbert, Melanie Griffith
Breadwinners
ABC Family Channel
Producers: Gale Anne Hurd, Stephen Tao
Starring: Jordan Belfi, Elizabeth Bogush
Will & Grace (Special Material)
NBC
Producers: David Kohan, Max Mutchnick
Starring: Eric McCormick, Debra Messing, Megan Mullally, Sean Hayes
Living With Fran
WB
Producers: Fran Drescher, Jamie Kennedy
Starring: Fran Drescher, Branden Williams
Less Than Perfect (Special Material)
ABC
Producers: Dionne Kirschner, Robert Heath
Starring: Sara Rue, Andy Dick, Eric Roberts
Dick Van Dyke Revisited
CBS
Producer: Carl Reiner
Starring: Dick Van Dyke, Mary Tyler Moore, Ray Romano
Oliver Beene
FOX
Producer: Jeff Morton
Starring: Grant Rosenmeyer, Grant Shaud
The Alan Brady Show*
TV Land
Producer: Carl Reiner
Starring: Carl Reiner
Go Fish*
NBC
Producer: Adam Herz
Starring: Kieran Culkin, Andy Dick, Joe Flaherty
SERIES (CONTINUED)
Rude Awakening*
Showtime
Producer: Peter Guber
Starring: Sherilyn Fenn, Lynn Redgrave, Mario Van Peebles
Ladies Man*
CBS
Producer: Chris Thompson
Starring: Alfred Molina, Sharon Lawrence, Betty White
Smart Guy
WB
Producer: Suzanne Coston
Starring: Tahj Mowry, John Marshall Jones, Essence Atkins
Unhappily Ever After
WB
Producer: Ron Leavitt
Starring: Nikki Cox, Geoffrey Pierson, Bob Goldthwait
Malcolm & Eddie
UPN
Producer: David W. Duclon
Starring: Malcolm-Jamal Warner, Eddie Griffin
Action
FOX
Producers: Ted Demme, Joel Silver
Starring: Jay Mohr, Illeana Douglas, Buddy Hackett
The Hughleys*
UPN
Producers: Bob Greenblatt, David Janollari
Starring: D.L. Hughley, Elise Neal
Talk To Me*
ABC
Producer: Marshall Boone
Starring: Beverly D'Angelo, Kyra Sedgwick
Movie Stars*
WB
Producer: Wayne Lemon
Starring: Harry Hamlin, Jennifer Grant
The Army Show*
WB
Producer: J.J. Wall
Starring: David Anthony Higgins, Craig Anton
Alright Already
WB
Producer: Stephen Engel
Starring: Carol Leifer, Amy Yasbeck
Holding The Baby
FOX
Producer: Rosalind Moore
Starring: Jon Patrick Walker, Eddie McClintock
You're The One
WB
Producer: Max Tash
Starring: Cynthia Geary, Elon Gold
Kelly Kelly*
WB
Producer: David A. Caplan
Starring: Shelley Long, Robert Hays
Head Over Heels*
UPN
Producer: Jeff Franklin
Starring: Peter Dobson, Eva LaRue Callahan
Townies
ABC
Producers: Marcy Carsey, Tom Werner
Starring: Molly Ringwald, Jenna Elfman
That's Life
ABC
Producer: Eric Gilliland
Starring: Gerry Red Wilson, Nadia Dajani
Can't Hurry Love
CBS
Producer: Jonathan Axelrod
Starring: Nancy McKeon, Louis Mandylor
*Theme Music