Michael Kramer
Composer
---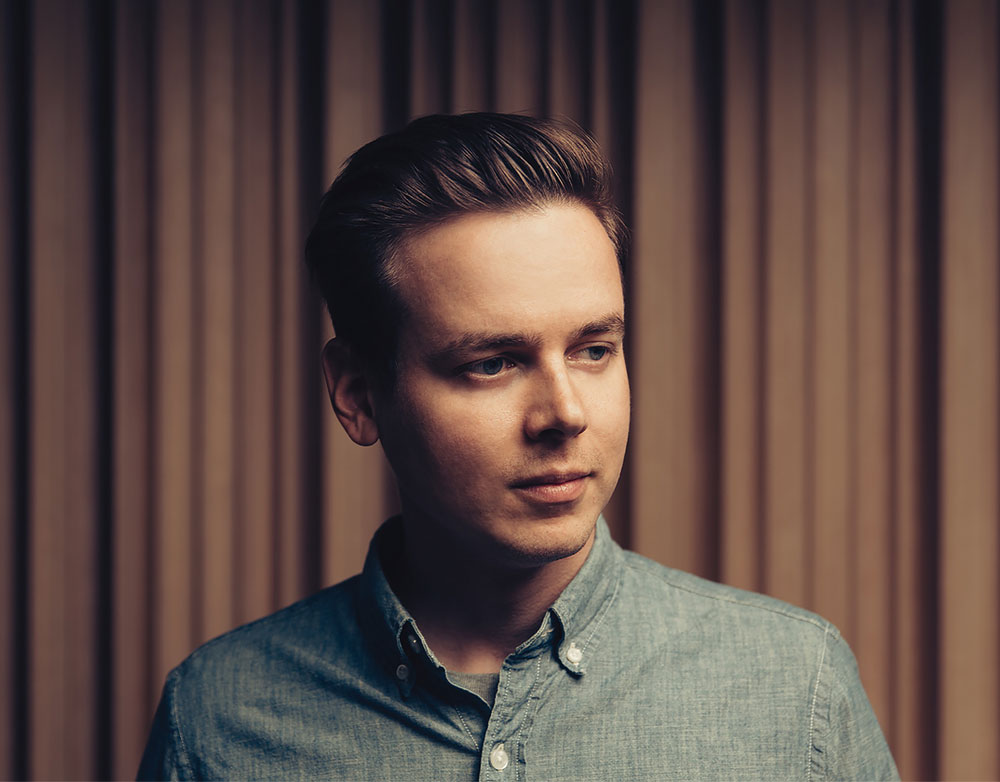 Michael Kramer is an Emmy nominated composer and multi-instrumentalist for film, television, and video games. A graduate of USC's prestigious film scoring program, he currently scores the hit Cartoon Network TV series LEGO Ninjago: Masters of Spinjitsu, for which he received a 2020 Emmy Award nomination. At almost 10 years and counting, the show is the network's longest running animated program and airs in more than 30 countries.

In 2019, Disney Imagineering recruited Michael to write and produce several new tracks for Galaxy's Edge, the highly anticipated new land in both Disneyland and Disney World. Playing in the Oga's Cantina attraction, one of his featured tracks is a follow up to the legendary "Cantina Song" from the original Star Wars film.
Other recent TV credits include the new Disney+ show Disney Gallery: The Mandalorian, Netflix's Healing Powers of Dude, Dreamworks TV's Rhyme Time Town, the original HULU series Complete Works , CBS Sports' Ball Up, and Disney XD's LEGO STAR WARS: The Freemaker Adventures, for which he was also nominated for an 2017 Emmy. A seasoned composer for documentaries, Michael's retro synth inspired score to Beaver Trilogy Part IV premiered at Sundance in 2015. On the big screen, Michael's music can heard in Furious 7 , Thor: The Dark World, and Teenage Mutant Ninja Turtles, on which he collaborated with Brian Tyler. His video game credits include Need For Speed: The Run, Assassin's Creed: Black Flag, and Assassin's Creed: Unity. He has scored commercial campaigns for companies like Office Depot, Motorola, LEGO, Pringles, NutriBullet, and the Air National Guard.
Raised in Chicago by a master woodworker, Michael approaches each score like a carpenter with a keen eye for craftsmanship. Combining a spirit of inventiveness with meticulous attention to detail, he believes that materials matter, and uses his expansive collection of instruments and cutting edge technology to craft a score uniquely fitting of each project. A passion for the process of filmmaking lies at the core of his work, and through collaborating with directors and producers, Michael loves the challenge of guiding a project from the script to the final mix.
SERIES
Ninjago
Wil Film / Wildbrain
Producers: Torsten Jacobsen, Erik Wilstrup
Starring: Vincent Tong, Kirby Morrow, Michael Adamthwaite
*2015 Annie Award Nominee – Outstanding Achievement for Music in an Animated Television/Broadcast Production
*2020 Daytime Emmy Awards Nominee – Outstanding Music Direction and Composition Disney
A Tale Dark & Grimm
Netflix
Producers: Bug Hall, David Henrie, Lorenzo James Henrie Starring: Scott Adsit, Eric Bauza, Nicole Byer
A Ghost and Molly McGee
Disney Channel
Producers: Steve Loter, Bill Motz, Bob Roth Starring: Ashly Burch, Dana Snyder, Pamela Adlon
He-Man and the Masters of the Universe
Netflix
Director: Matt Ahrens
Producers: Susan Corbin, Jeff Matsuda, Robert David, Fred Soulie Starring: Kimberly Brooks, Antony Del Rio, Trevor Devall
Disney Gallery: The Mandalorian
Disney +/ M3 Creative
Director: Brad Baruh
Executive Producer & Creator: Jon Faverau
Rhyme Town Singalong
Netflix
Director: Douglas Shorts
Starring: Maddie Evans, Antonio Mattera
The Lego Starwars Holiday Special
Disney+
Producers: Daniel Cavey, Daniel Langlois
Starring: A.J. LoCascio, Anthony Daniels, Ben Prendergast
The Lego Starwars Terrifying Tales
Disney+
Director: Ken Cunningham
Producers: Daniel Cavey, Daniel Langlois
Starring: A.J. LoCascio, Barbara Goodson, Christian Slater
The Lego Starwars Summer Vacation
Disney+
Director: Ken Cunningham
Producers: Daniel Cavey, Daniel Langlois
Starring: "Weird Al" Yancovic, Allie Feder, Anthony Daniels
The Lego Starwars All Stars
LucasFilm / Disney XD
Producers: Jake Blais, Jason Coster, John McCormack, Josh Rimes, Irene Sparre Hjorthoj,
Starring: Matthew Wood, John DiMaggio, Dana Snyder, Josh Peck
Novelmore
Atlas Brave
Producers: Frederik Budolph-Larsen, Martin Skov
Starring: Zach LeBlanc, Claire Margaret Corlett, Aidan Drummond
The Dream (Pilot)
Atlas Brave
Producers: Ron Najor
Starring: Micah Bijon, Mark Christopher Lawrence, Kaleti Williams
The Healing Powers of Dude
Netflix
Director: Richie Keen
Producers: Sam Littenberg-Weisberg, Chris Phillips, Erica Spates
Starring: Laurel Emory, Mauricio Lara, Jace Chapman
Rhyme Time Town
Dreamworks Animation/Netflix/Doberman Pictures
Producers: Eric Shaw, Jim Corbett
Starring: Luke Amis, Annabelle Westenholz-Smith
Lego Star Wars: The Freemaker Adventures
LEGO / Disney XD
Creators: Bill Motz, Bob Roth
Starring: Vanessa Lengies, Grey DeLisle, Nicolas Cantu
*2017 Daytime Emmy Awards Nominee – Outstanding Music Direction and Composition
*2018 Annie Award Nominee – Outstanding Achievement for Music in an Animated Television/Broadcast Production
Ninjago: Masters of Spinjitzu – Day of the Departed (TV Film)
Wil Film / LEGO / Cartoon Network
Director: Peter Hausner
Producers: Tommy Andreasen, Louise Barkholt, Nelson LaMonica
Starring: Vincent Tong, Kirby Morrow, Michael Adamthwaite
Ninjago: Masters of Spinjitzu
Wil Film / LEGO / Cartoon Network
Producers: Torsten Jacobsen, Erik Wilstrup
Starring: Vincent Tong, Kirby Morrow, Michael Adamthwaite
The Bellmen
June Street Productions
Director: Cameron Fife
Producers: Jason Adler, Cameron Fife
Starring: Kelen Coleman, Calum Worthy, Malcolm Goodwin
SERIES (CONTINUED)
Life on the Road
One Media Productions / Machinima
Producers: Robert Keetch, Demetrius V. Spencer, Nicholas Spencer
Starring: Grayson Boucher, Baron Davis
Ball Up
E1 Entertainment / Fox Sports Network
Producers: Lisa Champagne, Tara Long, Gina Scheerer
Starring: Gilbert Arenas
Complete Works
Hulu
Producers: Lili Fuller, Adam North, Joe Sofranko
Starring: Joe Sofranko, Kevin Quinn, Lili Fuller
Lego Star Wars: The Yoda Chronicles (Additional Music)
Wil Film / LEGO / Cartoon Network
Producers: Torsten Jacobsen, Erik Wilstrup, Michael Price
Starring: Anthony Daniels, Tom Kane, Trevor Devall
The Talent Show
Alloy Entertainment
Producers: Tripp Reed, Joshua Bank, Bob Levy
Starring: B.C. Jean, Mishell Livio, Alexandra Chando
Mad Love (Additional Music)
FanFare Productions / CBS
Producers: Rob Sheridan, Jason Biggs, Jamie Tarses
Starring: Jason Biggs, Sarah Chalke, Judy Greer
Sons of Tucson (Additional Music)
20th Century Fox / FOX
Producers: Justin Berfield, Todd Holland, Harvey Myman
Starring: Tyler Labine, Frank Dolce, Matthew Levy
FILM
Afterwalker
Conduit Now
Director: Dan Glaser
Producers: Dan Glaser, Timothy J. Meyer, Steven Molony Starring: Lean N.H. Philpott, Madilyn Kellam, Doug Van Liew
Sand and Snow
Sand & Snow Productions
Director: Jaraad Virani
Producers: Chris Abernathy
Lee Wulff, A Remarkable Life
The Wulff Projects
Director: Jeffrey Pill
Producers: Jeffrey Pill
Wolf Hound
TMU Pictures
Director: Michael B. Chait
Producers: Michael B. Chait, Sue Witham
Montana (Short)
Director: Michael Schwartz
Producers: Danelle Eliav, Josefina Laban, Nilou Safinya
Starring: Chris Henry Coffey, Jennifer Mudge, Joe Cross
My Grandfather's Memory Book (Short)
Lightning Hill Pictures
Director: Colin Levy
Starring: Colin Levy, Ron Levy
Saving Brinton (Documentary)
Directors: Tommy Haines, Andrew Sherburne
Producer: Andrew Sherburne
Valley of Bones (Co-Composer)
Bad Medicine Films
Director: Dan Glaser
Producers: Janek Ambros, Steven Molony, Luke Dylan Taylor
Starring: Autumn Reeser, Rhys Coiro, Steven Molony
Oxenfree
Oscar Gold Prod / Unmarked Van Films
Director: Dan Glaser
Producers: Asko Akopyan
Starring: Steven Molony, Kelli Breslin, Paul Vonasek
Furious 7 (Additional Music & Arrangements)
Universal Pictures
Director: James Wan
Producers: Amanda Lewis, Chris Morgan, Samantha Vincent
Starring: Vin Diesel, Paul Walker, Jason Statham
FILM (CONTINUED)
Beaver Trilogy, Part IV
Silver Sail Entertainment / Ten Acre Films
Director: Brad Besser
Producers: Russell Long, Julie Parker Benello
Starring: Trent Harris, Bill Hader
Teenage Mutant Ninja Turtles (Additional Music & Arrangements)
Paramount Pictures
Director: Jonathan Liebesman
Producers: Michael Bay, Eric Crown, Jason Reed
Starring: Megan Fox, Will Arnett, William Fichtner
Bite Size
Bond/360 / Bite Size Productions
Director: Corbin Billings
Producers: Jose Ruvalcaba, Dale Rosenbloom
Starring: Davion Bland, Moy Gutierrez, Emily Patrick
Efficiency
Oscar Gold Prod / FilmWorks Entertainment
Director: Kate Enge
Producers: Janek Ambros, Steven Molony
Starring: Steven Molony, Beth Moline, Dominique Young
Thor: The Dark World (Additional Music & Arrangements)
Marvel Studios / Walt Disney Studios
Director: Alan Taylor
Producers: Alan Fine, Nigel Gostelow, Louis D'Esposito
Starring: Chris Hemsworth, Natalie Portman, Tom Hiddleston
Gold Fever
G Project Films / Northland Films
Directors: J.T. Haines, Tommy Haines, Andrew Sherburne
Producers: J.T. Haines, Tommy Haines, Andrew Sherburne
The World of Z
City Pigeon Productions
Directors: Brad Besser, Vince Clemente
Producers: Brad Besser, Dan Billups, Vince Clemente
Forgotten Miracle
Golden Puck Pictures / Northland Films
Directors: Tommy Haines, Andrew Sherburne
Producers: Tommy Haines, Andrew Sherburne
Aliens in the Attic (Orchestration)
20th Century Fox Films
Director: John Schultz
Producers: Marc S. Fischer, Arnon Milchan
Starring: Carter Jenkins, Austin Butler, Ashley Tisdale
THEME PARKS
Star Wars: Galaxy's Edge
Disneyland / DisneyWorld
Oga's Cantina attraction – Follow up to the iconic "Cantina Song"
VIDEO GAMES
Assassin's Creed: Unity (Additional Music & Arrangements)
Digic Pictures / Ubisoft Montreal Studios
Creative Director: Alexandre Amancio
Assassin's Creed IV: Black Flag (Additional Music & Arrangements)
Ubisoft
Creative Director: Ashraf Ismail
Need For Speed: The Run (Additional Music & Arrangements) Electronic Arts Blackbox / EA
Directors: Alex De Rakoff, Elin Anderson