Michael Yezerski
Composer
---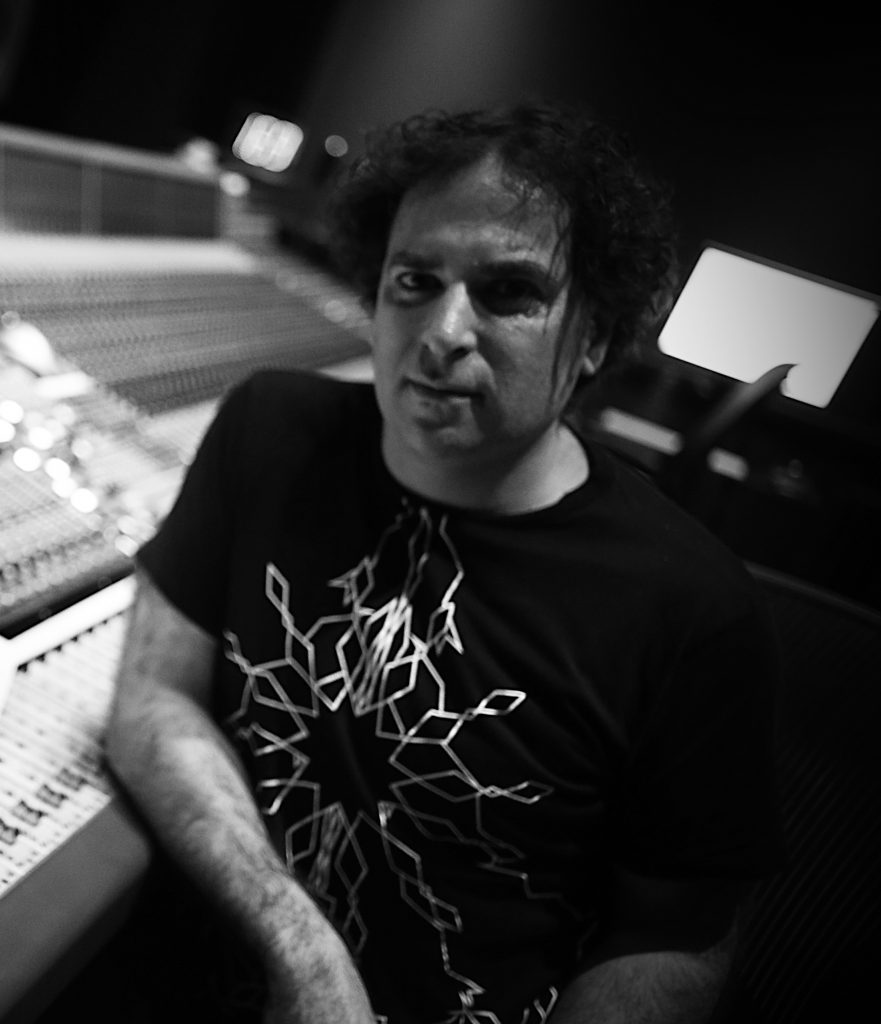 Michael Yezerski is always looking for new musical languages to express the inexpressible. The result is music that is emotional, beautiful, intense, and surprising. His understanding of scoring in the context of storytelling has led to assignments covering a wildly impressive range, but with the common thread that his scores are vital, active participants in the narratives of the work.
Michael's scores are deeply emotive. His first film score (bringing the first of several Australian Academy of Cinematic Arts Award Nominations), THE BLACK BALLOON (dir. Elissa Down) was a deeply felt rumination on optimism in the face of hardship. BLINDSPOTTING (dir. Carlos Lopez Estrada) explores the simplest of musical moments to try to make sense of a world turning inward upon itself. Recent scores such as FEEL THE BEAT and the family, feel-good series, IVY+BEAN (dir. Elissa Down) have focused on moments of connection and love within chaos. Michael brought tenderness and fragility to his action scores with the director David Ayer – THE TAX COLLECTOR and DEPUTY. He brought a quirky wistfulness to the Oscar-winning animated short, THE LOST THING (dir. Shaun Tan and Andrew Ruhemann). ONLY THE DEAD SEE THE END OF WAR (dir. Michael Ware, HBO) ends with a Requiem for Strings that attempts to make sense of the mayhem that we, the audience, have just been witness to.
Michael is fast- gaining a reputation as an influential, boundary-pushing composer of horror film scores. THE VIGIL (dir. Keith Thomas) explores claustrophobia and terror before taking a surprising turn into deeper emotion. GUILLERMO DEL TORO'S CABINET OF CURIOSITIES: PICKMAN'S MODEL (dir. Keith Thomas) is a romantic score that devolves into terror. Michael's award-winning score for THE DEVIL'S CANDY (dir. Sean Byrne) is brutal and atmospheric, yet all the lead sounds are made by orchestral strings. CORPORATE ANIMALS (dir. Patrick Brice) is a work of both comedy and terror, pushing at the edges of cinematic string writing. It's not exactly horror but Michael's score for Nash Edgerton's MR INBETWEEN is a study in trauma, with simple textures emanating from a single guitar. These are the kind of explorations that drive Michael's curiosity as a composer.
Michael has collaborated with some incredible colleagues over the years. Grammy nominated Recording Artist, Trumpeter and composer Ambrose Akinmusire and Michael worked together to create a new musical language for the BLINDSPOTTING series. The music touches poetry, jazz, funk, minimalism, sound design and classic film scoring. Esteemed composer and teacher, Nyoman Wenten joined Michael on a journey into the heart of BALI 2002 (dir. Peter Andrikidis). A few years ago, Michael worked with folk musicians of Kolkata on THE WAITING CITY (dir. Claire McCarthy). He has also collaborated with William Barton, Veronique Serret and Richard Tognetti.
A multi award-winning musical artist, Michael hails from Sydney Australia where he was mentored by some of Australia's finest musical minds. Sydney is home to diverse musical cultures, many of which fed into Michael's formative years as a musical artist. He made the move to the United States in 2014 and currently works from both Los Angeles and Sydney.
FILM
The Cape (Documentary)
FremantleMedia
Director: Justine A. Rosenthal, Michael Ware
Producers: Richard Finlayson
Snorkeling
Director: Emil Nava
Producers: Chris Ferguson, Mark Gillespie, Brian Kavanaugh-Jones, Emil Nava
Starring: Daniel Zolghadri, Kristine Froseth
We Were Once Kids
Director: Eddie Martin
Producers: Shannon Swan
*Premiered at Tribeca 2021 (In Competition)
Feel the Beat
Netflix
Director: Elissa Down
Producers: Susan Cartsonis
Starring: Sofia Carson, Pamela MacDonald
The Tax Collector
RLJE Films
Director: David Ayer
Producers: Matthew Antoun, David Ayer, Chris Long ,  Tyler Thompson
Starring: Bobby Soto, Shia LeBoeuf
*Nominee, Best Feature Film Score APRA Screen Music Awards
The Vigil
IFC Midnight
Director: Keith Thomas
Producers: J.D. Lifshitz, Adam Margules, Raphael Margules
Starring: Dave Davis, Menashe Lustig, Malky Goldman
Corporate Animals
Screen Media Films
Director: Patrick Brice
Producers: Jess Wu Calder, Keith Calder. Mike Falbo, Ed Helms
Starring: Demi Moore, Jessica Williams, Ed Helms
Blindspotting
Lionsgate
Director: Carlos Lopez Estrada
Producer: Jess Wu Calder, Keith Calder, Rafael Casal, Daveed Diggs
Starring: Daveed Diggs, Rafael Casal, Janina Gavankar
The Honor List
Lionsgate
Director: Elissa Down
Producer: Liz Destro
Starring: Meghan Rienks, Sasha Pieterse, Karrueche Tran
The Devil's Candy
IFC Midnight
Director: Sean Byrne
Producers: Jess Wu Calder, Keith Calder
Starring: Ethan Embry, Shiri Appleby, Pruitt Taylor Vince
*Toronto International Film Festival 2015
*Best Original Score Fantastic Fest 2016
Only The Dead (Documentary)
Time Warner Cable
Director: Bill Guttentag, Michael Ware
Producer: Paddy McDonald, Michael Ware
*Winner, Walkley Award 2015
*Nominee, AACTA Best Original Score
The Little Death
Magnolia Pictures
Director: Josh Lawson
Producers: Jamie Hilton, Michael Petroni, Matt Reeder
Starring: Bojana Novakovic, Josh Lawson, Damon Herriman
*Winner, SXSW Audience Award 2015
*TIFF 2014
The Turning (Title Chapter)
Main Street Films
Director: Claire McCarthy
Producer: Robert Connolly, Maggie Miles
Starring: Rose Byrne
The Last Impresario (Documentary)
Dogwoof
Director: Gracie Otto
Producer: Nicole O' Donohue
Starring: Michael White, Anna Wintour, Kate Moss, Naomi Watts, Yoko Ono, John Cleese, Barry Humphries, Jon Waters
Mental
Dada Films
Director: P.J. Hogan
Producers: Tom Fellman, Jocelyn Moorhouse, Janet Zucker, Jerry Zucker
Starring: Rebecca Gibney, Hayley Magnus, Nicole Freeman, Toni Collette, Liev Schreiber, Anthony LaPaglia
*8 AACTA Nominations 2013 including Best Original Music Score
The Waiting City (Composer)
Emerging Pictures
Director: Claire McCarthy
Producer: Jamie Hilton, Claire McCarthy
Starring: Joe Edgerton, Radha Mitchell
The Black Balloon (Composer)
Neoclassics Films
Director: Elissa Down
Producer: Tristram Miall
Starring: Rhys Wakefield, Luke Ford, Toni Collette, Erik Thomson, Gemma Ward
Newcastle (Composer)
Wolfe Releasing
Director: Dan Castle
Producer: Naomi Wenck
Starring: Lacklan Buchanan, Xavier Samuel, Debra Ades
SERIES
Guillermo Del Toro's Cabinet of Curiosities
Netflix
Director: Keith Thomas
Producers: Jeff J.J. Authors, J. Miles Dale, Guillermo Del Toro, Gary Ungar
Starring: Lize Johnston, Ben Barnes, Crispin Glover
Blindspotting (Co-Composed with Ambrose Akinmusire)
Lionsgate Television/ Starz
Producers: Tim Palen, Jess Wu Calder, Keith Calder, Rafael Casal, Daveed Diggs, Michael Greco
Starring: Rafael Casal, Benjamin Earl Turner, Jasmine Cephas Jones, Jaylen Barron, Candace Nicholas-Lippman
Warnie
Endemol / Channel 9
Director: Geoff Bennett
Producers: Paul Molony, Matt Ford
While The Men Are Away
SBS / Red Door / Arcadia Films
Director: Elissa Down
Producers: Lisa Shaunessy
Starring: Michela De Rossi, Gemma Ward, Sacha Horler
Bali 2002 (With Nyoman Wenten)
ITVX
Director: Peter Andrikidis, Katrina Irawati Graham
Producers: Peter Andrikidis, Amanda Duthie, Tim Pye, Sara Richardson
Starring: Richard Roxburgh, Maleeka Gasbarri, Saskia Archer, Rachel Griffiths
The Claremont Murders
Endemol
Director: Peter Andrikidis
Producers: Peter Andrikidis, Jamie Hilton, Kerrie Mainwaring
Starring: Ryan Johnson, Catherine Van-Davies, Aaron Glenane
Ivy + Bean (Mini-series)
Netflix
Director: Elissa Down
Producers: Anne Brogan, Melanie Stokes
Starring: Madison Skye Validum, Kelsee Blalock
Mr. InBetween
FX Network
Director: Nash Edgerton
Producer: Michele Bennett, Scott Ryan, Jason Burrows
Starring: Scott Ryan, Brooke Satchwell, Nicholas Cassim
Back To The Rafters
Amazon Prime Video
Director: Lynn Hegarty, Catherine Millar, Jeremy Sims
Producer: Chris Martin-Jones
Starring: Rebecca Gibney, Eric Thomson, Hugh Sheridan
Deputy
Walt Disney Television / Fox
Director: Chris Grismer
Producer: Chris Long, David Ayer, Peter Chomsky, Joe Lotito, James Spies
Starring: Stephen Dorff, Tara Martinez, Brian Van Holt
Reef Break
ABC
Director: Kieran Darcy-Smith
Producer: Steve Pearlman, Alex Zakrzewski, Mark Rosner, Guy J. Louthan
Starring: Poppy Montgomery, Ray Stevenson, Desmond Chiam
Wanted
Netflix
Director: Peter Templeman
Producer: Richard Bell, Andrew Walker, Chloe Smith, Peter Salmon, Tony Ayres, Rebecca Gibney
Starring: Rebecca Gibney, Geraldine Hakewill, Nicholas Bell
A Place to Call Home
Acorn TV
Director: Mark Joffe, Lyn-Maree Danzey, Catherine Millar
Producer: Chris Martin-Jones, Julie McGauran, Penny Win
Starring: Marta Dusseldorp, Noni Hazlehurst, Brett Climo
Dead Lucky
SBS
Director: David Caesar
Producer: Ellie Beaumont, Diane Haddon, Drew Proffitt, Greg Sitch, Nina Stevenson
Starring: Rachel Griffiths, Yoson An, Ian Meadows
Wolf Creek
Dazzler Media
Director: Tony Tilse, Greg McLean, Geoff Bennett, Kieran Darcy-Smith
Producer: Elisa Argenzio, Kerrie Mainwaring, Lisa Scott, Peter Gawler
Starring: John Jarratt, Lucy Fry, Dustin Clare
Uncensored with Michael Ware
National Geographic
Producer: Justine A. Rosenthal, Michael Ware, Will Mavronicolas
Starring: Michael Ware, Frank Griffin
Hyde and Seek
Matchbox Pictures
Director: Peter Andrikidis, David Caesar, Daniel Nettheim
Producer: Stephen Corvini, Debbie Lee, Jo Rooney, Michelle Russell, Andy Ryan
Starring: Matt Nable, Emma Hamilton, Mandy McElhinney
Catching Milat
AXN Mystery
Director: Peter Andrikidis
Producer: Rory Callaghan, Kerrie Mainwaring
Starring: Malcolm Kennard, Richard Cawthorne, Geoff Morrell
Carlotta
Australian Broadcasting Corporation
Director: Samantha Lang
Producer: Riccardo Pellizzeri, Lara Radulovich
Starring: Jessica Marais, Anita Hegh
SHORT FILM
The Lost Thing
IndieFlix
Director: Shaun Tan, Andrew Ruhemann
Producer: Sophie Byrne
Starring: Tim Minchin
*Winner – OSCAR Best Animated Short 2011
*Winner -AFI Best Animated Short 2010
*Winner -Flickerfest Best Australian Film 2010
*Winner – IF Award Best Animated Short 2010
*Winner – Annecy Crystal (Best Short Film) 2010
*Winner- Santa Barbara 2011
*Winner – Best Music AGSC Awards 2010
*Winner – Best Soundtrack Anima Mundi 2010
*Winner – Melbourne BEST SHORT 2010
*Winner- Jury Prize Palm Springs 2010
*Winner- Sydney Film Festival Yoram Gross 2010

AWARDS AND NOMINATIONS (SELECTED)
APRA Screen Music Awards 2022
Nominee Best Music in Television for Blindspotting
ASCAP Screen Music Awards 2021
Winner – Deputy
APRA Screen Music Awards 2020
Nominee Best Music in a Feature Film – The Vigil
ASCAP Composer Choice Awards
Nominee 2020 – TV Drama
APRA Screen Music Awards 2019
Winner Best Music in a Mini-Series – Dead Lucky
St Kilda Film Festival 2017
Winner Best Music Score – Fish
APRA Screen Music Awards 2016
Nominee Best Music in Television – Wanted
Nominee Best Music in a Mini-Series – Peter Allen
Nominee Best Soundtrack Album – Only the Dead
Nominee Best Music in a Short Film – Ravens
Gerardmer Fantastic Arts Film Festival 2016
Winner Best Original Score – The Devil's Candy
Australian Academy of Cinema and Television Arts (AACTA) Awards 2015
Nominee Best Original Score in a Documentary Feature – Only The Dead
Australian Academy of Cinema and Television Arts (AACTA) Awards 2013
Nominee Best Original Score – Drift
APRA Screen Music Awards 2013
Nominee Best Soundtrack Album Release – Storm Surfers 3D
Australian Academy of Cinema and Television Arts (AACTA) Awards 2013
Nominee Best Original Score – Mental
APRA Screen Music Awards 2012
Nominee Feature Film Score of The Year – Storm Surfers 3D
AWARD Awards 2012
Winner Bronze – Best Music for Toyota "Glass Organs" TVC
APRA Screen Music Awards 2011
Nominee Best Music for an Advertisement – SBS Films 2
Nominee Best Soundtrack Album for The Lost Thing
St Kilda Film Festival 2011
Nominee Best Music Score for Seamstress
APRA Screen Music Awards 2010
Winner Best Short Film Score for The Lost Thing
Anima Mundi Brazil 2010
Winner Best Soundtrack for The Lost Thing
APRA / Australian Music Centre Classical Music Awards 2009
Nominee Best Composition by an Australian Composer for The Red Tree
Australian Screen Music Awards 2008
Winner Best Soundtrack Album for The Black Balloon Soundtrack
Winner Best Original Song "When We Get There" from The Black Balloon
Nominee Best Original Song "The Greatest" from The Black Balloon
Film Critics Association of Australia Awards 2008
Nominee Best Original Music Score in a Feature Film for The Black Balloon
AFI Awards 2008
Nominee Best Original Music Score in a Feature Film for The Black Balloon
Inside Film Awards 2008
Nominee Best Feature Film Score for The Black Balloon
2008 Barbara Blackman Commission
To enable the creation of The Red Tree
Australian Screen Music Awards 2006
Winner Best Original Song Thursday's Fictions
Nominee Best Music Composed for a Miniseries or Telemovie for Thursday's Fictions
Nominee Best Soundtrack Album for Thursday's Fictions
Nominee Best Documentary Score for Cape of Storms
Park City International Film Music Festival 2006
Gold Medal – Director's Choice for Artistic Excellence in a Feature Film for Thursday's Fictions
Park City International Film Music Festival 2004
Gold Medal – Audience Award for No Surrender
MusicOz Awards 2004
Winner Best Classical Artist
MusicOz Awards 2004
Nominee Best World Music Artist
Australian Screen Music Awards 2002
Winner Best Music in a Short Film for No Surrender
ASCAP International Film Scoring Workshop USA 2002
AGSC Screen Music Awards 2001
Nominee Best Music in a Documentary for Ah Hu's Retreat
APRA Professional Development Award 2001
AFTRS Critics Circle Music Prize 2001
AGSC Screen Music Awards 2000
Nominee Best Music in a Documentary for Scar Stories