Matt Mariano
Composer
---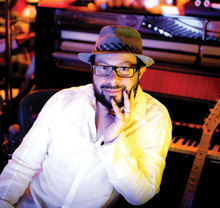 Matthew Mariano composes music for high profile films and television. He is a classically trained pianist and has the unique ability to perform on multiple instruments. Having attended Berklee College of Music, Matt has studied Composition, Music Synthesis, and Audio Engineering. Matt Mariano's productions are based out of his Encino, CA studio. His music can currently be heard every week in FOX's show Raising Hope.
SERIES
Crazy Wonderful
ABC Studios
Director: Ian Fitzgibbon
Producers: Bobby Bowman, Jon Koa, Dawn Ostroff
Starring: Ginger Gonzaga, Brooke Elliott, Lilla Crawford
Alexa & Katie
Netflix
Producers: Heather Wordham, Matthew Carlson
Starring: Paris Bereic, Isabel May, Tiffani Thiessen
Now We're Talking
Blue Ribbon Content/Go90
Producers: Maverick Carter, Tug Coker, Jennifer Saxon Gore
Starring: Malcolm Barrett, Fred Melamed, Eamon Sheehan
Super Clyde (Pilot)
CBS
Producers: Greg Garcia
Starring: Diane Guerrero, Charlie McDermott, Annaleigh Ashford
The Millers
CBS
Producers: Greg Garcia, James Burrows, Lisa Helfrich
Starring: Will Arnett, Beau Bridges, Margo Martindale
Raising Hope
FOX
Producers: Greg Garcia, Kim Hamberg, Henry J. Lange Jr.
Starring: Martha Plimpton, Garret Dillahunt, Lucas Neff
Family Tools (Pilot)
ABC
Producers: Joshua Sternin, Mark Gordon, Jennifer Ventimilia
Starring: J.K. Simmons, Leah Remini, Johnny Pemberton
The Gates (Pilot)
FOX
Producers: Josh Goldsmith, Cathy Yuspa, Aaron Kaplan
Starring: Ken Marino, Kathleen Rose Perkins, Greg Germann
Let It Go (Pilot)
FOX
Producers: DJ Nash
Starring: Zachary Levi, Romany Malco, Joel David Moore
Karen Sisco (Additional Music)
ABC
Producers: Bob Brush, Michael Dinner, Danny DeVito
Starring: Carla Gugino, Robert Forster, Peter Horton
Century City (Additional Music)
CBS
Producers: Ed Zuckerman, Paul Attanasio, Katie Jacobs
Starring: Viola Davis, Nestor Carbonell, Ioan Gruffudd
TELEVISION (CONTINUED)
The Wright Challenge (TV Documentary)
History Channel
Producer: Rick Beyer
John Doe (Additional Music) FOX
Producers: Brandon Camp, Mike Thompson
Starring: Dominic Purcell, John Marshall Jones
Evolution (2 Episodes)
PBS
Producers: Richard Hutton, Eric Robison
Starring: Liam Neeson
The Patent Files
History Channel
Producers: Rick Beyer, Kristina Wood
FILM
Den of Thieves
Atmosphere Entertainment MM
Tokyo Dreaming (Writer, Performer)
Director: Christain Gudegast
Producers: Gerard Butler, Mark Canton, Alan Siegel
Starring: Gerard Butler, Pablo Schreiber, O'Shea Jackson Jr.
7 Fishes & Christmas 83'
Shout! Factory Films
Director: Robert Tinnell
Producers: Joseph E. LoConti, John Michaels, Jeffery Tinnell
Starring: Madison Iseman, Skyler Gisondo, Addison Timlin
The Ghost Army (Documentary)
Plate of Peas Productions
Director: Rick Beyer
Producers: Rick Beyer, Jacqueline Sheridan
Starring: Wesley Clark
Made In China
Beachwood Films
Director: Judith Krant
Producers: James Choi, Bronwyn Cornelius, Judith Krant
Starring: Bronwyn Cornelius, Deng Juan, Jackson Kuehn
* 2009 SXSW Grand Jury Award Winner
Soul Men (Additional Music)
Dimension Films
Director: Malcolm D. Lee
Producers: Charles Castaldi, David T. Friendly, Steve Greener
Starring: Samuel L. Jackson, Bernie Mac
The Hammer (Co-Composer)
Bentley Film Group
Director: Charles Herman-Wurmfeld
Producers: Eric Ganz, Heather Juergensen, Eden Wurmfeld
Starring: Adam Carolla, Oswaldo Castillo, Harold House Moore
Love & Suicide
Luis Moro Productions
Director: Lisa France
Producers: Jerry Katell, Demian Lichtenstein, Peter Maez
Starring: Kamar de los Reyes, Luis Moro, Daisy McCrackin
FILM (CONTINUED)
Feast (Additional Music)
Dimension Films
Director: John Gulager
Producers: Michael Leahy, Joel Soisson
Starring: Balthazar Getty, Henry Rollins, Navi Rawat
Latin Dragon (Additional Music)
Pacific Entertainment Group
Director: Scott Thomas
Producers: Mike Erwin, J. Max Kirishima, Scott Thomas
Starring: Fabian Carillo, Gary Busey, Lorenzo Lamas
Mitchellville
Riff Raff Films
Director: John D. Harkrider
Producers: Eve Annenberg, John D. Harkrider
Starring: John D. Harkrider, Sean Meenan, Michael Voyer
* Sundance 2005, Cinevegas 2005
SELECTED SHORT FILMS
The Charlatan (Dir. Alexis Spraic, 2013)
Lime Light (Dir. Matt Zunich, 2010)
Once Broken (Dir. Matthew Pope, 2006)
The Line Starts Here (Dir. Matthew Pope, 2005)
The Problem with Fiber Optics (Dir. Greg Jardin, 2005)
The Last Shot (Dir. Samara Ferrando, Helena Gentili, Marty Lang, 2005)
Cheap as Hell: A Christmas Story (Dir. Marty Lang, 2005)
Coochie (Dir. Najaa Young, 2004)
Fields of Mudan (Dir. Stevo Chang, 2004)
Mooondance (Dir. Will Bigham, 2004)
The Sky Is Falling (Dir. Adam J. Kreps, 2004)
The 17th Man (Dir. Eva Jin, 2004)
House of Lords (Dir. Rob Muraskin, 2004)
The Appointment (Dir. Earl A. Hibbert, 2003)
3 AM (Dir. Stewart Hopewell, 2003)
* 2004 Charles Schwartz Award for Music Misfortune (Dir. Stewart Hopewell, 2002)