Joshua Moshier
Composer
---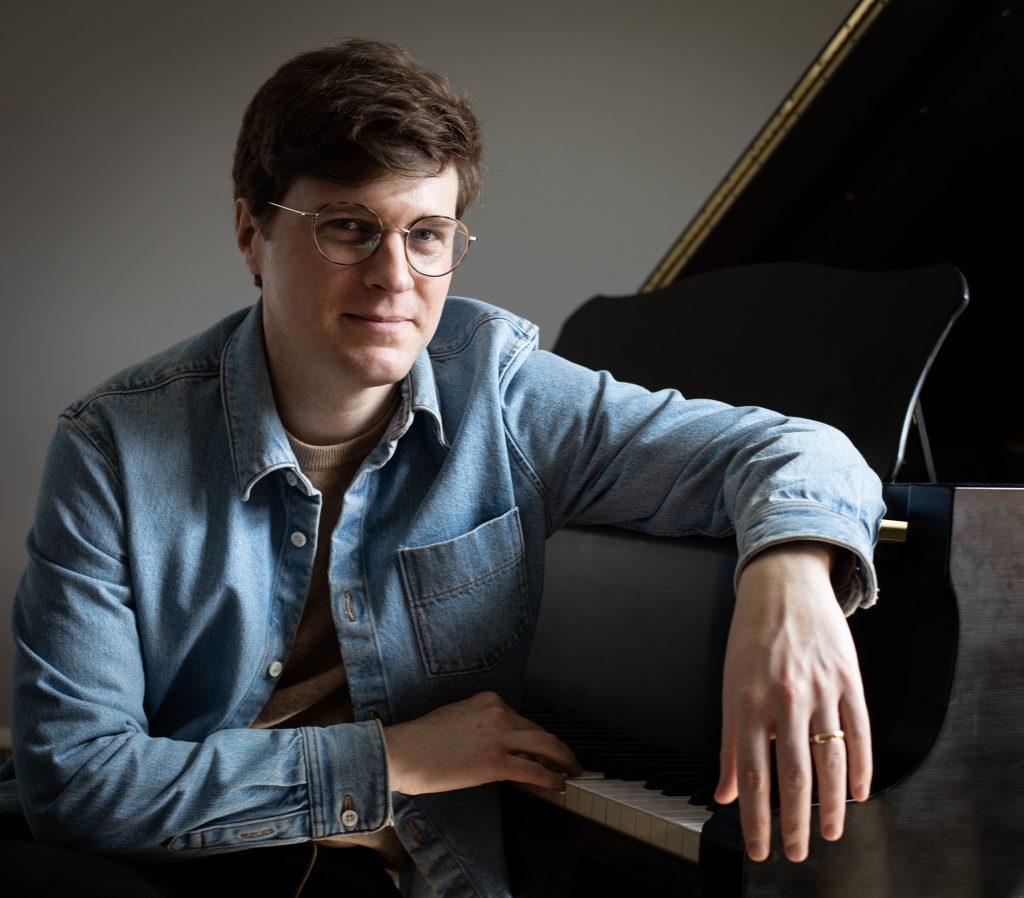 Joshua Moshier is an Emmy-nominated composer, songwriter and pianist whose work can be heard in series, films and interactive media. His music often explores the poignant space between drama and comedy, offering a fresh musical voice to a wide spectrum of stories, from distinctly offbeat premises to true-life inspirations and celebrated franchises.
He is the composer of the Apple TV+ series The Shrink Next Door, from writer/showrunner Georgia Pritchett, starring Will Ferrell and Paul Rudd.  He is also known for his highly-admired score to the FX series Baskets, starring Zach Galifianakis, and the main title theme to IFC's Documentary Now! starring Bill Hader and Fred Armisen. Additional recent scores include the Netflix series Special and Adult Swim's Three Busy Debras. Joshua was selected by Apple to compose music for the documentary featurette Behind the Mac: Skywalker Sound, telling the story of the iconic sounds of the Star Wars universe.
Joshua made his animation scoring debut with the viral hit Sidewalk, from director Celia Bullwinkel, and has gone on to score over 500 minutes of Warner Bros. Animation's flagship Looney Tunes Cartoons, for which he received a nomination for Outstanding Music Direction and Composition for an Animated Program at the first annual Children's and Family Emmys. Joshua conducted his many Looney Tunes scores at the historic Capital Studios and Eastwood Scoring Stage in Los Angeles.
His multifaceted portfolio of scores also includes the British series Sick of It, starring Karl Pilkington, the Peacock series Shrink, starring Tim Baltz and Mary Holland, the Netflix series Dragons: Rescue Riders from Dreamworks Animation, and the interactive ambisonic music for Google's Earth VR.
Born in Baton Rouge, LA and raised in the midwest, Joshua studied at Northwestern University, where he began collaborating with student filmmakers and working at the Interactive Audio Lab in the Computer Science department. As an improvising pianist, he found kinship in Chicago's comedy community which led to film collaborations with improvising actors. He segued more deeply into scoring as a fellow at the Sundance Institute Composers Lab at Skywalker Sound and the BMI Conducting Workshop. He has since operated studios from both U.S. coasts.
SERIES
The Shrink Next Door (Composer and Main Title)
Apple TV +
Director: Michael Showalter
Producers: Jessica Elbaum, Will Ferrell, Brittney Segal
Starring: Will Ferrell, Kathryn Hahn, Paul Rudd
Baskets (Season 1 Additional Music; Season 2-4 Score)
FX Productions
Director: Jonathan Krisel
Producers: Louis C.K., Jonathan Krisel, Zach Galifianakis
Starring: Zach Galifianakis, Malia Pyles, Tom Proctor
Special
Netflix
Director: Anna Dokoza
Producers: Jim Parsons, Ryan O'Connell, Colin Frederick
Starring: Ryan O'Connell, Jessica Hecht, Punam Patel
Three Busy Debras
Cartoon Network
Director: Anna Dokoza
Producers: Anna Dokoza, Sandy Honig, Mitra Jouhari
Starring: Sandy Honig
Looney Tunes Cartoons
Warner Bros. Animation / HBO Max
Director: Peter Browngardt
Producers: Rebecca Palatnik, Peter Browngardt, Alex Kirwan, Sam Register
Starring: Eric Bauza, Jeff Bergman, Bob Bergen
*Children's and Family Emmy Awards Nominee – Outstanding Music Direction and Composition for an Animated Program
Moonbase 8
A24
Director: Jonathan Krisel
Producers: Fred Armisen, Tim Heidecker, Dave Kneebone
Starring: John C. Reilly, Fred Armisen, Tim Heidecker
Dragons: Rescue Riders
Netflix
Director: Steve Evangelatos, T.J. Sullivan, Greg Rankin, Glenn Harmon, Douglas Shorts
Producers: Milind D. Shinde, Jack C. Thomas
Starring: Noah Kaye Bentley, Brennley Brown, Zach Callison
Sick of It
Sky One
Director: Richard Yee
Producers: Richard Yee
Starring: Sondra James, Nathan Amzi, Sophie Harkness
Shrink
NBC
Producers: Ted Tremper, Tim Baltz, Patrick Daly
Starring: Tim Baltz, Mary Holland, Craig Cackowski, John Lutz
Documentary Now! (Main Title Music)
Broadway Video/IFC
Producers: Seth Meyers, Lorne Michaels, Andrew Singer
Starring: Fred Armisen, Bill Hader
SXSW Comedy with Natasha Leggero
Rooftop Comedy
Director: Steven Feinartz
Producers: Charlie Sotelo, Steven Feinartz
Starring: Natasha Leggero
The Jamz
The Orchard/NYTVF Productions
Director: Ted Tremper
Producer: Angie Gaffney
Starring: Kathy Najimi, David Pasquesi, Chris Petlak
The Faith Diaries
Lifetime
Director: Sarah Gertrude Shapiro
Producer: Andrew Molina
Starring: Breeda Wool, Malea Mitchell, Dot-Marie Jones
SXSW Comedy with W. Kamau Bell
Showtime/Rooftop Productions
Director: Steven Feinartz
Producers: Charlie Sotelo, Steven Feinartz, Rebecca Trent
Starring: W. Kamau Bell
Taylor Williamson's Special
New Wave Entertainment
Director: Steven Feinartz
Starring: Taylor Williamson
Eddie Pepitone: In Ruins
New Wave Entertainment
Director: Steven Feinartz
Starring: Eddie Pepitone
Shrink (Pilot)
Director: Ted Tremper
Producers: Tim Baltz, Steve Sullivan, Ted Tremper
Starring: Tim Baltz, Aidy Bryant, Megan Mercier
Family Heirloom (Pilot)
Director: Steve Sullivan
Starring: Jo Scott, Jeff Murdoch
Brown Girl Problems
Director: C.J. Arellano
Producer: Fawzia Mirza
Starring: Fawzia Mirza
Jason Victorious
Director: Richard Lowe
Starring: Jason Levinson, Norm Johnson, Kat Purgal
FILM
Anxiety Club (Documentary)
Director: Wendy Lobel
Producers: Wendy Lobel
The Day the Earth Blew Up (TV Movie)
Warner Bros. Animation / Cartoon Network
Producers: Peter Browngardt, Alex Kirwan, Sam Register
Starring: Eric Bauza
Happy Anniversary
Netflix
Director: Jared Stern
Producers: Helena Heyman, M. Elizabeth Hughes, Marc Provissiero
Starring: Ben Schwartz, Isidora Goreshter, Joe Pantoliano
Beneath Us
Vital Pictures
Director: Max Pachman
Producers: Luis Guerrero, Chris Lemos
Starring: Lynn Collins, Rigo Sanchez, Josue Aguirre
Good Enough
LaTiDa Productions
Director: AnnaRose King
Producer: Carolyn Mao
Starring: AnnaRose King, Delaney Williams, James Caan
SHORT FILM
Behind the Mac: Skywalker Sound (Short, Documentary)
Apple TV+
Director: Josh Greenbaum
Starring: Danielle Dupre, Andre Fenley, Ryan J. Frias
It All Makes Sense (Short)
Director: Bryan DeGuire
Producer: Carolina Groppa
Starring: Ryan Coil, Leah Henoch, Kelvin O'Bryant
The Lot (Short)
Okay Fine
Director: Steven Feinartz
Starring: Natalie Palamides, Matt Braunger
It All Makes Sense (Short)
Director: Brian DeGuire
Producer: Carolina Groppa
Starring: Ryan Coli, Leah Henoch, Kelvin O'Bryant
Short Game (Short)
Director: Allistair Johnson
Producers: Debbie Fong, Kati Skelton
Starring: William Nadylam, Leonay Shepard
Taco Night
Director: Morten Forland
Producer: Courtney Prather
Starring: Sarah Youngblood, Alex Mashikian, Sarah Hoffman
Paper Beast
Director: Daniel Klein
Producers: Angelo Ford, Maury Loeb, Emma Pek
The Girl and the Ghost
Funny or Die
Director: Micah Gardner
Starring: Lauren Robertson, Lindsay Siem
Be a Guest
Funny or Die
Director: Micah Gardner
Starring: Lauren Robertson, Jackie Gonzalez-Durruthy
Hi, Dad
Director: Zach Craley
Starring: Kat Purgal, Natalie Smyka
I Just Can't Wait To Be Queen
Funny or Die
Director: Micah Gardner
Starring: Lauren Robertson, Jackie Gonzalez-Durruthy
Sidewalk
Director: Celia Bullwinkel
Running Buddies
Director: Micah Gardner
Starring: Lauren Robertson, Wolfgang Stein
The Goblin Market
Director: Deanna Trudeau
Freedom of Choice
Director: Anthony R. Williams
As Ever, Stan
Director: Alex Schwarm
People of None Effect
Director: Andrew Walker
The Instrument Man
Director: Micah Gardner
The Sanguine Woods
Director: Anthony R. Williams
Lights Out
Director: Simon Stahl
VIRTUAL REALITY
Google Earth VR
RECORDINGS
From Your Bones – LP
Artist: Briar Rabbit
Producer: Joshua Moshier
The Poet – LP
Artist: Marquis Hill
Pianist: Joshua Moshier
The Local Colorists – EP
Artist: Joshua Moshier & Mike Lebrun
Producer: Joshua Moshier
Sounds of the City – LP
Artist: Marquis Hill
Pianist: Joshua Moshier
Joy Not Jaded – LP
Artist: Joshua Moshier & Mike Lebrun
Producer: Joshua Moshier
SELECTED RECOGNITIONS
Fellow, Sundance Institute Composers Lab (Narrative Film)
Participant, BMI Conducting Workshop
Participant, NYU Film Scoring Workshop
Grantee, Chamber Music America New Works Commission