Janet
Lopez
Music Supervisor
---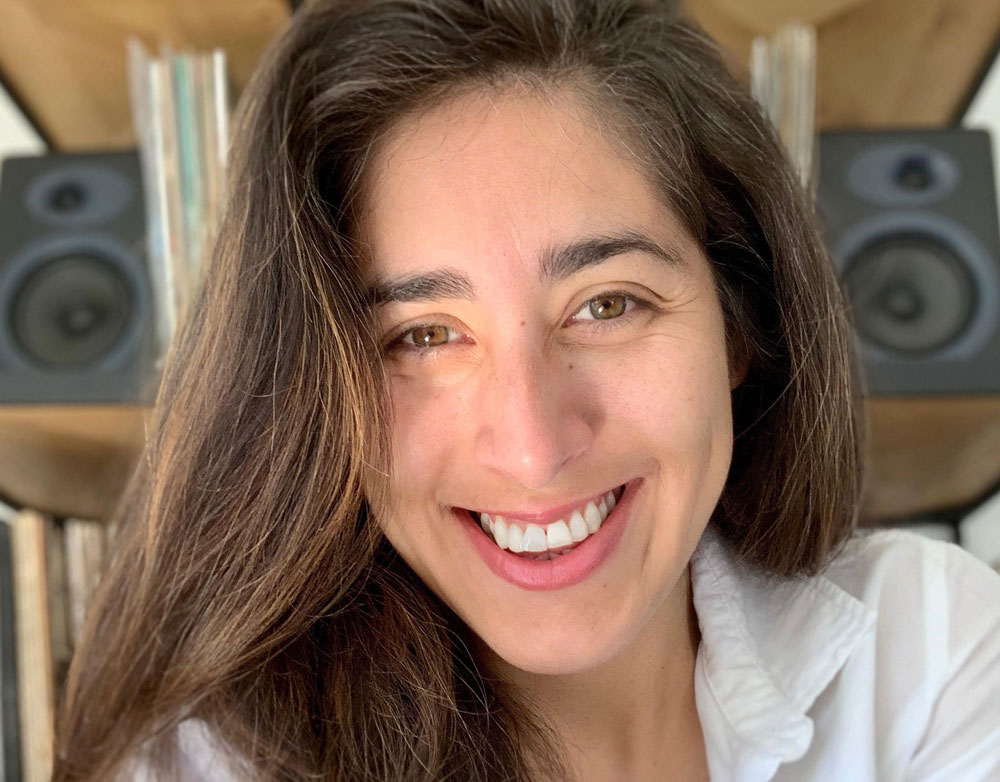 Janet Lopez is a Music Supervisor at Neophonic, Inc. one of the leading Music Supervision companies in Los Angeles.
An LA native and marketing and economics business graduate from Cal State University Los Angeles, Janet applied her love of music towards music business, and has earned a valuable reputation within the entertainment community for being a smart and creative team player. For over a decade her presence has been an integral part of Neophonic and she's collaborated on over 50 films/miniseries/television series with numerous studios at various budgets, including pilots for both network and cable studio distribution.
As a thriving Music Supervisor Janet has worked with some of the most respected and exciting filmmakers in the industry including Gillian Flynn, Jordan Peele, Audrey Chon, Amy Lippman, Greg Yaitanes, Armando Iannucci, Dee Rees, Gina Rodriguez, Ilana Peña, McG, Barbie Adler, Sacha Gervasi, Spike Lee, Claire Scanlon, Kevin Messick, Eliot Laurence, Justin Adler, Jeff Morton, Danny Strong and Mike White. She's also maintained and developed relationships within the extended film and TV communities, ranging from major/independent labels and publishers to artists, musicians and songwriters. Janet's experience on period and contemporary projects have helped to provide customized music on both the production or post production arenas. Notable examples of such performances can be seen/heard as part of the 1972 period Cinemax series, Quarry (starring Logan Marshall-Green and Peter Mullan) as well as the dynamic Kosasport Lip Fuel campaign for Kosas Cosmetics.
Other recent credits include Avenue 5 (HBO), The Twilight Zone (CBS All-Access), Utopia (Amazon), Motherland:Fort Salem (Freeform), Diary Of A Future President(CBS/Disney+), The Last Thing He Wanted (Netflix), Party of Five (Sony/Freeform).
Awards and Accolades:
2020 – Guild of Music Supervisors (GMS) Nomination for Best Television Movie – My Dinner With Herve, HBO
2014 – Guild Of Music Supervisors (GMS) Nomination for Best Television Comedy or Musical – Enlightened, HBO
2014 – Guild of Music Supervisors (GMS) Nomination for Best Television Long Form or Movie – Mike Tyson: Undisputed Truth, HBO2012 – Emmy Honors – Hemingway & Gellhorn, HBO
TELEVISION
The White Lotus
HBO
Director: Mike White
Producers: Mike White, David Bernard, Nick Hall
Starring: Connie Britton, Jennifer Coolidge, Murray Bartlett
Oslo
HBO
Director: Bartlett Sher
Producers: Marc Platt, Steven Spielberg, Michel Litvak, Svetlana Metkina, Mark Taylor, Gary Michael Walters Starring: Ruth Wilson, David Olah, Andrew Scott
The Nevers
HBO
Director: Andrew Bernstein, Joss Whedon, David Semel, Zetna Fuentes
Producers: Bernadette Caulfield, Jane Espenson, Joss Whedon Starring: Laura Donnelly, Ann Skelly, Olivia Williams
Avenue 5
HBO
Director: Armando Iannucci
Producers: Steve Clark-Hall, Peter Oberth
Starring: Hugh Laurie, Suzy Nakamura, Rebecca Front
Utopia
Amazon Studios
Exec. Producers: Gillian Flynn, Sharon Hall, Toby Haynes, Dennis Kelly
Producers: Huey M. Park
Starring: John Cusack, Ashleigh LaThrop, Dan Byrd
Diary of a Future President
Disney +
Exec. Producers: Ilana Pena, Robin Shorr, Gina Rodriguez, Brad Silberling, Emily Gipson
Producers: Timothy Silver
Starring: Tess Romero, Selenis Leyva, Charlie Bushnell
Motherland: Fort Salem
Freeform
Exec. Producers: Eliot Laurence, Maria Maggenti, Will Ferrell, Adam McKay, Kevin Messick
Producers: Brian Studler, Heather Thomason
Starring: Taylor Hickson, Amalia Holm, Demetria McKinney
Party of Five
Freeform
Exec. Producers: Christopher Keyser, Amy Lippman, Esta Spalding, Rodrigo Garcia
Producers: Maria Melograne, Francois Sylvestre
Starring: Brandon Larracuente, Niko Guardado, Emily Tosta
The Twilight Zone
CBS All Access
Exec. Producers: Jordan Peele, Win Rosenfeld, Audrey Chon
Producer/Exec. Producer: Greg Yaitane
Proven Innocent
20th Century Fox
Exec. Producers: Danny Strong, Adam Armus
Producers: Tina Mabry, Jane Bartelme
Starring: Kelsey Grammer, Persia White, Harry Jarvis
Life In Pieces (Seasons 2-3)
20th Century Fox
Exec. Producers: Jeffrey Morton, Justin Adler, Aaron Kaplan
Producer: Maria L. Melograne
Starring: Colin Hanks, Betsy Brandt, Thomas Sadoski
* Music Coordinator
Manhunt: Unabomber
Lionsgate/Discovery
Exec. Producers: Greg Yaitanes, Andrew Sodroski, John Goldwyn
Producer: Greg Yaitanes, David A. Rosemont
Starring: Sam Worthington, Paul Bettany, Chris Noth
Veep (Seasons 1-5)
HBO
Exec. Producers: Armando Iannucci, Simon Blackwell
Producers: Stephanie Laing
Starring: Julia Louis-Dreyfus, Anna Chlumsky, Tony Hale
Type A (Pilot)
20th Century Fox
Director: Jason Winer
Producers: Jason Winer, Lesley Wake
Starring: Eva Longoria, Ken Marino, Andy Richter
Quarry
Cinemax
Exec. Producers: Greg Yaitanes, Michael D. Fuller, Graham Gordy
Producer: Allan Marshall Palmer
Starring: Logan Marshall-Green, Jodi Balfour, Peter Mullan
Kevin From Work
ABC Family
Exec. Producers: Barbie Adler, Aaron Kaplan, McG
Producer: Michele Greco
Starring: Noah Reid, Paige Spara, Jordan Hinson
The Comeback (Season 2)
HBO
Exec. Producers: Michael Patrick King, Lisa Kudrow
Producers: Jim Kleverweis, Hans Van Doornewaard
Starring: Lisa Kudrow, Robert Michael Morris
Red Band Society
FOX
Exec. Producers: Steven Spielberg, Sergio Aguero
Producers: Margaret Nagle, Sergio Aguero, Justin Falvey
Starring: Octavia Spencer, Dave Annable, Charlie Rowe
Banshee (Seasons 1-4)
Cinemax
Exec. Producers: Greg Yaitanes, Alan Ball
Producers: Jonathan Tropper, Allen Marshall Palmer
Starring: Anthony Starr, Ivana Millicevic, Ulrich Thomsen
* Music Coordinator
Enlightened (Seasons 1 & 2)
HBO
Exec. Producers: Mike White, Laura Dern
Producers: David Bernad, Ed Saxon, Dody Dorn, Gianna Smart
Starring: Laura Dern, Luke Wilson, Mike White
Last Resort
ABC
Exec. Producers: Shawn Ryan, Karl Gajdusek
Producers: Nicholas Bradley
Starring: Andre Braugher, Robert Patrick, Scott Speedman
Dallas (Season 1)
TNT
Exec. Producers: Michael Robin, Cynthia Cidre
Producers: Bryan J. Raber, Ken Topolsky
Starring: Jordana Brewster, Larry Hagman, Patrick Duffy
The Boring Life Of Jacqueline (Web Series)
HBO
Exec. Producers: Mike White, Sebastian Silva
Producers: David Bernad, Jamie Wheeler
Starring: Jaclyn Jonet
The Chicago Code
FOX
Exec. Producer: Shawn Ryan
Producers: Nicolas Bradley
Starring: Jason Clarke, Jennifer Beals, Delroy Lindo
Lie To Me (Season 2)
FOX
Exec. Producer: Samuel Baum, Brian Grazer
Producer: Nicolas Bradley
Starring: Tim Roth, Kelli Williams, Mekhi Phifer, Jennifer Beals
Memphis Beat (Seasons 1 & 2)
TNT
Exec. Producer: Jan Nash, George Clooney
Producers: Liz Garcia, Josh Harto
Starring: Jason Lee, Alfre Woodard
FILM
The Last Thing He Wanted (Upcoming)
Netflix
Director: Dee Rees
Producers: Cassian Elwes, Dee Rees, Marco Villalobos
Starring: Anne Hathaway, Ben Affleck, Willem Dafoe
Set It Up
Netflix
Director: Claire Scanlon
Producers: Juliet Berman, Justin Nappi
Starring: Zoey Deutch, Lucy Liu, Taye Diggs
My Dinner With Herve
HBO
Director: Sacha Gervasi
Producers: Ross Katz, Richard Middleton, Jessica De Rothschild
Starring: Peter Dinklage, Jamie Dornan
Paterno
HBO
Director: Barry Levinson
Producers: Jason Sosnoff, Amy Herman
Starring: Al Pacino, Riley Keough
The Wizard of Lies
HBO
Director: Barry Levinson
Producers: Jason Sosnoff, Amy Herman
Starring: Robert DeNiro, Michelle Pfeiffer, Hank Azaria
All the Way
HBO
Director: Jay Roach
Producers: Scott Ferguson
Starring: Bryan Cranston, Anthony Mackie, Melissa Leo
Mike Tyson Undisputed Truth
HBO
Director: Spike Lee
Producers: Jon Kilik, Mike Tyson, Kiki Tyson
Starring: Mike Tyson
Muhammad Ali's Greatest Fight
HBO
Director: Stephen Frears
Producers: Tracey Scoffield, Frank Doelger, David Tanner
Starring: Muhammad Ali, Christopher Plummer, Benjamin Walker
Hemingway & Gellhorn
HBO
Director: Philip Kaufman
Producers: Peter Kaufman, Trish Hofman, James Gandolfini
Starring: Clive Owen, Nicole Kidman
Cinema Verite
HBO
Director: Shari Springer Berman & Robert Pulcini
Producers: Affonso Beato
Starring: Diane Lane, Tim Robbins, James Gandolfini
Temple Grandin
HBO
Director: Mick Jackson
Producers: Scott Ferguson
Starring: Claire Danes, Julia Ormond, Catherine O'Hara
The Sunset Limited
HBO
Director: Tommy Lee Jones
Producers: Tommy Lee Jones, Barbara A. Hall
Starring: Samuel L. Jackson, Tommy Lee Jones
The Pacific (Miniseries)
HBO
Director: Jeremy Podeswa, Timothy Van Patten, David Nutter, Carl Franklin
Producers: Gary Goetzman, Tom Hanks
Starring: Jon Seda, James Badge Dale, Joseph Mazzello
The Special Relationship
HBO
Director: Richard Loncraine
Producers: Frank Doelger, Tracey Scoffield
Starring: Dennis Quaid, Hope Davis, Michael Sheen
Get Low
Sony
Director: Aaron Schneider
Producers: Dean Zanuck, Richard Rothschild
Starring: Robert Duvall, Sissy Spacek, Bill Murray
A Dog Year
HBO
Director: George LaVoo
Producers: Jonathan Shoemaker
Starring: Jeff Bridges, Lauren Ambrose
Soundtrack For A Revolution (Documentary, Musical Consultant)
AREA23
Director: Bill Guttentag, Dan Sturman
Producers: Dylan Nelson
Taking Chance
HBO
Director: Ross Katz
Producers: Ross Katz, Lori Keith Douglas, Brad Krevoy
Starring: Kevin Beacon, Tom Aldredge
Kit Kittredge: An American Girl
New Line
Director: Patricia Rozema
Producers: Elaine Goldsmith-Thomas, Julia Roberts
Starring: Abigail Breslin, Joan Cusack, Chris O'Donnell, Julia Ormond
Recount
HBO
Director: Jay Roach
Producers: Sydney Pollack, Paula Weinstein, Len Amato
Starring: Kevin Spacey, Tom Wilkinson, Laura Dern, Denis Leary
John Adams (Miniseries)
HBO
Director: Tom Hooper
Producers: Gary Goetzman, Tom Hanks, David Coastworth
Starring: Paul Giamatti, Laura Linney
Bernard & Doris
HBO
Director: Bob Balaban
Producers: Bob Balaban, Mark Olsen
Starring: Susan Sarandon, Ralph Fiennes
Bury My Heart At Wounded Knee
HBO
Director: Yves Simoneau
Producers: Tom Thayer
Starring: Aidan Quinn, Anna Paquin, August Schellenberg
One Night Vanguard
Director: Micahel Knowles
Producers: Micahel Knowles, John Ramos
Starring: Melissa Leo, Jordan Bayne, Holly Fain
Rocket Science
Picturehouse
Director: Jeff Blitz
Producers: Effie Brown
Starring: Reece Thompson, Anna Kendick, Nick D'Agosto
Walkout
HBO
Director: Edward James Olmos
Producers: Moctesuma Esparza, Greg Spence
Starring: Alexa Vega, Michael Pena, Efren Ramirez
Mrs. Harris
HBO
Director: Phyllis Nagy
Producers: Elizabeth Karlsen, John Wells
Starring: Annette Bening, Ben Kingsley