Hybrid (Mike and Lottie Truman)
Composer
---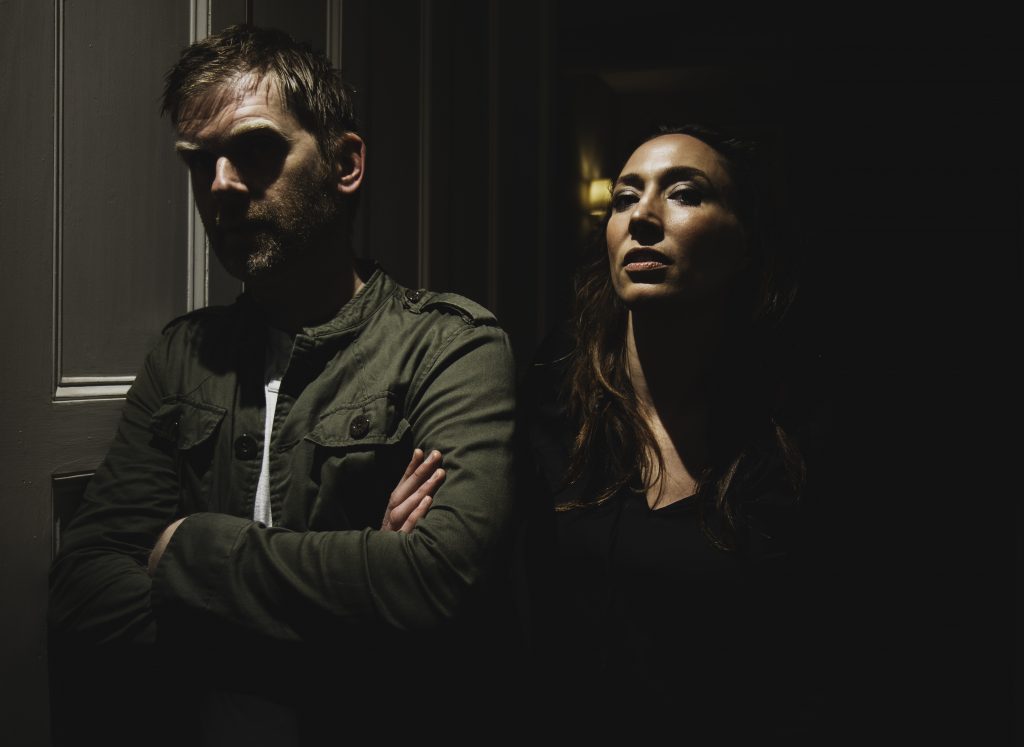 Hybrid are Mike and Lottie Truman, a duo of British film composers and recording artists.
They have written music for over 30 feature films, computer games and trailers including Fifty Shades Freed, X-Men : Wolverine, Billionaire Ransom, the Fast and Furious franchise including the most recent release, Hobbs and Shaw and Mozart drama, Interlude in Prague.
With a background in writing artist albums that dates back to 1996 and being in the front line of technical innovations from within the electronic music genre, their style, ethos and dexterity throughout every project make for an exciting musical identity. Whether writing a baroque orchestral piece for a period drama or treading the line between abstract music and sound design, they're most happy when creating music that makes an emotional connection with the listener.
Mike and Lottie have a deep understanding of how to use music to amplify storytelling and how to manipulate their music to wrap around visual imagery. In working closely with directors and producers, Hybrid are a deft hand at being part of a strong team and understand the importance of fluid communication.
As well as continuing to score for a variety of projects, Hybrid released their 6th artist album in 2021 (Black Halo) which entered at #1 in the Apple Electronic chart in the US, UK and Australia.
FILM
Exile To Babylon
Director: Domagoj Mazuran
Producers: Nick Zuvic
Deep Fear
Brilliant Pictures
Director: Marcus Adams
Producers: Marc Bikindou, Engelbert Grech, Sean O'Kelly
Starring: Ed Westwick, Mãdãlina Ghenea, Macarena Gómez
Dead Again in Tombstone
Universal Pictures Home Entertainment
Director: Roel Reiné
Producers: Elaine Dysinger
Starring: Danny Trejo, John Tierney, Gerrick Winston
Dead in Tombstone
Universal Pictures Home Entertainment
Director: Roel Reiné
Producers: Mike Elliott
Starring: Danny Trejo, Mickey Rourke, Anthony Michael Hall
Catacombs
Lionsgate
Director: Tomm Coker, David Elliot
Producer: Andrei Boncea, Mark Burg, Gregg Hoffman, Oren Koules
Starring: Shannyn Sossamon, Pink, Emil Hostina
Fistful of Vengeance (Additional Music)
Netflix
Director: Roel Reiné
Producers: Roel Reiné
Starring: Iko Uwais, Lewis Tan, Lawrence Kao
Wonder Woman 1984 (Arranger, Performer)
"Voi Che Sapete"
Warner Bros.
Director: Patty Jenkins
Producers: Gal Gadot, Patty Jenkins, Stephen Jones, Charles Roven
Starring: Gal Gadot, Chris Pine, Kristen Wiig

Fast & Furious Presents: Hobbs & Shaw (Song)
"Even If I Die" (Hybrid Mix)
Universal Pictures
Director: David Leitch
Producers: Hiram Garcia, Dwayne Johnson, Chris Morgan, Jason Statham
Starring: Dwayne Johnson, Jason Statham,
Idris Elba
Fifty Shades Freed (Producer – Song)
"Never Tear Us Apart"
Universal Pictures
Director: James Foley
Producers: Dana Brunetti, Michael De Luca, E.L James
Starring: Dakota Johnson, Jamie Dornan
Interlude in Prague
UV RML Films
Director: John Stephenson
Producers: Brian Ashby, Brian Ashby, Huw Penallt Jones, Hannah Leader
Starring: Aneurin Barnard, James Purefoy, Samantha Barks
The Fate and the Furious (Song)
"Speakerbox (The Fate of the Furious Hybrid Mix)"
Universal Pictures
Director: F. Gary Gray
Producers: Vin Diesel, Michael Fottrell, Chris Morgan, Neal H. Moritz
Starring: Vin Diesel, Jason Statham, Dwayne Johnson
Billionaire Ransom
Orion Pictures
Director: Jim Gillespie
Producers: Sarah Black, Ed Elbert
Starring: Jeremy Sumpter, Phoebe Tinkin, Hari Dhillon
Charlie, Trevor and a Girl Savannah (Additional Music)
KSM
Director: Ty Hodges
Producers: Ty Hodges, Matteo Tabib, Sasan Tabib
Starring: Ty Hodges, Eric Roberts, Toby Hemingway
Vice
Lionsgate
Director: Brian A. Miller
Producers: Randall Emmett, George Furla, Adam Goldworm
Starring: Amber Childers, Thomas Jane, Bryan Greenberg
Blackhat (Music Programmer)
Universal Pictures
Director: Michael Mann
Producers: Jon Jashni, Michael Mann, Thomas Tull
Starring: Chris Hemsworth, Leehom Wang, Tan Wei
The Equalizer (Music Programmer)
Sony Pictures Home Entertainment
Director: Antoine Fuqua
Producer:Todd Black, Jason Blumenthal, Tony Eldridge, Mace Neufeld
Starring: Denzel Washington, Marton Csokas, Chloe Grace Moretz
FILM (Continued)
Hercules (Programming and Additional Arrangement)
Paramount Pictures
Director: Brett Ratner
Producer: Beau Flynn, Barry Levine, Brett Ratner
Starring: Dwayne Johnson, Ian McShane, John Hurt
Fast and Furious 6 (Score Programmer)
Universal Pictures
Director: Justin Lin
Producer: Vin Diesel, Neal H. Moritz, Clayton Townsend
Starring: Vin Diesel, Paul Walker, Dwayne Johnson
G.I. Joe: Retaliation (Theme Music)
Paramount Pictures
Director: John M. Chu
Producer: Lorenzo di Bonaventura, Brian Goldner
Starring: Dwayne Johnson, Jonathan Pryce, Lee Byung-hun
Total Recall (Additional Music, Music Programming)
Columbia Pictures
Director: Len Wiseman
Producer: Toby Jaffe, Neal H. Moritz
Starring: Colin Farrell, Kate Beckinsale, Jessica Biel
Fast Five (Additional Music, Songs)
"How We Roll", "Million Dollar Race", "Han Drifting"
Universal Pictures
Director: Justin Lin
Producer: Vin Diesel, Michael Fottrell, Neal H. Moritz, Michael K. Ross
Starring: Vin Diesel, Paul Walker, Jordana Brewster
Unstoppable (Additional Music, Additional Music Programming)
Twentieth Century Fox
Director: Tony Scott
Producer: Eric McLeod, Mimi Rogers, Tony Scott, Julie Yorn, Alex Young
Starring: Denzel Washington, Chris Pine, Rosario Dawson
Prince of Persia: The Sands of Time (Additional Music Programming)
Walt Disney Studios Motion Pictures
Director: Mike Newell
Producer: Jerry Bruckheimer
Starring: Jake Gyllenhaal, Gemma Arterton, Ben Kingsley
The Taking of Pelham 123 (Music Programmer)
Columbia Pictures
Director: Tony Scott
Producer: Todd Black, Jason Blumenthal, Tony Scott, Steve Tisch
Starring: Denzel Washington, John Travolta, Luis Guzman
X-Men Origins: Wolverine (Additional Music, Music Programmer)
Twentieth Century Fox
Director: Gavin Hood
Producer: Hugh Jackman, John Palermo, Lauren Shuler Donner, Ralph Winter
Starring: Hugh Jackman, Liev Schreiber, Danny Huston
Deja Vu (Music Programmer)
Buena Vista Pictures
Director: Tony Scott
Producer: Jerry Bruckheimer
Starring: Denzel Washington, Paula Patton, Val Kilmer
Domino (Additional Music)
New Line Cinema
Director: Tony Scott
Producer: Samuel Hadida, Tony Scott
Starring: Keira Knightley, Mickey Rourke, Edgar Ramirez
Man On Fire (Music Arranger, Music Programmer)
Twentieth Century Fox
Director: Tony Scott
Producer: Lucas Foster, Arnon Milchan, Tony Scott
Starring: Denzel Washington, Dakota Fanning, Radha Mitchell
SHORT FILM
Nails
Director: Hybrid
Producers: Hybrid
Starring: Lottie Truman
Flashpoint
Director: Hybrid, Matt Westrup
Producers: Hybrid
Starring: Lottie Truman, Edmund Kingsley
Lines of Descent
Reign Multimedia
Director: E. Jesus Nieves
Producers: Kyle Padrino Anthony, Delion Diaz, E. Jesus Nieves
Starring: Paris Barelc, Delion Diaz, Joe Giorgio
Hold Your Breath
Kill City Music
Director: John Stephenson
Producers: Lottie Truman
Starring: James Purefoy, Ben Hall Jr, Kenny-Lee Mbanefo
VIDEOGAMES
Driveclub
Sony Computer Entertainment America
Ghost Recon: Future Soldier
Ubisoft
FIFA Soccer 2002: Major League Soccer (Song)
"Never Gonna Come Back Down (Hybrid's Echoplex Dub)"
Electronic Arts
DISCOGRAPHY
Black Halo
Distincti'ive Records
Light of the Fearless
Distincti'ive Records
Disappear Here
Distincti'ive Records
I Choose Noise
Distincti'ive Records
Morning Sci-Fi
Distincti'ive Records
Wide Angle
Distincti'ive Records