Fil Eisler
Composer
---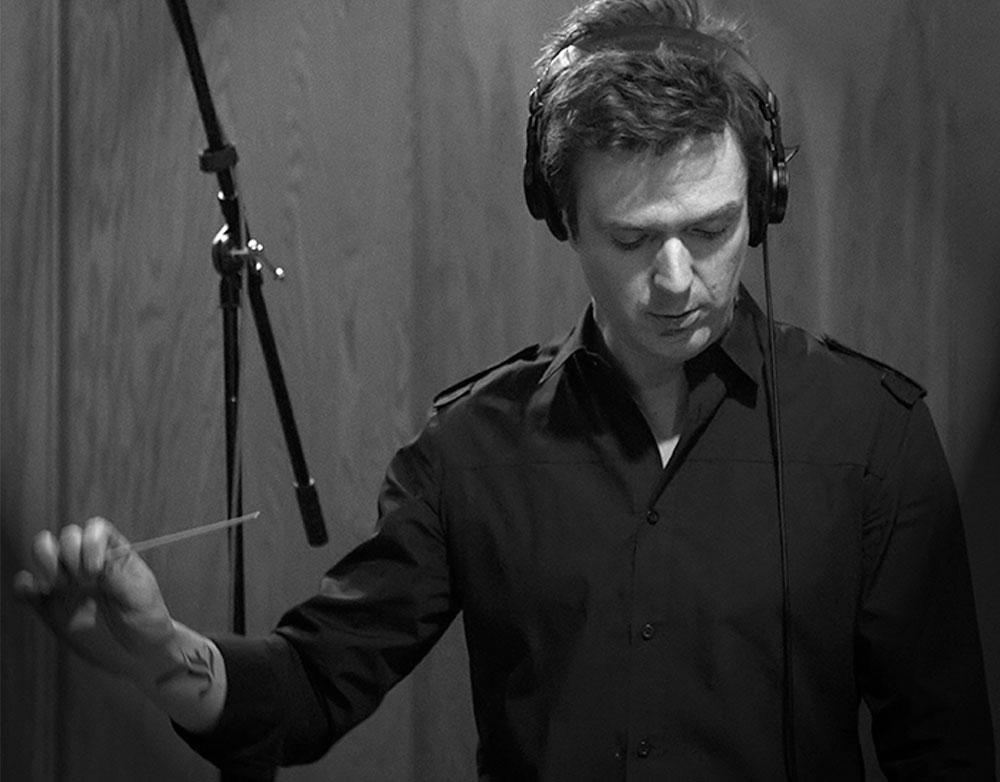 Fil Eisler is one of today's busiest and most diverse film composers, with projects that range from big studio action pieces and comedies, to gritty independent films and hit television shows. He has been nominated for and been the recipient of numerous awards including the World Soundtrack Awards New Discovery, SXSW Best Soundtrack Award and multiple BMI Awards. Eisler's ability to understand directors' musical intent and his flexible approach to scoring has led to numerous collaborations with some of Hollywood's most accomplished creatives, including Lee Daniels, Marti Noxon, Catherine Hardwicke, Ben Falcone, and Phillip Noyce, whose thriller feature film "Desperate Hour," starring Naomi Watts, recently premiered at the Toronto International Film Festival to wide acclaim.
Eisler, a Czech-born, English-raised composer, producer and multi-instrumentalist, has worked with ensembles of all shapes and sizes to help bring his scores to life. Variety described his music as "smoky, elaborate film noir-inspired compositions," while Beatweek Magazine praised him for making "beautiful music" that "…almost acts as another character further enveloping the audience in its grasp."
Eisler's inventive scores and signature themes enliven some of TV's most popular series and notable films. His tension-filled orchestral cues for Fox's Golden Globe-nominated drama series "Empire" and Sony's action thriller "Proud Mary," provide a powerful contrast to his integrated electronic and orchestral arrangements for Netflix's sci-fi thriller "The Titan," and provocative music for Lifetime's Peabody-winning series "UnReal."
He also composed the main title music for Amazon's critically acclaimed "The Romanoffs." Recently in television, Eisler has been scoring two quite different series for Netflix now in their second seasons, "Biohackers," a German-produced action/suspense series and the massively popular youth-oriented Netflix series "Outer Banks". Last fall he scored the HBO Max premiere feature, "Super Intelligence," starring Melissa McCarthy, and recently teamed up with them again on the feature "Thunder Force" for Netflix. This heavy-metal/orchestral hybrid score features guest instrumentalists Scott Ian (Anthrax) and Dave Lombardo (Slayer/Suicidal Tenencies). Together with vocals from Lzzy Hale (Halestorm) and Corey Taylor (Slipnot), Fil and this supergroup recorded the eponymous title song for the feature as well.
Eisler's music for Showtime's Emmy-winning "Shameless" earned him the BMI Film and TV Award. The same year, he also won the BMI Award as both the composer and conductor for ABC's breakout hit drama "Revenge." Eisler also composed the main title theme and acted as co-composer and music director for the Peabody-winning documentary, "Newtown," for which he organized and led an all-star line-up of over a dozen Hollywood composers who each donated a piece of music for the film.
In 2008, Eisler was invited to participate in the prestigious Sundance Film Composer's Lab and his projects have garnered critical acclaim on the film festival circuit ever since. As part of his ongoing commitment to independent film, he returned to Sundance in 2011 with the Inupiaq-themed thriller "On the Ice," scored the Sundance-backed documentary "Whatever It Takes" and Jonathan van Tulleken's BAFTA-nominated horror thriller "Off Season." Eisler won the Best Film Score Award for his work on Robbie Pickering's "Natural Selection" at the 2011 SXSW Film Festival. The film was the most decorated of the festival, also winning the Grand Jury and Audience Awards. He continued his work with Pickering on the 2015 Sony feature "Freaks of Nature. and was represented at the 2017 festival with Marti Noxon's To The Bone (Netflix) and at the 2020 festival with the documentary "Us Kids."
Eisler's credits further include three films for Warner Bros., the comedy "Life of the Party," the hilarious film reboot of "CHIPS," and the People's Choice Awards-nominated "How To Be Single." Eisler has scored several shows across multiple genres including AMC's twisted drama, "Dietland" and Bravo's hit comedy series "Girlfriends' Guide To Divorce." Fil lives in Los Angeles with his one lovely wife, two charming kids, and three badly-behaved dogs.
PR Contact: Jana Davidoff/Rhapsody PR
jana@rhapsodypr.com
FILM
The Present
AGC Studios
Director: Christian Ditter
Producers: Marcei A. Brown, Jessica Malanaphy, Linda McDonough
Starring: Isla Fisher, Greg Kinnear, Ryan Guzman
Fast Charlie
Screen Media
Director: Phillip Noyce
Producers: Daniel Grodnik, Jeff Holland, Brent C. Johnson, Ryan Donnell Smith, Mitchell Welch
Starring: Pierce Brosnan, Morena Baccarin, James Caan
The Desperate Hour
Vertical Entertainment
Director: Phillip Noyce
Producers: David Boies, Andrew Corkin, Naomi Watts, Alex Lalonde, Chris Parker, Dylan Sellers, Chris Sparling
Starring: Naomi Watts, Sierra Maltby
Thunderforce
Netflix
Director: Ben Falcone
Producers: Ben Falcone, Marc Platt
Starring: Melissa McCarthy, Pom Klementieff, Octavia Spencer
Superintelligence
Warner Brothers
Director: Ben Falcone
Producers: Rob Cowan, Ben Falcone, Melissa McCarthy
Starring: Melissa McCarthy, Michael Beach, Bobby Cannavale
Proud Mary
Screen Gems
Director: Babak Najafi
Producers: Tai Duncan, Paul Schiff
Starring: Taraji P. Henson, Neal McDonough, Danny Glover
Life of the Party
New Line Cinema
Director: Ben Falcone
Producers: Ben Falcone, Melissa McCarthy
Starring: Melissa McCarthy, Julie Bowen, Gillian Jacobs
The Titan
Netflix
Director: Lennart Ruff
Producers: Arash Amel, Brian Kavanaugh-Jones, Ben Pugh
Starring: Taylor Schilling, Sam Worthington, Sofia Boutella
CHiPs
Warner Brothers
Director: Dax Shepard
Producers: Ravi D. Mehta, Andrew Panay, Dax Shepard
Starring: Dax Shepard, Jessica McNamee, Adam Brody
To The Bone
Netflix
Director: Marti Noxon
Producers: Bonnie Curtis, Julie Lynn, Karina Miller
Starring: Keanu Reeves, Lily Collins, Lili Taylor
* 2017 Sundance Film Festival Premiere
How To Be Single
New Line Cinema
Director: Christian Ditter
Producers: Drew Barrymore, Dana Fox, Nancy Juvonen
Starring: Rebel Wilson, Dakota Johnson, Leslie Mann
Freaks of Nature
Sony Pictures
Director: Robbie Pickering
Producers: Matthew Tolmach, Rob Schmidt
Starring: Vanessa Hudgens, Ed Westwick, Bob Odenkirk, Rachael Harris
Growing Up and Other Lies
Embark Productions
Director: Darren Grodsky
Producers: Nicole Diane Lederman, Katie Mustard, Jason Weiss
Starring: Adam Brody, Wyatt Cenac, Danny Jacobs
Natural Selection
Best Medicine Productions
Director: Robbie Pickering
Producers: Brion Hambel, Paul Jensen
Starring: Rachael Harris, Jon Gries, Matt O'Leary
* Winner – Best Score, SXSW Film Festival
On the Ice
On the Ice Productions
Director: Andrew Okpeaha MacLean
Producers: Lynette Howell, Marco Londoner, Cara Marcous
Starring: Josiah Patkotak, Adamina Kerr, Frank Qutuq Irelan
The Hammer
Fifth Year Productions
Director: Oren Kaplan
Producers: Eben Kostbar, Joseph McKelheer
Starring: Shoshannah Stern, Raymond J. Barry
Repo Men (Additional Music)
Universal Pictures
Director: Miguel Sapochnik
Producers: Andrew Z. Davis, Mike Drake, Jon Mone, Mary Parent, Scott Stuber
Starring: Jude Law, Forest Whitaker
Smokin' Aces 2: Assassins' Ball (Additional Music)
Universal Pictures
Director: P.J. Pesce
Producers: Joe Carnahan, Mike Elliot
Starring: Tom Berenger, Clayne Crawford
Humboldt County
Magnolia Pictures
Director: Darren Grodsky
Producers: Todd Senturia, Jason Weiss
Starring: Fairuza Balk, Peter Bogdanovich
SERIES
Fire Country
CBS
Director: Dermott Downs
Producers: Jerry Bruckheimer, Tony Phelan, Joan Rater, KristieAnne Reed, Ted Babcock,
Starring: Max Thieriot, Kevin Alejandro, Jordan Calloway
Blood Relative
FOX
Director: Phillip Noyce
Producers: Todd Lewis
Starring: Sarah Catherine Hook, Dascha Polanco, Melissa Leo
Big Shot
Disney+
Producers: Jacquie Walters, Tommy Burns
Starring: Monique A. Green, John Stamos, Tisha Custodio
Council of Dads
NBC
Producers: Tony Phelan, Joan Rater, KristieAnn Reed, Jonathan Littman
Starring: Thalia Tran, Michele Weaver, Hilarie Burton
Biohackers
Netflix
Producers: Christian Ditter, Jakob Claussen Ulrike Putz
Starring: Luna Wedler, Jessica Schwarz, Adrian Julius Tillmann
Outer Banks
Netflix
Producers: Jonas Pate, Josh Pate, Sunny Hodge, Shannon Burke
Starring: Madison Bailey, Madelyn Cline, Jonathan Daviss
What/If
Netflix
Producers: Alex Gartner, Mike Kelley, Jacqueline Levine, Melissa Loy
Starring: Renee Zellweger, Dave Annable, Juan Castano
Empire
Fox
Producers: Danny Strong, Lee Daniels, Brian Grazer, Francie Calfo
Starring: Terrence Howard, Taraji Henson, Gabourey Sidibe
Dietland
AMC
Producers: Marti Noxon, Bonnie Curtis, Maria Grasso
Starring: Julianna Margulies, Robin Weigert, Rowena King
The Romanoffs (Main Title Theme)
Amazon
Producers: Matthew Weiner, Semi Chellas, Wendy Grean
Starring: Aaron Eckhart, Diane Lane, JJ Field
Girlfriends' Guide to Divorce
Bravo!
Producers: Marti Noxon, Carol Barbee, Clara George
Starring: Lisa Edelstein, Beau Garrett, Necar Zadegan
Behind Enemy Lines
Fox
Producers: Nikki Toscano, McG, Marty Bowen
Starring: B.J. Britt, Dylan Bruno, Gabriel Chavarria
UnReal
Lifetime
Producers: Marti Noxon, Sarah Gertrude Shapiro, Sally DeSipio
Starring: Shiri Appleby, Constance Zimmer, Freddie Stroma
Shameless (Episodes)
Showtime
Producers: Andrew Stearn, John Wells
Starring: William H. Macy, Emmy Rossum, Ethan Cutkosky
Notorious
ABC
Producers: Josh S. Barry, Anne M. Uemura
Starring: Piper Perabo, Daniel Sunjata, Aimee Teegarden
Reckless
CBS
Producers: Corey D. Miller, Kim Moses, Ian Sanders, Dana Stevens
Starring: Collins Pennie, Cam Gigandet, Adam Rodriguez, Gregory Harrison
Revenge
ABC
Producers: Marty Bowen, Wyck Godfrey, Mike Kelley
Starring: Emily VanCamp, Connor Paolo, Gabriel Mann
Chicago Code (Additional Music)
20th Century Fox Television
Producers: Shawn Ryan, Tim Minear
Starring: Jennifer Beals, Jason Clarke, Don Kress
Boomerang (Pilot)
20th Century Fox Television
Producer: Craig Brewer
Starring: Felicity Huffman, Anthony Lapaglia, Stephanie Jacobsen, S. Epatha Merkerson
Drew (Pilot)
CBS
Producers: Nick Nantell, Dan Jinks, Tony Phelan
Starring: Sarah Shahi, Anthony Edwards, Vanessa Ferlito
The Jury (Pilot)
ABC
Producers: VJ Boyd, Carol Mendelsohn
Starring: Nikki Deloach, Archie Panjabi, Jeremy Sisto
Kingmakers (Pilot)
ABC
Producers: Sallie Patrick
Starring: Parminder Nagra, Colm Feore, Khary Payton
Red Zone (Pilot)
CBS
Producers: Bill Johnson, Nikki Toscano
Starring: Aimee Garcia, Stefanie Scott, Anthony LaPaglia
Americana (Pilot)
ABC
Producers: Mark Gordon, Philip Noyce, Nicholas Pepper
Starring: Ashley Greene, Emilie De Ravin, Annabeth Gish
DOCUMENTARIES
Us Kids
Cuomo Cole Productions
Director: Kim A. Snyder
Producers: Lori Cheatle, Maria Cuomo Cole, Kim A. Snyder
* 2020 Sundance Film Festival Premiere
Newtown
Abramorama
Director: Kim A. Snyder
Producer: Maria Cuomo Cole
* 2016 Sundance Film Festival U.S. Documentary Competition
Whatever It Takes
Director: Christopher C.C. Wong
Producers: Renee Tajima-Pena, Chistopher C.C. Wong
Holy Wars (Additional Music)
Smuggler Films
Director: Stephen Marshall
Producers: Brian Beletic, Brian Carmody, Patrick Milling Smith
Into the Air: A Kiteboarding Experience
Breakthrough Distribution
Director: Rachel Janowicz, Marq Morrison
Producers: Marq Morrison, Blake Robertson, Rachel Janowicz
SHORT FILM
The Last Starship
Director: Eric Haywood
Producers: Eric Haywood, Anderson Vilien
To Hell With Reno
Hunt Films
Director: Kimberly Hunt
Producers: Emily De Margheriti, Kimberly Hunt, David Grove Churchill Viste
We Are All Newtown
Independent Lens
Director: Kim A. Snyder
Producers: Maria Cuomo Cole, Kim A. Snyder, Stephen Talbot
Notes From Dunblane: Lesson from a School Shooting
Netflix
Director: Kim A. Snyder
Producers: Maria Cuomo Cole, Kim A. Snyder
Thomas
Parkville Pictures
Director: Alex Winckler
Producers: Olivier Kaempfer
Anthony
Director: Jonathan van Tulleken
Producers: Camille Gatin, Dan McCulloch
Donna Bachler's A Homecoming
ABC
Director: Jon Huertas
Producers: Andrew Molina
Off Season
Director: Jonathan van Tulleken
Producers: Jacob Jaffke
Hooked
Director: Richie Keen
Producers: Manish Goyal, Jason Weiss
SOUNDTRACK CONTRIBUTIONS
Thunderforce – Title Song
Netflix
Written by: Fil Eisler, Scott Ian and Corey Taylor
Performed by: Corey Taylor, Lzzy Hale, Scott Ian,
Dave Lombardo, Fil Eisler and Tina Guo
Produced by: Fil Eisler
My Best Friend's Girl
Mandate Pictures
Studio 60 on The Sunset Strip
Warner Brothers
Redline
Chicago Pictures
Thief
Regency Television
ER
NBC
This Revolution
Revolution Theory
Some Voices
Dragon Pictures
SONGWRITER / PRODUCER / PERFORMER
Robbie Williams
Ryan Adams
Dave Stewart
Imogen Heap
Kylie Minogue
Jesse Malin
Kim Caldwell
Tom Jones
Brian May
Holly Johnson