Eldad
Guetta
Composer
---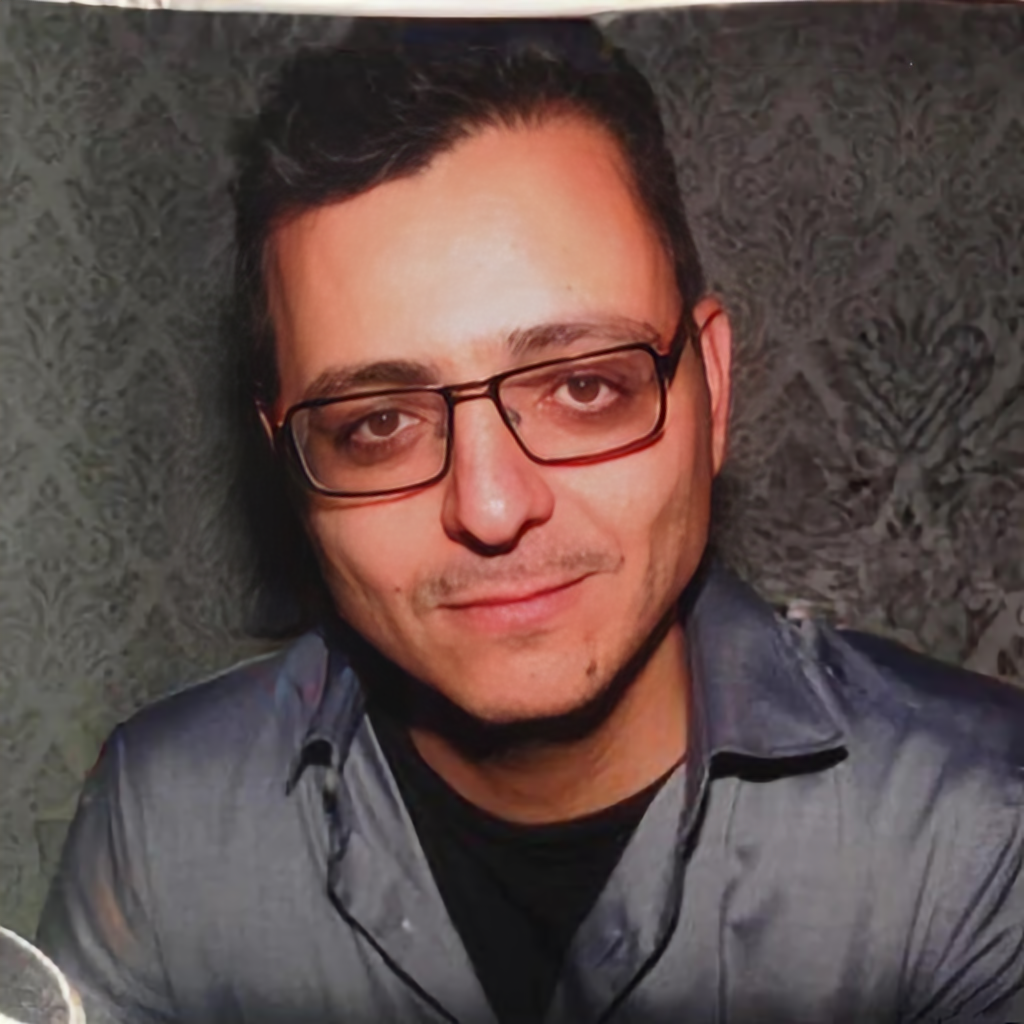 ELDAD GUETTA is an Israeli born, LA based composer, producer and multi-instrumentalist.
Well-known in Israel as a platinum-level record producer for many of Israel's biggest artists, Guetta relocated to London to more aggressively pursue film music opportunities worldwide.
In London and later in Los Angeles, Guetta collaborated with legendary record producer Marius DeVries on a number of top-level songwriting/producing projects for film including LA LA LAND, FIRST MAN, KICK ASS, and LEGO MOVIE 2. Also with DeVries, Guetta produced Chrissie Hynde's current album, VALVE BONE WOE. He also independently produced and co-wrote songs for the features SMALLFOOT (WB), TEEN SPIRIT (Bleeker Street) and MAINSTREAM (IFC, dir: Gia Coppola), as well as arranging all production numbers and creating various pieces of featured music forthe Netflix blockbuster BLONDE (dir: Andrew Dominick, Plan B, starring Ana De Armas as Marilyn Monroe).
A multi-faceted artist, Guetta is an accomplished composer, with impressive scores for the Israeli television series KACHA ZE (winner of four Israeli Emmys) and JUST FOR TODAY (winner of a special jury prize at Series Mania, the largest television festival in Europe). He recently collaborated with the band Mogwai on the Apple TV+'s BLACK BIRD (starring Taron Edgerton), and is the composer of the upcoming feature Press Play (Matt Walsh, Danny Glover, Lewis Pullman). Guetta is also active in the documentary space, including the acclaimed documentary series ALWAYS JANE for Amazon, and four documentary features for the award-winning Israeli directors Guy LaVie and Daniel Sivan, which are currently available to view on Netflix and HBO Max. He also provided two original pieces of score to the Academy Award winning Warner Bros. feature JOKER.
FILM
Blonde (Additional Music, Song Production, Songwriting)
Plan B Entertainment
Director: Andrew Dominik
Producers: Dede Gardner, Jeremy Kleiner, Brad Pitt
Starring: Ana de Armas, Adrien Brody, Bobby Cannavale
Press Play (Composer)
CJ Entertainment
Director: Greg Björkman
Producers: Josh Boone, Francis Chung, Logan Lerman, Jonathan Schwartz
Starring: Danny Glover, Matt Walsh, Lewis Pullman
Dicks: The Musical (Arranger / Programming)
A24
Director: Larry Charles
Producers: Kori Adelson, Larry Charles, Peter Chernin, Jenno Topping
Starring: Josh Sharp, Aaron Jackson, Nathan Lane
She Came to Me (Programming)
Vertical Entertainment
Director: Rebecca Miller
Producers: Len Blavatnik, Damon Cardasis, Anne Hathaway
Starring: Peter Dinklage, Anne Hathaway, Marisa Tomei
Babylon (Programming)
Paramount Pictures
Director: Damien Chazelle
Producers: Olivia Hamilton, Marc Platt, Matthew Plouffe
Starring: Tobey Maguire, Olivia Wilde, Brad Pitt, Margot Robbie
The Addams Family 2 (Song Production)
United Artists Releasing
Director: Greg Tiernan, Conrad Vernon
Producers: Gail Berman, Alison O'Brien, Danielle Sterling, Conrad Vernon
Starring: Oscar Isaac, Charlize Theron, Chloe Grace Moretz, Nick Kroll
The Eternal Flame (Composer, Documentary)
Erze Laufer Films
Director: Ranni Midyan
Producer: Ranni Midyan
Dirty Tricks (Composer, Documentary)
Showtime
Director: Daniel Sivan
Producers: Guy Lavie, Daniel Sivan, Danna Stern
Starring: Lotan Fisher
Mainstream (Producer / Writer – Songs, Interstitial Music)
Automatik/IFC Films
Director: Gia Coppola
Producers: Fred Berger, Gia Coppola, Andrew Garfield, Lauren Bratman
Starring: Andrew Garfield, Maya Hawke, Nat Wolff
Godmothered (Producer/Arranger – Songs)
Disney +
Director: Sharon Maguire
Producers: Justin Springer
Starring: Jillian Bell, June Squibb, Sonia Manzano
Kings of Capital Hill (Composer, Documentary)
Rustic Canyon Pictures
Director: Mor Loushy
Producers: Mor Loushy, Daniel Sivan
Starring: Doug Bloomfield, Tom Dine, Ada Horwitch
Joker (Composer – Additional Music)
Warner Bros.
Director: Todd Phillips
Producers: Bradley Cooper, Todd Phillips, Emma Tillinger Koskoff
Starring: Joaquin Phoenix, Robert De Niro, Zazie Beetz
Lost Transmissions (Music Co-Producer)
Royal Road Entertainment
Director: Katharine O'Brien
Producers: Al Di, Olga Kagan
Starring: Alexandra Daddario, Simon Pegg, Juno Temple
Lego Movie 2: The Second Part (Music Producer – Songs)
Warner Bros.
Director: Mike Mitchell
Producers: Jinko Gotoh, Roy Lee, Dan Lin
Starring: Chris Pratt, Elizabeth Banks, Tiffany Haddish, Will Arnett
First Man (Score Production Consultant)
Universal Pictures
Director: Damien Chazelle
Producers: Wyck Godfrey, Isaac Klausner, Marty Bowen
Starring: Ryan Gosling, Claire Foy, Jason Clarke
FILM (CONTINUED)
Smallfoot (Co-Producer – Songs)
Warner Bros.
Director: Karey Kirkpatrick
Producers: Bonne Radford, Glenn Ficarra, John Requa
Starring: Channing Tatum, James Corden, Zendaya
Stargirl (Song Consultant)
Walt Disney Studios
Director: Julia Hart
Producers: Eddie Gamarra, Lindsay William, Lee Stollman
Starring: Grace VanderWaal, Graham Verchere, Karan Brar
The Wave (Composer)
EchoWolf Productions
Director: Gille Klabin
Producers: Joshua Bunting, Robert Dehn, Carl W. Lucas
Starring: Bill Sage, Justin Long, Tommy Flanagan
Teen Spirit (Co-Producer – Music, Additional Music Composer)
Bleeker Street Media
Director: Max Minghella
Producers: Fred Berger, Brian Kavanaugh-Jones, Mickey Liddell
Starring: Elle Fanning, Rebecca Hall, Agnieszka Grochowska
La La Land (Co-Producer – Music)
Lionsgate
Director: Damien Chazelle
Producers: Fred Berger, Gary Gilbert, Jordan Horowitz
Starring: Ryan Gosling, Emma Stone
House of Flying Arrows (Composer)
Universal
Director: Daniel Harris, Daniel Mendelle
Producers: Leo Pearlman
Starring: Gary Anderson, Eric Bristow, Michael van Gerwen
Strange Magic (Song Producer, Additional Score Composition)
Walt Disney Studios
Director: Gary Rydstrom
Producers: Mark S. Miller
Starring: Evan Rachel Wood, Kristin Chenoweth, Maya Rudolph
SHORT FILM
Bite (Composer)
AFI
Director: Michelle Krusiec
Producers: Michael W. Abbott, Guo Guo
Starring: Kristen Hoang, Mike Sears
Date Night (Composer)
Director: J.J. Shpall
Producers: Eric Brewster, Thomas Hartmann, J.J. Shpall, Christian Vazquez
Starring: Josh Brener, Larry Hankin, Lauren Lapkus
Home Shopper (Composer)
SYA Concept
Director: Dev Patel
Producers: Dev Patel, Samarth Sahni, Jomon Thomas
Starring: Sophie Kargman, Thomas Sadoski, Amelia Brain
SERIES
In the Know (Composer)
Peacock
Director: Brandon Gardner, Zach Woods
Producers: Greg Daniels, Mike Judge, Zach Woods, Alexander Bulkley
Starring: Zach Woods, Mike Judge, J Smith-Cameron
Black Bird (Additional Music)
Apple TV+
Director: Michael R. Roskam
Producers: Scott Lambert, Alexandra Milchan
Starring: Taron Egerton, Ray Liotta, Paul Walter Hauser
The Changeling (Arranger / Producer)
Apple TV+
Producers: Kelly Marcel, Parry Creedon
Starring: LaKeith Stanfield, Clark Backo
Six Zeros (Composer)
Movie Plus Productions
Director: Nir Bergman
Producers: Kainan Eldar, David Mandil
Starring: Liora Rivlin, Shlomo Bar-Aba, Shani Klein
The Muppets Mayhem (Music Producer)
Disney +
Director: Matt Sohn, Kimmy Gatewood, Robert Cohen
Producers: Bill Barretta, Michael Bostick, Adam F. Goldberg
Starring: Lilly Singh, Dave Goelz, Eric Jacobson
The Santa Clauses (Additional Music)
Disney +
Director: Katie Locke O'Brien, Charles Randolph-Wright, Jason Winer
Producers: Jack Burditt, Tim Allen, Jon Radler, Shawn Wilt, Katie O'Brien
Starring: Tim Allen, Elizabeth Mitchell, Austin Kane
Roots & Fruits (Composer)
Plum Films
Director: Bar Ben-Yossef
Producers: Tina Foster
Starring: Laura Main, Gavin Mitchell, Joe Pasquale
Always Jane (Composer)
Amazon Studios
Director: Jonathan Hyde
Producers: Katherine LeBlond
Starring: Jane Noury
Secrets of the Amish (Composer)
Peacock / Rustic Canyon Pictures
Director: Mor Loushy
Producers: Mor Loushy, Daniel Sivan
The After Party (Co-Producer – Songs, Upcoming)
Apple TV+
Director: Christopher Miller
Producers: Michael Cedar, Aubrey Davis Lee
Starring: Genevieve Angelson, Dave Franco, Sam Richardson
The Devil Next Door (Composer – Additional Music, Producer – Songs)
Netflix
Director: Yossi Bloch, Daniel Sivan
Producers: Yossi Bloch, Daniel Sivan
Starring: Eli Gabay, Eli Rosenbaum, Yoram Sheftel
DC's Legends of Tomorrow (Producer / Writer – Songs)
HBO Max
Producers: Phil Klemmer, Greg Berlanti, Geoff Garrett, Carl Ogawa
Starring: Caity Lotz, Amy Louise Pemberton, Dominic Purcell
Just For Today (Composer, Upcoming)
Director: Nir Bergman Endemol Shine Israel
Producers: Nir Bergman, Ram Nehari
Starring: Tal Lifshitz, Henry David, Imri Biton
Significant Other (Composer)
Director: Ram Nehari July August Productions
Producers: Guy Yekoel, Yossi Uzrad, Yochanan Kredo
Starring: Dana Modan, Assi Cohen, Dorian Atias
RECORDINGS
Valve Bone Woe
Artist: Chrissie Hynde
Producer (shared credit), Arranger: Eldad Guetta
Take All My Loves: 9 Shakespeare Sonnets – LP
Artist: Rufus Wainwright
Programming: Eldad Guetta
THEATER
King Kong on Broadway (Co-Producer – Songs, Arrangement)
Strictly Ballroom (Co-Producer – Songs, Arrangement)
Sama-Sama (Score Composition)
TRAILERS
Marvel's The Defenders (Composer/Remixer Trailer)
Netflix
PODCAST
Night Raid (Composer)
Crime Story Media