David Majzlin
Composer
---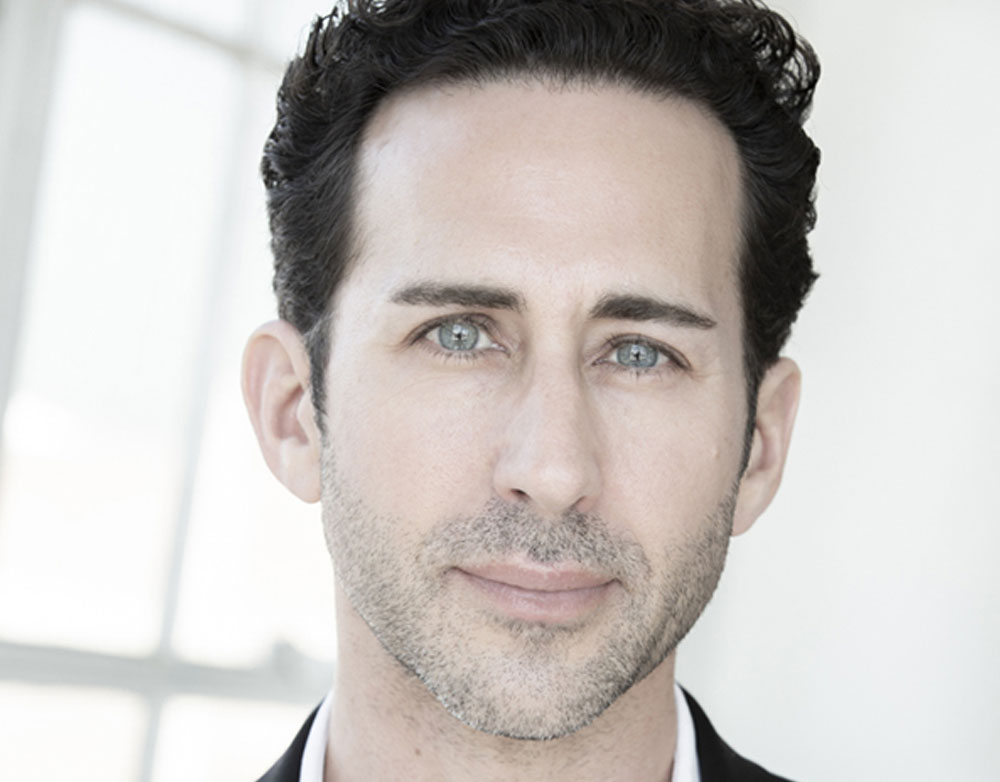 David is an Emmy®-nominated composer and producer whose eclectic approach to music has led him to work with a broad assortment of unique artists and collaborators. His score to BEL CANTO (starring Oscar-winner, Julianne Moore and Ken Watanabe) was directed by Oscar-nominee Paul Weitz (ABOUT A BOY, FATHERHOOD) and featured the voice of opera star and five-time Grammy winner, Renée Fleming.

His diverse musical background has led to collaborations with a wide variety of acclaimed directors and projects, including commissioned works for on Amazon's hit series, MOZART IN THE JUNGLE (Sony Classical)Oscar-shortlisted and Emmy®-award-winner, The Loving Story (HBO – dir., Nancy Buirski), Peabody Award-winner, Deej, multi award-winner, Herb and Dorothy (Independent Lens), The Ghost Writer (dir., Roman Polanski), Youth Knows No Pain (HBO), Being Reel (Project Greenlight Winner), and Shenandoah (Louverture Films, Netflix), directed by Pulitzer Prize-Winning photographer, David Turnley.
He was commissioned for works on Amazon's hit series, MOZART IN THE JUNGLE (Sony Classical), as well as for HELIOS DANCE COMPANY, whose BEAUTIFUL MONSTERS premiered live at UCLA's Royce Hall (choreographer, Laura Gorenstein Miller), was nominated for an Emmy on SINS OF MY FATHER (HBO), was nominated for a Jackson Wild Media Award for his work on the series Epic Yellowstone (Smithsonian), won the Union Des Compositeurs De Musiques De Films Award at the Avignon Film festival for his work on the haunting and beautiful memento mori, Stille, and scored ANGEL OF NANJING (Dirs., Jordan Horowitz, Frank Ferendo), which Elle Magazine featured in their "25 Films Guaranteed To Make You Cry." Commercial compositions have earned a TELLY, CADDY, FIRST LONDON INTERNATIONAL ADVERTISING AWARD, AND INTERNATIONAL MONITOR AWARD.
In the theater world, he collaborated with Tony-award-winner, Michael Aronov (OSLO, THE AMERICANS), on his one-man, sold-out show, MANIGMA and has also served as music producer to several acclaimed plays for The Rude Mechanicals Theater Company, which included a rock musical of Shakespeare's THE WINTER'S TALE starring Omar Metwally (MIRAL, MUNICH).
As a songwriter and music producer his music has appeared in hundreds of TV projects over the years and he has worked with many unique artists in sync and production across all genres including up-and-coming R&B singer Brendalynn, Americana fiddler, Sara Milonovich, rapper Tytanic, and soul singer, Drea Albert (Rhianna, Zac Brown Band). He was a two-time finalist in the annual Great American Song Contest and has worked as an orchestrator and programmer with a myriad of unique artists including composer Paul Cantelon (DIVING BELL AND THE BUTTERFLY), recording artist LOU REED, bassist Fernando Saunders and violinist Daisy Jopling of prodigal string trio TRIOLOGY.
He also has worked on set as a coach to actors who playing musicians on camera in films such as THE MUSIC NEVER STOPPED (starring J.K. Simmons and Julia Ormand) and GREETINGS FROM TIM BUCKLEY (starring Imogen Poots and Penn Badgley). He holds a Master's degree from New York University in Film Critique and Media Literacy and his diverse experience has also made him a sought out educator where he has designed curricula for a number of institutions including New York Film Academy, UCLA Extension, American Film Institute, and Brooklyn.
FILM
Jonah
Balance Films
Director: Frank Ferendo
Producers: Jordan Horowitz, Jeff Solema

Bel Canto
A-Line Pictures
Director: Paul Weitz
Producers: Caroline Baron, Lizzie Friedman, Karen Lauder
Starring: Julianne Moore, Christopher Lambert, Ken Watanabe
Burden of Genius (Documentary)
Laura Davis Productions
Directors: Laura Davis, Tjardus Greidanus
Producers: Laura Davis, Carl Kurlander
Bird of Prey (Documentary)
Director: Eric Liner
Producer: John Bowman
Deej (Documentary)
Director: Robert Rooy
Producers: Robert Rooy, David James Savarese
Painless
Ambrosino/Delmenico
Director: Jordan Horowitz
Producers: Anthony Ambrosino, Nicholas Delmenico, Jordan Horowitz
Starring: Joey Klein, Kip Gilman, Evalena Marie
A Whale of a Tale (Documentary)
Fine Line Media
Director: Megumi Sasaki
Producer: Megumi Sasaki

Doubting Thomas
The Long Way Home
Director: Anthony O'Brien
Producer: Mark Sayre
Starring: Jack Dimich, Joseph Oliveira, Evalena Marie
Angel of Nanjing (Documentary)
Balance Films
Director: Frank Ferendo, Jordan Horowitz
Producers: Frank Ferendo, Jordan Horowitz
Deej
Rooy Media/ITVS
Director: Robert Rooy
Producer: Anna de Mare

Althea (Documentary)
Rexpix Media
Director: Rex Miller
Producers: Derek Britt, Nancy Buirski, Elisabeth Haviland James
Las Marthas (Documentary)
Undocumented Films
Director: Cristina Ibarra
Producer: Erin Ploss-Compoamor
Catching the Sun (Documentary)
ITVS
Director: Shalini Kantayya
Producer: Cédric Troadec

Herb and Dorothy (50X50)
Crest International
Director: Megumi Sasaki
Producers: Megumi Sasaki, Lily Bright, Sanley Buchtal
Starring: Paula Antebi, Robert Barry, Lisa Bradley, Chuck Close
Shenandoah (Documentary)
Louverture Films
Director: David Tumley
Producers: Joslyn Barnes, Danny Bennett, Ted Sarandos
Diana Vreeland: The Eye Has To Travel (Additional Music)
Samuel Goldwyn Films
Director: Lisa Immordino Vreeland
Producers: Lisa Immordino Vreeland, Magnus Anderson, Ron Curtis
Starring: Diana Vreeland, Richard Avedon, David Bailey
* Venice Film Festival; Toronto Film Festival
Greetings From Tim Buckley (On-set acting consult)
Focus Features
Director: Daniel Algrant
Producers: John Hart, Amy Nauiokas, Patrick Milling Smith
Starring: Penn Badgley, Imogen Poots
* Tribeca Film Festival
A Bird of the Air
Paladin
Director: Margaret Whitton
Producers: Steven Tabakin, Raine Hall
Starring: Rachel Nichols, Jackson Hurst, Linda Edmond, Buck Henry
8:46
Virgil Films
Director: Jennifer Gargano
Producers: Jennifer Gargano
Starring: Mike DiGiacinto, Buzz Roddy
The Loving Story (Documentary)
Icarus Films
Director: Nancy Buirski
Producers: Elisabeth Haviland James
* Emmy-Nominated
The Music Never Stopped (Score Programmer, On-set acting consult)
Essential Pictures
Director: Jim Kohlberg
Producers: Greg Johnson, Peter Newman, Julie W. Noll
Starring: J.K. Simmons, Lou Taylor Pucci, Julia Ormand
* Sundance Film Festival
FILM (CONTINUED)
Living River: The Ganges
Jeridoo Productions
Director: Vinit Parmar
Producers: Linda Brieda
All Good Things (Source Music)
Magnolia Pictures
Director : Andrew Jarecki
Producers: Michael London, Bruna Papandrea, Marc Smerling
Starring: Ryan Gosling, Kirstin Dunst, Frank Langella
The Ghost Writer (Source Music)
Summit
Director : Roman Polanski
Producers: Robert Benmussa, Alain Sarde
Starring: Ewan McGregor, Jon Bernthal, Tim Preece
Sins of My Father
HBO
Director : Nicolas Entel
Producers: Ivan Entel
Starring: Pablo Escobar, Luis Carlos Galán
* Nominated: Outstanding Music – Emmy®
The Joneses (Source Music)
Roadside Attractions
Director : Derrick Borte
Producers: Doug Mankoff, Andrew Spaulding
Starring: Demi Moore, David Duchovny
Asylum Seekers
Shoreline Entertainment
Director: Rania Ajami
Producers: Molly Conners, Alex Twersky, Gill Holland
Starring: Pepper Binkley, Bill Dawes, Judith Hawking
Fresh (Documentary)
Ripple Effect Films
Director: Ana Sofia Joanes
Producers: Ana Sofia Joanes
Make Me Young: Youth Knows No Pain (Documentary)
Cinema Libre Studio
Director: Mitch McCabe
Producers: Linda Sophie Chiu, Kathleen Rosenbloom, Sheila Nevins
Starring: Sherry Lee Mecom, Lisa Airan, Julia Allison
Naturally Obsessed: The Making of a Scientist (Documentary)
ParnassusWorks
Director: Carole Rifkind
Producers: Richard Rifkind
Herb & Dorothy
Arthouse Films
Director: Megumi Sasaki
Producers: Megumi Sasaki, Lily Bright, Sanley Buchtal
Starring: Paula Antebi, Will Barnet, Robert Barry
Sunshine Cleaning (Additional Music)
Overture Films
Director: Christine Jeffs
Producers: Jeb Brody, Peter Saraf, Marc Turtleaub, Glenn Williamson
Starring: Amy Adams, Emily Blunt, Alan Arkin
Scallop Pond
CGF Films
Director: Carlos Gil Ferrer
Producers: Gil Ferrer
Starring: Alexandra Buckley, Brian Carson, Jonathan Beatrice
One Night
Director: Kunle Junaid
Producers: Dorothy Atabong
Starring: Dorothy Atabong, Kareem Ferguson, Dunle Junaid
SHORT FILMS
Lalito 10
Blue Bus Productions
Director: Jordan Horowitz
Producers: Andrew Carlberg
Luciela
Director: Erin Ploss-Campoamor
Producers: Sharis Delgadillo
Jamie
Director: Frank Ferendo
Producers: Chelsea Lopez, Sprague Grayden, Priscilla Barnes
Decisions (Documentary)
Electus/Insurgent Media
Director: Mark Monroe, Hayden Paul, Fisher Stevens
Producers: Rebecca Chaiklin, Kelly Hefner
Speed Grieving
2 Wonder Full To Be
Director: Jessica Daniels
Producers: Dasha Snyder
Starring: Alysia Reiner, James Naughton, Lucy DeVito, David Alan Basche
Getap!
Independent
Director: Kosuke Furukawa
Producers: Ade Richardson
Starring: Jun Naito, Joseph Wiggans
SHORT FILMS (CONTINUED)
The Arab
Pecorella Productions
Director: Boris Wexler
Producers: Bobby McCarthy
Starring: Richard Forkin, Doug Lamoreux, Joe Mack
Happily Ever After
Scared Mouse Productions
Director: Lidia Sheinin
Starring: Kevin J. Kelly, Emily Maya Mills
The Lucky One
Independent
Director: Brett Levner
Producer: Matthew J. McCue
Starring: Fiona Dourif, Rock Kohli, Mark La Mura, Stu Richel
Para-Normal
Corrosive Pictures
Director: Lauren Timmons
Producer: Sean Cassity
Starring: Kit Williamson, Alana DiMaria, Thomas Blake Jr.
Stille
First Gaze Films
Director: Susan Schwarzwald
Producers: Werner Bargsten
Starring: Meret Oppenheim, Stephen Rappaport, Wynn Rose
* Winner: Best Score – Avignon Film Festival
Being Reel
Independent
Director: Brett Levner
Producers: Steven Sole
Earl & Puppy
Sweetwater Films
Director: Jeffrey B. Seymann
Producers: James Werme
Starring: Nicolas Andreano, James Baker, Ian Blackman
Sueños
Dreamriver Productions
Director: Rio Puertollano
Starring: Philip Generoso Buiser, Adriana Gaviria
Virgin Larry
Pescador Productions
Director: Timothy Leupp
Starring: Mark Lacy, J. Richey Nash, Sabrina Gennarino
ANIMATION, INTERACTIVE & GAMES
The Caged Bird (Composer)
Director: Chris Miller
Pip's Island (Composer, Songwriter)
Director: Rania Ajami
Jumping Pages, Inc.
The House That Went On Strike (Composer)
Director: Rania Ajami
Jumping Pages, Inc.
David & Goliath (Composer)
Director: Rania Ajami
Jumping Pages, Inc.
Maggie and Her Magical Glasses (Composer)
Director: Rania Ajami
Jumping Pages, Inc.
Adopt A Sloth (Composer)
Director: Rania Ajami
Jumping Pages, Inc.
DANCE
Beautiful Monsters
Helios Dance Company
Noor
Labyrinth Dance Theater
No Way Out But Through
Labyrinth Dance Theater
Dark Angel
Labyrinth Dance Theater
TRAILERS, TELEVISION, and PROMOS
Epic Yellowstone
Mozart In The Jungle
Is Anybody There?
Marina Abromovic: The Artist Is Present
The Cleaner (source music)
AFI Salutes
CSI
The Ghost Whisperer
Grey's Anatomy
Ugly Betty
Boston Legal
20/20
Desperate Housewives
Medium
The Today Show
Late Show With David Letterman
The Tony Awards