Charlie Clouser
Composer
---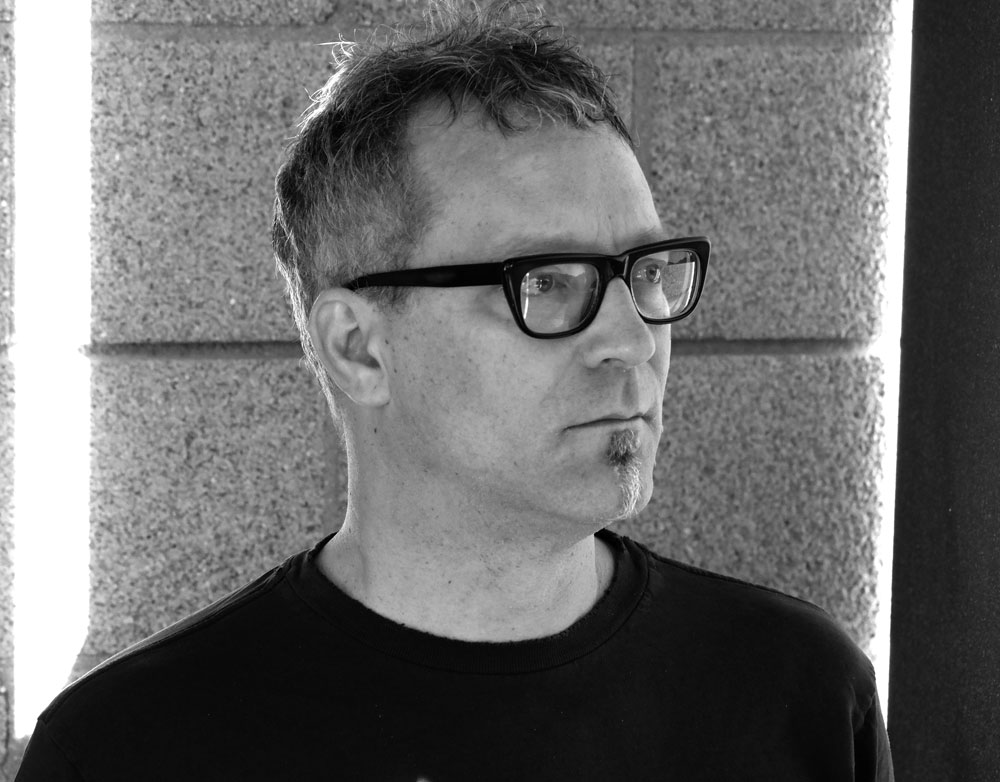 Charlie Clouser is a multi-instrumentalist composer, musician, producer, programmer and remix artist who has worked with some of the seminal recording artists of the last twenty years. With his concentration now on music for visual media, Charlie continues to impress and amaze with his singular work. Charlie came into prominence as a member of Nine Inch Nails from 1994-2000. Before joining the band as keyboardist/programmer, he'd already built a following with his extreme synth work and remixes for Prong, Marilyn Manson, White Zombie, and others. His dense layers of chopped up beats and grinding synth lines were instrumental in defining the sound of White Zombie's double-platinum 1994 breakthrough album Astrocreep: 2000, and led to numerous collaborations with frontman Rob Zombie.
In the studio with Nine Inch Nails, Charlie co-wrote high-profile songs like The Perfect Drug (from the gold soundtrack to David Lynch's Lost Highway), and Starf*ckers Inc. and The Way Out Is Through (from The Fragile, Spin Magazine's 1999 Album of the Year). His intricate programming style was a crucial part of the band's unique sonic vision. Along the way, he has continued to apply his talents on albums and remixes for artists like David Bowie, Snoop Dogg, John Frusciante, Rammstein, Jamiroquai, Deftones, Killing Joke, Helmet, A Perfect Circle, and Meat Beat Manifesto.
Charlie's first film scoring effort, Saw, became an instant cult classic. His scores for all of the subsequent films in the Saw franchise continue to define the films, including 2021's SPIRAL. Raw, grinding, propulsive, punctuated by incredible layers of sound and energy, they are classics in the horror genre. Charlie has also scored such films as Resident Evil: Extinction, Dead Silence, Death Sentence, Sony Pictures' The Stepfather, The Collection, and more. Charlie has scored several TV shows, including the FOX event series Wayward Pines, and six seasons CBS's Numb3rs and five seasons of NBC's Las Vegas. He also co-wrote the main title theme for FX's American Horror Story. In the video game space, he has scored the Activision video game Singularity, as well as licensing select music from his Saw scores to Konami for Saw: II.
FILM
SAW X
Lionsgate
Director: Kevin Greutert
Producers: Mark Burg, Oren Koules
Starring: Tobin Bell, Shawnee Smith, Synnove Macody Lund
Unhuman
Blumhouse Television
Director: Marcus Dunstan
Producers: Paige Pemberton, Paul Uddo
Starring: Brianne Tju, Benjamin Wadsworth, Uriah Shelton
Spiral
Lionsgate
Director: Darren Lynn Bousman
Producers: Mark Burg, Oren Koules
Starring: Ali Johnson, Samuel L. Jackson, Chris Rock
Eye Without a Face
Sideshow
Director: Ramin Niami
Producers: Ramin Niami
Starring: Dakota Shapiro, Luke Cook, Vlada Verevko
Jigsaw
Lionsgate Films
Director: Michael Spierig, Peter Spierig
Producers: Mark Burg, Gregg Hoffman, James Wan, Leigh Whannell
Starring: Tobin Bell, Lauren Vandervoot, Matt Passmore
The Neighbor
Fortress Features
Director: Marcus Dunstan
Producers: Brett Forbes, Patrick Rizzotti
Starring: Josh Stewart, Bill Engvall, Alex Essoe
The Collection
LD Entertainment
Director: Marcus Dunstan
Producers: Brett Forbes, Mickey Liddell, Julie Richardson, Patrick Rizzotti
Starring: Christopher McDonald, Navi Rawat, Josh Stewart
Saw 3-D
Lionsgate Films
Director: Kevin Greutert
Producers: Peter Block, Mark Burg, James Wan, Daniel J. Heffner, Leigh Whannell
Starring: Tobin Bell, Cary Elwes, Costas Mandylor
The Stepfather
Screen Gems
Director: Nelson McCormick
Producers: J.S. Cardone, Guy Oseary, Meredith Zamsky
Starring: Amber Heard, Sela Ward, Penn Badgley, Christopher Meloni
Saw VI
Lionsgate Films
Director: Kevin Greutert
Producers: Peter Block, Mark Burg, James Wan, Daniel J. Heffner, Leigh Whannell
Starring: Tobin Bell, Shawnee Smith, Costas Mandylor
Saw V
Lionsgate Films
Director: David Hackl
Producers: Peter Block, Jason Constantine, Daniel J. Heffner, Leigh Whannell
Starring: Julie Benz, Meagan Good, Shawnee Smith, Scott Patterson
Saw IV
Lionsgate Films
Director: Darren Bousman
Producers: Gregg Hoffman, Oren Koules, Mark Burg, James Wan, Leigh Whannell
Starring: Scott Patterson, Tobin Bell, Shawnee Smith
FILM (CONTINUED)
Resident Evil: Extinction
Screen Gems
Director: Russell Mulcahy
Producers: Bernd Eichinger, Samuel Hadida, Paul W.S. Anderson. Jeremy Bolt, Robert Kulzer
Starring: Milla Jovovich, Sienna Guillroy, Oded Fehr, Ashanti
Death Sentence
20th Century Fox
Director: James Wan
Producers: Lars Sylvest, Nick Hamson, Nick Morton, Andrew Sugerman
Starring: Kevin Bacon, Aisha Tyler, Kelly Preston
Saw III
Lionsgate Films
Director: Darren Bousman
Producers: Gregg Hoffman, Oren Koules, Mark Burg, James Wan, Leigh Whannell
Starring: Donnie Wahlberg, Tobin Bell, Shawnee Smith
Dead Silence
Universal Pictures
Director: James Wan
Producers: Oren Koules, Gregg Hoffman, Mark Burg
Starring: Amber Valletta, Donnie Wahlberg, Christina Cox
Saw II
Lionsgate Films
Director: Darren Bousman
Producers: Gregg Hoffman, Oren Koules, Mark Burg, James Wan, Leigh Whannell
Starring: Donnie Wahlberg, Glenn Plummer, Tobin Bell, Shawnee Smith
Collateral (Additional Music)
DreamWorks
Director: Michael Mann
Producer: Michael Mann
Starring: Tom Cruise, Jamie Foxx
Saw 
Lionsgate Films
Director: James Wan
Producers: Gregg Hoffman, Oren Koules
Starring: Cary Elwes, Leigh Wannel, Danny Glover, Monica Potter
Deepwater
Halcyon Entertainment
Director: David Marfield
Producers: Chris Borrelli, Peter Wetherell
Starring: Peter Coyote, Xander Berkeley
SERIES
Good Behavior (Pilot)
TNT
Producers: Chad Hodge, Blake Crouch
Starring: Michelle Dockery, Tom Proctor, Lusia Strus
Wayward Pines
FOX
Producers: Chad Hodge, Donald De Line, M. Night Shyamalan
Starring: Matt Dillon, Carla Gugino, Melissa Leo
SERIES (CONTINUED)
Childhood's End
Syfy
Producer: John G. Lenic
Starring: Daisy Betts, Charles Dance, Colm Meaney
American Horror Story (Main Title Theme)
FX
Created By: Ryan Murphy, Brad Falchuk
Producers: Bradley Buecker, Tim Minear, Jennifer Salt
Fear Itself
NBC
"New Year's Day"
Director: Darren Bousman
Producer: Grant Rosenberg
Numbers
CBS
Producers: Ridley Scott, Tony Scott, Brooke Kennedy, David Zucker
Starring: Rob Morrow, David Krumholtz
Las Vegas
NBC
Producer: Gary Scott Thompson
Starring: James Caan, Molly Sims
Fastlane
FOX
Producers: McG, John McNamara
Starring: Bill Bellamy, Tiffani Theissen
INTERACTIVE
Singularity Activision
WRITING, PROGRAMMING
Nine Inch Nails The Fragile (Album)
Nine Inch Nails The Perfect Drug
Rob Zombie Great American Nightmare
White Zombie The One
Rob Zombie/Alice Cooper Hands of Death
White Zombie Ratfinks, Suicide Tanks
REMIXES
Deftones Shove It/My Own Summer
Jamiroquai Black Capricorn Days
Rob Zombie Dragula
Rob Zombie Living Dead Girl
Nine Inch Nails Heresy
Nine Inch Nails Ruiner
Nine Inch Nails Mr. Self Destruct
Marilyn Manson Cake and Sodomy
Marilyn Manson Lunchbox
White Zombie More Human Than Human
White Zombie Electric Head Pt. 2
White Zombie Blood, Milk and Sky
SONGS FEATURED ON:
Yes Man soundtrack
The Matrix soundtrack
Lost Highway soundtrack
The Crow soundtrack
Natural Born Killers soundtrack
Valentine soundtrack
End of Days soundtrack
Private Parts soundtrack
Escape From L.A soundtrack