Bryan Senti
Composer
---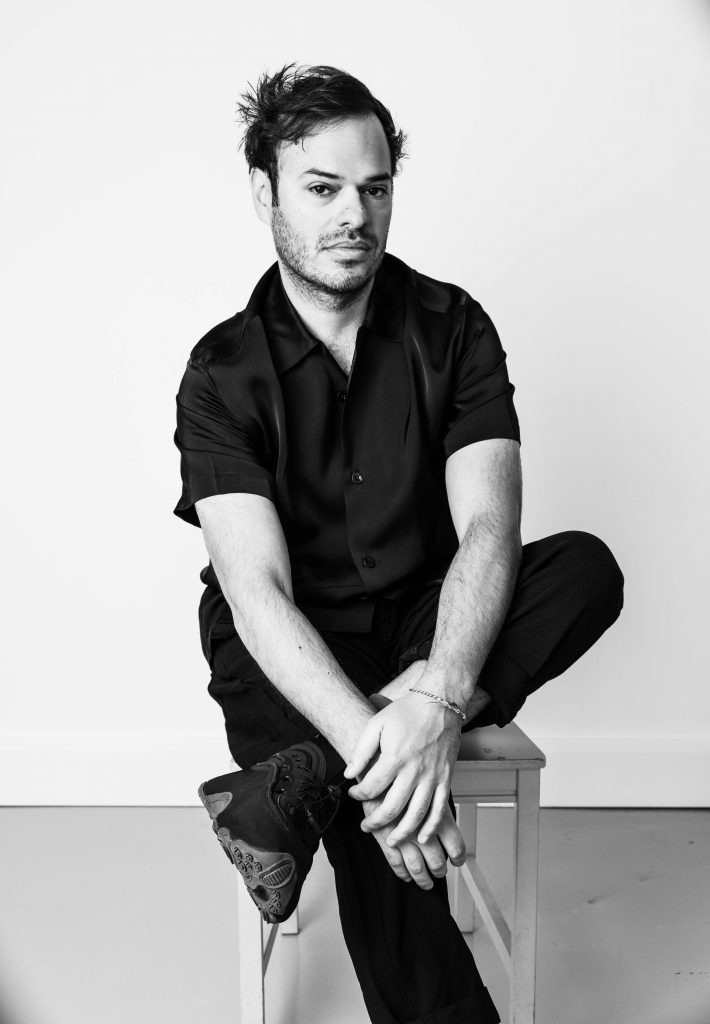 BRYAN SENTI IS AN AWARD WINNING FIRST-GENERATION LATIN AMERICAN COMPOSER, VIOLINIST / MULTI-INSTRUMENTALIST, AND PRODUCER. HIS DEBUT CROSSOVER LP, "MANU" WAS RELEASED ON THE FRENCH INDEPENDENT, NAÏVE (BELIEVE) IN 2022 AND THE ACCOMPANYING REMIX RECORD FEATURING ARTISTS SUCH AS GRAMMY AWARD WINNER TOUMANI DIABATÉ AND OSCAR NOMINEE IAN CHANG (SON LUX) WILL BE RELEASED ON JULY 7TH, 2023. HIS RECENT COLLABORATIONS INCLUDE NUMEROUS PROJECTS FOR DUSTIN O'HALLORAN AND PETER GREGSON FOR DEUTSCHE GRAMMOPHON.
HIS FILM AND TV CAREER BEGAN WITH MICHAEL ALMEREYDA'S "EXPERIMENTER" WHICH PREMIERED AT SUNDANCE IN 2015 AND SINCE THEN HE HAS COMPOSED FOR MULTIPLE FILMS AND TV SHOWS INCLUDING THE BAFTA WINNING SERIES "SAVE ME" (2021) BY LENNIE JAMES. MOST RECENTLY HE SCORED THE BBC MUSICAL, "MOOD" BY NICÔLE LECKY WHICH EARNED HIM A BAFTA AWARD FOR ORIGINAL MUSIC.
IN ADDITION TO WORKING ON CLASSICAL MUSIC, BRYAN'S EXPERIMENTAL POP PROJECT "EX MYKAH" IS SIGNED TO THE LONDON BASED KOWLOON RECORDS AND HIS LP "16, 17" WAS RELEASED IN 2018 TO CRITICAL ACCLAIM. IN THE POP SPACE, HE HAS COLLABORATED WITH MARK RONSON ON HIS PRODUCTION "CARBON LIFE", PERFORMED BY THE ROYAL BALLET AND HAS TOURED AND RECORDED FOR THE CANADIAN SINGER-SONGWRITER, FEIST.
HE IS THE COMPOSER OF OVER A HUNDRED AD CAMPAIGNS FOR BRANDS RANGING FROM BMW TO PG&E, GARNERING NUMEROUS AWARDS (BERLIN COMMERCIAL, PUBLIC CHOICE, CLIO ETC.), AND HELMS THE BOUTIQUE ORIGINAL MUSIC HOUSE, HOOK AND LINE INC.
BRYAN IS A GRADUATE OF YALE UNIVERSITY AND CARNEGIE MELLON.
Film
Giving Voice
Netflix
Director: James D. Stern, Fernando Villena
Producers: Karen Bove, Craig Piligian, Schoen Smith, James D. Stern, Fernando Villena
Starring: Mary Alice, Annette Bening, Glenn Close, Viola Davis
* Winner, 2020 Sundance Festival Favorite Award
American Dreamer
Storyland Pictures
Director: Derrick Borte
Producers: Scott Floyd Lochmus
Starring: Jim Gaffigan, Tammy Blanchard, Robbie Jones
London Town
Killer Films
Director: Derrick Borte
Producers: Tom Butterfield, Sofia Sondervan, Christine Vachon
Starring: Jonathan Rhys Meyers, Natascha McElhone, Dougray Scott
Lowriders
Blumhouse Productions
Director: Ricardo de Montreuil
Producers: Jason Blum, Brian Grazer
Starring: Eva Longoria, Demian Bichir, Melissa Benoist
Experimenter
Intrinsic Value Films
Director: Michael Almereyda
Producers: Fabio Golombek, Uri Singer, Jeff Rice
Starring: Peter Sarsgaard, Winona Ryder, Anton Yelchin
* Sundance 2015 Premiere
Ammonite (Musician – Additional Violin & Viola)
Neon
Director: Francis Lee
Producers: Iain Canning, Fodhla Cronin O'Reilly, Emile Sherman
Starring: Liam Thomas, Sam Parks, Kate Winslet
The Old Guard (Featured Musician – Violin)
Netflix
Director: Gina Prince-Bythewood
Producers: A.J. Dix, David Ellison, Marc Evans, Dana Goldberg
Starring: Charlize Theron, KiKi Layne, Matthias Schoenaerts
Gay Chorus Deep South
Bélo Films
Director: David Charles
Producers: James Goode, Tony Hogqvist, Bud Johnston
Starring: Tim Seelig
* Winner, 2019 Tribeca Film Festival Audience Award
Abigail Harm
Almond Tree Films
Director: Lee Isaac Chung
Producers: Samuel Anderson, Eugene Suen
Starring: Amanda Plummer, Tetsuo Kuramochi, Will Patton
Lucky Life
Umedia
Director: Lee Isaac Chung
Producers: Samuel Anderson, Richard Lormand, Lee Isaac Chung
Starring: Daniel O'Keefe, Megan McKenna, Kenyon Adams
The Last Berliner (Violin)
Dualfilm Verleih
Director: Gregor Erler
Producers: Christopher Cornelsen, Gregor Erler, Matthias Ziesing
Starring: Pegah Ferydoni, Christopher Cornelsen, Matthias Ziesing
Puzzle (Additional Music)
Sony Pictures Classics
Director: Marc Turtletaub
Producers: Wren Arthur, Peter Saraf, Guy Stodel, Marc Turtletaub
Starring: Kelly Macdonald, David Denman, Daniel Stewart Sherman
Love Always, Mom (Documentary)
Director: Tricia Russo
Producers: Trish Gonnella, Craig E. Shapiro
How to Dance in Ohio (Documentary)
Gidalya Pictures
Director: Alexandra Shiva
Producers: Bari Pearlman, Alexandra Shiva
* Sundance 2015 U.S. Documentary Competition
King Jack
Buffalo Picture House
Director: Felix Thompson
Producers: Dominic Buchanan, Gabrielle Nadig
Starring: Charlie Plummer, Cory Nicholas, Christian Madsen
* Winner, 2015 Tribeca Film Festival Narrative Audience Award
EON
De Montreuil Films
Director: Ricardo de Montreuil
Producers: Ricardo de Montreuil, Mike Drake, Janet Zucker, Kate Zucker
Starring: Chloe Coleman
FILM (Continued)
I Have Seen My Last Born(Documentary)
3:1 Cinema
Director: John Kwezi
Producers: Samuel Anderson, Lee Isaac Chung, Eugene Suen
Haunters
Circus Road Films
Director: Anthony Morrison
Producers: Anthony Morrison
Starring: Antony Gerard, Nicholas Gerard, Laura Gerard
Backgammon
3:1 Cinema
Director: Francisco Orvañanos
Producers: Miguel Angel Boccaloni, Chris Moore
Starring: Olivia Crocicchia, Brittany Allen, Noah Silver
Cymbeline (Additional Music)
Benaroya Pictures
Director: Michael Almereyda
Producers: Michael Benaroya, Anthony Katagas
Starring: Ethan Hawke, Ed Harris, Milla Jovovich
A Self Made Man (Documentary)
Director: Lori Petchers
Producers: Lori Petchers
Four
Director: Joshua Sanchez
Producers: Christine Giorgio
Starring: Wendell Pierce, Aja Naomi King, Emory Cohen
Blues of Life
HighEnd Productions
Director: Pablo Thomas
Producers: Christina Fichter, Jenny Lund, Palo Thomas
Starring: Pablo Thomas, Victor Hugo Carrizo, Matthew McCurdy
Surviving (Documentary)
Director: Lori Petchers
Producers: Lori Petchers
I Wish I Were Stephanie V (Additional Music)
Courage Films
Director: Jon Cohen
Producers: Laura Sivis
Starring: Clayton Watson, Chloe Traicos, Bree Desborough
Speedy Delivery
Director: Paul B. Germain
Producers: Paul B. Germain
Starring: David Newell, Fred Rogers, Joanne Rogers
SERIES
Cowboy Cartel
Apple TV+
Director: Kevin Brennecke
Executive Producer: Kevin Brennecke
Mood
BBC
Producer: Nicole Lecky, Margery Bone, Ayela Butt, Lucy Richer
Starring: Nicole Lecky
** Winner, 2023 Bafta Awards – Best Original Music
Save Me (Co-Composer)
World Productions
Director: Nick Murphy
Producer: Patrick Schweitzer
Starring: Suranne Jones, Stephen Graham, Lennie James
* Winner, 2021 Bafta Awards – Best Drama Series (Season 2)
Transparent (Season 4 – Additional Music, Season 5 Musicale Finale – Co-Composer)
Amazon Studios
Director: Jill Soloway
Producer: Jill Soloway, Andrea Sperling
Starring: Jeffrey Tambor, Judith Light, Gaby Hoffman, Amy Landecker, Jay Duplass
PBS Frontline – Middle School Moment (Episode)
PBS
Director: Mary Robertson
Short Film
Master of Divinity (Dir. Eugene Suen)
Louella (Dir. Erin Cantelo)
Rufus (Dir. Stéphane Dumonceau)
The Leprechaun's Wife (Dir. Alexandra Shiva)
Kill Your Dinner (Dir. Bryn Chainey)
When Day Is Done (Dir. Brandon Roots)
Invention (Dir. Daniel W. Long)
Life Model (Dir. Lori Petchers)
Mezzanotte Obscura (Dir. Lori Petchers)
Daddy's Little Girl (Dir. Beanie Barnes)
Coming to Grips (Dir. Lori Petchers)
Anatomy of Numbers (Dir. Eric Cantelo)
Hardly Married (Dir. Diego Nunez)
PRODUCER, ORCHESTRATOR, RECORDING ARTIST
Manu
Solo Release
Ex Mykah – Kowloon Records
Solo Release
Bird Call – Will We Get To Mars? LP
Artist: Bird Call
Producer: Bryan Senti
Carbon Life – Ballet
Music: Mark Ronson & Andrew Wyatt
Performer, Orchestrator: Bryan Senti
Out of the Game LP
Music: Rufus Wainwright
Producer: Mark Ronson
Orchestration Consultant and Conductor: Bryan Senti
THEATER, BALLET, OPERA
Letters Project (Ballet)
Music: Bryan Senti
Premiered by Matthew Westerby Company at the Hudson Guild Theater in New York in November 2017
Sonnets (Theater)
Director: Robert Wilson
Music: Rufus Wainwright
Additional Music and Orchestration Consulting: Bryan Senti
Premiered by the Berliner Ensemble at the Bertolt Brecht Theater in Berlin on April 5th, 2010.
From the Margins, This, Unmentioned (Ballet)
Music: Bryan Senti
Premiered by the MacArthur Dance Project (2009) and The Noveau Classical Project (2011).
Prima Donna (Opera)
Music: Rufus Wainwright
Orchestration Consultant: Bryan Senti
Performances: Manchester International Festival 2009; Sadler's Wells, London: 2010; Luminato Festival, Toronto: 2010; BAM, New York City: 2012