Adrian Quesada
Composer
---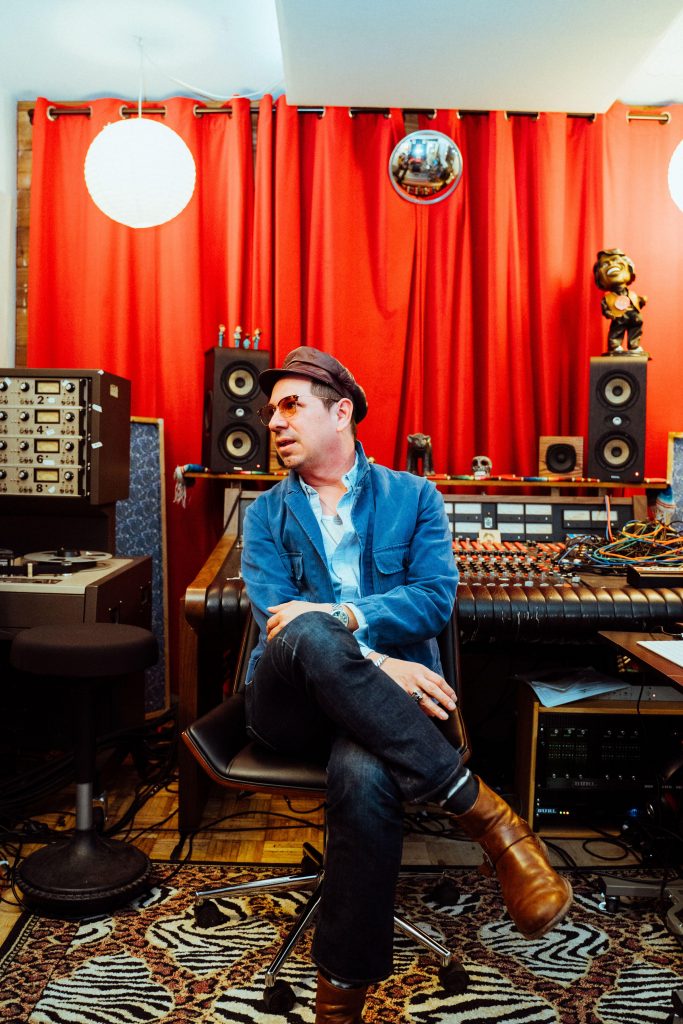 Grammy-winning producer Adrian Quesada is an adventurous musician best known as the co-founder of the 7-time Grammy-nominated psychedelic soul band Black Pumas.
A lifelong Texan, Quesada's deep musical history has seen him producing and
performing in projects spanning funk, soul, psychedelia, and diverse strands of Latin music. His most recent projects include Boleros Psicodélicos, a collaborative album recapturing the sound and feel of romantic Latin ballads of the '60s and '70s with features by iLe (Calle 13), Money Mark (Beastie Boys), Gaby Moreno, and more, and Jaguar Sound, an instrumental album that honors his foundational inspirations of hip-hop and cinematic scores.
Quesada's prolific career has seen him collaborate with the likes of Prince, Los Lobos, and Wu-Tang Clan's GZA, and has been a member of such eclectic bands as
Grammy-winning Grupo Fantasma, Brownout, and Ocote Soul Sounds.
Additionally, Quesada is a heralded composer in his own right, scoring numerous
projects including the critically acclaimed At The Ready – named one of the Best Films at Sundance 2021.
Quesada also runs Electric Deluxe Recorders in Austin, TX – the studio where Black
Pumas and numerous others have recorded.
FILM
The Son Who Can't Play Trumpet
HBO Max
Director: Isaac Garza
Producers: Lizette Barrera, Isaac Garza, Kren Gaytan, Dan Leyendecker
Starring: Gil Martinez Jr. , David Barrera, Cecilia L. Salinas
Home Free (Composer and Soundtrack Producer)
Entertaining Entertainment
Director: Aaron Brown
Producers: Lenny Barszap, Aaron Brown
Starring: Ryan Cownie, John Karna, Jashawn Lee
Marisol
Alpine Labs
Director: Kevin Abrams
Producers: Kevin Abrams, Seth Caplan, Jamie Denenberg, Eric Neal Young
Starring: Esmeralda Camargo, Liana Mendoza, Max Pelayo
Inside the Circle
MTV Networks
Director: Marcy Garriott
Producers: Marcy Garriott
Starring: Romeo Navarro, Omar Davila, Joshua Lee Ayers
Futbolistas 4 Life
Director: Jun Stinson
DOCUMENTARY
At the Ready
Gravitas Ventures
Director: Maise Crow
Producers: Maise Crow, Abbie Perrault, Hillary Pierce
The Least of These
Gravitas Ventures
Director: Clark Lyda, Jesse Lyda
Producers: Marcy Garriott, Clark Lyda, Jesse Lyda
SELECTED DISCOGRAPHY
Black Pumas – Deluxe Edition (Producer)
Black Pumas – s/t (Producer)
Jaime Wyatt – Feel Good (Producer)
Rudy DeAnda – Closet Botanist (Producer)
Adrian Quesada – Boleros Psicodelicos (Producer)
Adrian Quesada – Jaguar Sound (Producer)
Daniel Johnston – Space Ducks (Producer)
The Sword – High Country (Producer)
Various Artists – Look at My Soul (Producer)
Grupo Fantasma – El Existential (Producer)