Aamina
Gant
Music Supervisor
---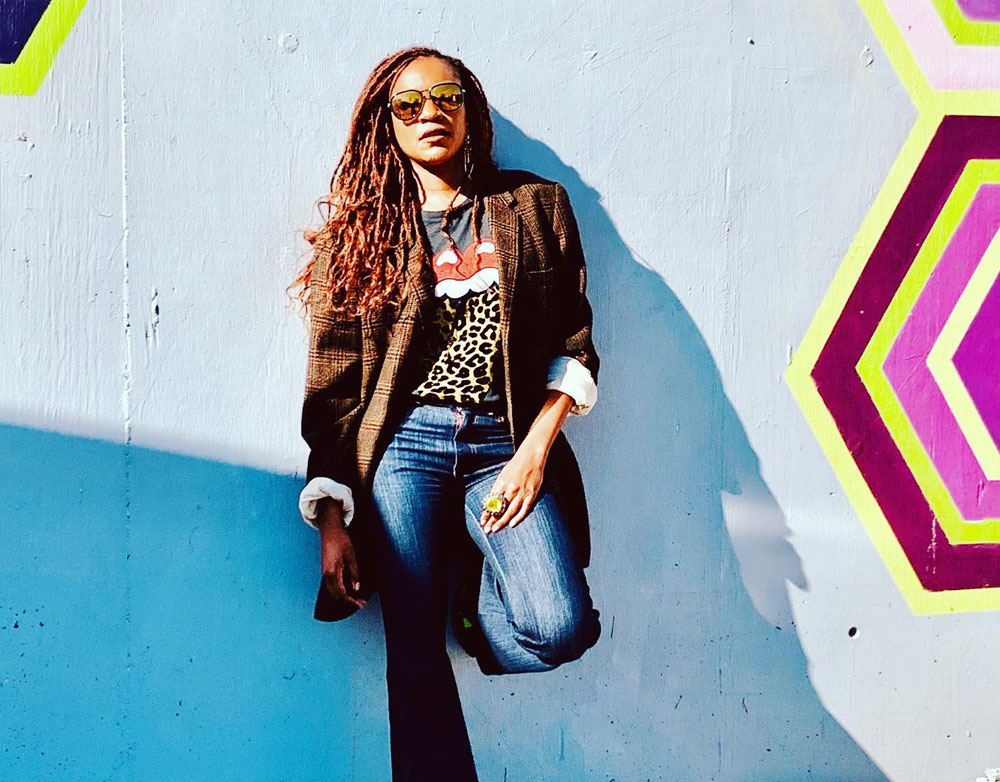 Aamina Gant was born into the music business, with a prominent songwriter father and record executive mother. She began recording and assisting with producing vocals at the age of 10 and has not looked back.
Most recently, Aamina has signed on to a number of high-profile projects including multiple series for Producer/Director Ava Duvernay – DMZ for HBO Max with director Ernest Dickerson, starring Rosario Dawson; Naomi for the CW with director Amanda Marsalis, and Colin in Black and White, the Colin Kapernick documentarynow airing on Netflix. She is also the music supervisor for upcoming projects Breathe for Netflix, and Bust Down, for Peacock.
Aamina has also been the Music Production Consultant for the Showtime series Black Monday, and was the music supervisor for Nat Geo's Genius: Aretha, and a Salt-N–Pepa biopic for Lifetime.
Aamina began her career at BMI working closely with songwriters and producers as well as learning the ins and outs of music licensing. Aamina moved on, transitioning into music management, working with top artists such as The Backstreet Boys, Mary J Blige, and 112. She was an integral part of T.I.'s management team at the height of his career.
In 2013, Aamina decided to pursue her interest in working in TV and Film music, securing a position at Sony Pictures Television. In her role as a Creative Manager, she worked on such shows as The Goldbergs, The Queen Latifah Show, Outlander, and Better Call Saul. Additionally, she was given the responsibility of music supervising the many TV movies that were produced by the company.
Aamina then decided to spread her wings and go independent. She was the "on set" music director for Lee Daniels' Fox show, STAR. For all 3 seasons, she oversaw the recording of all original music for the show. This included vocal production of the cast, securing outside featured artists, and assisting the incoming directors with executing Lee's vision for each musical performance.
She looks forward to continuing to work closely with creatives to assist in shaping and executing the perfect marriage between music and story!
SERIES
The Big Cigar
Apple TV+
Director: Don Cheadle
Producers: Joshua Bearman, Don Cheadle, Joshua Davis, Jim Hecht, Janin Sherman Barrois, Arthur Spector
Starring: Andre Holland
All American: Homecoming
The CW
Director: Michael Schultz, Christine Swanson
Producers: Greg Berlanti, Lindsay Dunn, Marqui Jackson,
Nkechi Okoro
Starring: GeffriMaya, Peyton 'Alex' Smith, Kelly Jenrette
Beauty and the Beast Prequel Series
Disney +
Director: Liesl Tommy
Producers: Edward Kitsis, Adam Horowitz, Josh Gad, Liesl Tommy, Luke Evans
Starring: Luke Evans, Josh Gad, Briana Middleton
DMZ
HBO Max
Director: Ernest R. Dickerson, Ava DuVernay
Producers: Ava Duvernay, Roberto Patino, Paul Garnes
Starring: Rosario Dawson, Reynaldo Gallegos, Venus Ariel, Jordan Preston Carter
Breathe
Netflix
Director: Maggie Kiley
Producers: Brendan Gall, Martin Gero, Maggie Kiley
Starring: Melissa Barrera, Jeff Wilbusch, Juan Pablo Espinosa

Bust Down
Peacock
Director: Richie Keen
Producers: Adrien Finkel, Hilary Marx, Lorne Michaels, Richie Keen Starring: Chris Redd, Jak Knight, Charmel Catrell

Naomi
The CW
Director: Amanda Marsalis
Producers: Ava DuVernay, Paul Garnes, Jill Blankenship, Amanda Marsalis
Starring: Aiden Gemme, Cranston Johnson, Mary-Charles Jones
Queen Sugar
OWN
Director: Kat Candler, Lauren Wolkstein Producers: Ava DuVernay, Oprah Winfrey, Anthony Sparks, Carla Gardini
Starring: Aiden Gemme, Cranston Johnson, Rutina Wesley, Dawn-Lyen Gardner, Kofi Siriboe
Big Shot
ABC Signature / Disney +
Director: Ron Underwood Producers: Bill D'Elia, Brad Garrett, David E. Kelley, Dean Lorey
Starring: Darcy Rose Byrnes, John Stamos, Jessalyn Gilsig
SERIES (CONTINUED)
Colin in Black & White
Netflix
Executive Producers: Ava DuVernay, Colin Kaepernick, Michael Starrbury
Starring: Colin Kaepernick, Jaden Michael, Nick Offerman
Black Monday
Showtime Network
Director: Peyman Benz, Leslye Headland, Reginald Hudlin
Producers: Regina Hall, Andrew Rannells, Travon Free, Steven Yell, Jordan Cahan, David Caspe
Starring: Don Cheadle, Andrew Rannells, Paul Scheer, Regina Hall
Genius: Aretha (Supervisor, Music Production)
National Geographic Channel
Director: Anthony Hemingway, Neema Barnette
Producers: Peter Afterman, Ed Cathell III, Gwendolyn M. Parker
Starring: Cynthia Erivo, Courtney B Vance, David Cross
Jefferson County: Probation
Comedy Central
Director: Millicent Shelton
Producers: Aaron McGruder, Roy Wood Jr., Norman Aladjem
Starring: Roy Wood Jr.
Star (Supervising Coordinator – live sequences)
FOX Network
Director: Lee Daniels
Producers: Queen Latifah, Michael Cedar Lee Daniels
Starring: Jude Demorest, Brittany O'Grady, Ryan Destiny
The Goldbergs (Music Coordinator)
ABC
Director: Seth Gordon
Producer: Preston L. Holmes
Starring: Jeff Garlin, Troy Gentile, Sean Giambrone
FILM
The Deliverance
Netflix
Director: Lee Daniels
Producers: Todd Crites, Lee Daniels, Jackson Nguyen, Tucker Tooley, Pamela Oas Williams
Starring: Glenn Close, Omar Epps, Tasha Smith
The Old Guard 2
Netflix
Director: Victoria Mahoney
Producers: A.J. Dix, David Ellison, Marc Evans, Dana Goldberg, Charlize Theron, Don Granger, Beth Kono
Starring: Charlize Theron, Uma Thurman, Hendry Golding
Knox Goes Away
ICM Partners
Director: Michael Keaton
Producers: Nick Gordon, Trevor Matthews, Michael Sugar, Ashley Zalta
Starring: Al Pacino, Michael Keaton, Marcia Gay Harden
Demon House
Netflix
Director: Lee Daniels
Producers: Todd Crites, Lee Daniels, Jackson Nguyen, Tucker Tooley, Pam Williams
Starring: Caleb McLaughlin, Andra Day, Glenn Close
End of the Road
Netflix
Director: Millicent Shelton
Producers: Mark Burg, Tracey E. Edmonds, Brad Kaplan
Starring: Queen Latifah, Frances Lee McCain, Ludacris
Salt-N-Pepa
Lifetime
Director: Mario Van Peebles
Producers: Cheryl "Salt" James, Sandra "Pepa" Denton, Queen Latifah
Starring: G.G. Townson, Laila Odom, Monique Jasmine Paul
Sprinter
FilmRise
Director: Storm Saulter
Producers: Clarence Hammond, James Lassiter, Robert A. Maylor
Starring: Lorraine Toussaint, David Alan Grier, Bryshere Y. Gray
With This Ring (Music Coordinator)
Lifetime Television
Director: Nzingha Stewart
Producer: Preston L. Holmes
Starring: Regina Hall, Jill Scott, Eve