Steve
Sidwell
Composer
---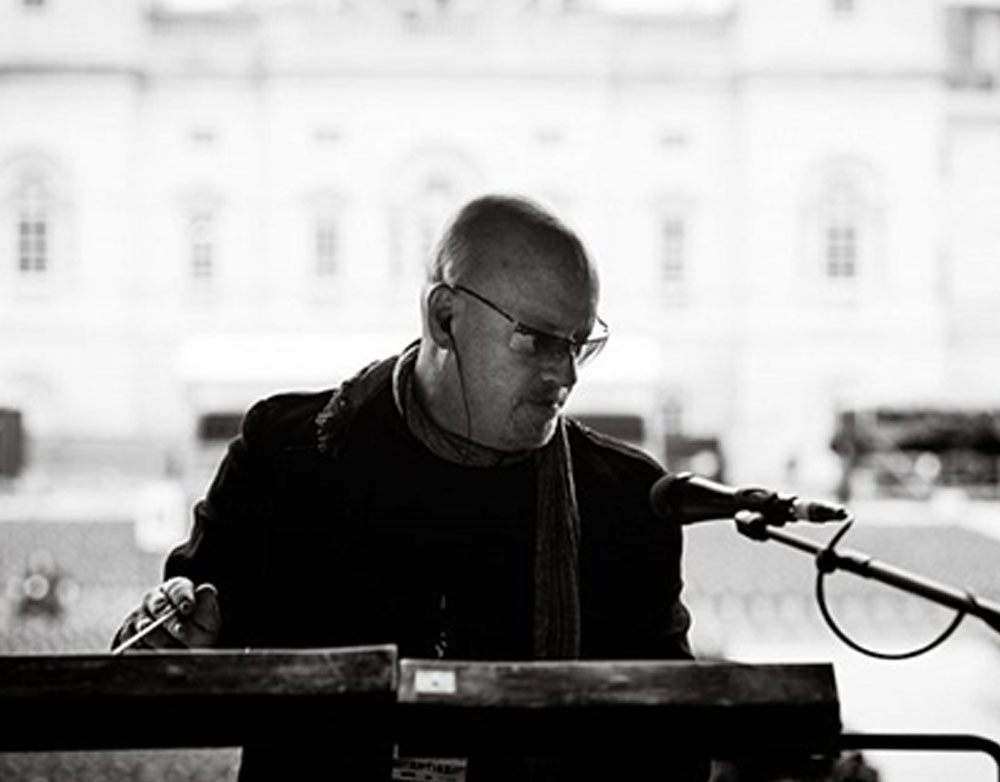 Grammy award winner, Tony, Emmy & Olivier nominated arranger, composer, producer, conductor and trumpeter, Steve Sidwell, has featured on numerous albums, television shows, advertising campaigns and films with his distinctive and innovative orchestrations and compositions.
Steve was the Film Music Co-Producer on Bohemian Rhapsody.
Television commissions include: the 79th Academy Awards; the London 2012 Olympics Closing Ceremony; the Rugby World Cup Opening Ceremony; BBC Special for VE Day 75 years; the BBC Music Awards; The Voice UK Series 1 & 2; Robbie Williams Live At The Albert Hall; Children In Need Rocks; Her Majesty The Queen's 92nd Birthday Party at the Royal Albert Hall; Merry Christmas Baby with Gregory Porter and Friends; Arianna Grande at the BBC; Ant & Dec's Saturday Night Takeaway.
Theatre credits include: orchestrating Beautiful: The Musical; The Christmasaurus; Dusty; Bat Out Of Hell; We Will Rock You; Made In Dagenham; Our House; and Daddy Cool.
Film credits include: Moulin Rouge; Romeo & Juliet; Bridget Jones' Diary; Teachers Pet; Spongebob Squarepants; and Finding Nemo.
Album credits include the orchestration and conducting of Robbie Williams' multi-platinum selling albums 'The Christmas Present', 'Swing Both Ways' and 'Swing When Your Winning'. Recent projects include arranging and conducting for Elvis Presley & Roy Orbison (Symphonic), Aretha Franklin, Udo Lindenberg, Helene Fisher, Gregory Porter, Jeff Beck, Seal, Brian May, Bradley Walsh and Dame Shirley Bassey. Within the last three years Steve has produced and arranged three of the top selling UK albums for artists Bradley Walsh (Chasing Dreams & When You're Smiling) and Sheridan Smith (Sheridan).
Advertising campaigns include the award winning Honda Choir, EE, Honda Illusions, Stella Artois, Guinness, M&S Christmas, Virgin Holidays, Nokia, Heineken, Orange, Bounty, Dulux, Lotto, Walkers, McDonalds, Supernoodles, Coca Cola and Capital Radio.
Recording Credits include: Robbie Williams; George Michael; Paul McCartney; Sir Mick Jagger; Mark Knopfler; Amy Winehouse; Snow Patrol; Lily Allen; James Bay; Hozier; Faithless; Cheryl Cole; Muse; Dizzy Rascal; Mika; Take That; Annie Lennox; Leona Lewis; Tom Jones; Sting; Elton John; The Feeling; McFly; Will Young; Bryan Ferry; Joss Stone; Eric Clapton; Rod Stewart; Stevie Wonder; Gregory Porter; Ellie Goulding; Jess Glyne; The Who; Ian Dury; Wet Wet Wet; Charlie Watts; Henry Mancini; and Michael Nyman.
FILM
Katherine Jenkins Christmas Spectacular (Music Supervision) Altitude Film Entertainment
Director: Lynne Page, Marcus Viner
Producers: Andrew Levitas, Andy Mayson, Austin Shaw, Peter Touche
Starring: Katherine Jenkins, Bill Nighy, Vanessa Redgrave
Late Night
3 Arts Entertainment
"Small Things"
Arranged by: Steve Sidwell
Starring: Emma Thompson, Mindy Kaling
Bohemian Rhapsody (Film Music Co-Producer)
Twentieth Century Fox
Director: Bryan Singer Producers: Jim Beach, Graham King Starring: Rami Malek, Lucy Boynton, Gwilym Lee
Miraklet I Viskan
Tri Art Film
"Man With A Mission"
Written by: Steve Sidwell
Featuring: Steve Sidwell
Seeking a Friend for the End of the World
Focus Features
"The Cherry Tree"
Written by: Steve Sidwell
Featuring: Steve Sidwell
Life Partners
Magnolia Pictures
"Flowers and Trees"
Written by: Steve Sidwell
Arthur
Warner Bros. Pictures
"A Harmless Game of Dress Up"
Arranged by: Steve Sidwell
Featuring: Russell Brand
The Avengers
Warner Bros. Pictures
"Title Music"
Arranged by: Steve Sidwell
Producer: Marius De Vries
Moulin Rouge
Fox 2000
"Sparkling Diamonds"
Arranged by: Steve Sidwell
Featuring: Nicole Kidman
Bridget Jones' Diary
Universal Pictures/Miramax
"Have You Met Ms. Jones"
Arranged by: Steve Sidwell
Featuring: Robbie Williams
Disney's Teacher's Pet
Walt Disney Pictures
"Take the Money and Run"
Arranged by: Steve Sidwell
Featuring: Jack Sheldon, Derek Watkins, Nigel Hitchcock
101 Dalmatians 2
Walt Disney Television Animation
"One of a Kind" (End Titles)
Arranged by: Steve Sidwell
Featuring: Apollo 440
William Shakespeare's Romeo and Juliet
20th Century Fox
"Young Hearts Run Free"
Arranged by: Steve Sidwell
Producer: Marius De Vries
FILM (CONTINUED)
Finding Nemo
Walt Disney Pictures
"Beyond the Sea" (End Titles)
Arranged by: Steve Sidwell
Featuring: Robbie Williams
Blart Got a Room
Anchor Bay Entertainment
"911 Swing"
Written by: Steve Sidwell
Mona Lisa Smile
Columbia TriStar/Revolution Studios
"The Heart of Every Girl"
Arranged by: Steve Sidwell
Written and Sung by: Elton John
Mr. Popper's Penguins
Twentieth Century Fox
"SPIN SPIN"
Written by: Steve Sidwell
Another Happy Day
Phase 4 Films
"SPIN SPIN"
Written by: Steve Sidwell
Coming Soon
Unapix Entertainment
"Our Man in Havana", "Mambo Inn"
Written by: Steve Sidwell
Featuring: Steve Sidwell
SERIES
Adventures of Aurora | composer
Merry Christmas Baby with Gregory Porter & Friends | music director
The Queen's Birthday Party | music director
Velvet | songwriter
BBC Music Awards 2014-2015 | music director
Kidou Senshi Gundam: Tekketsu No Orphans | songwriter
The Voice UK | music director/arranger
NSPN's NBA Finals (Kareem/Magic) | composer/arranger
Victoria's Empire | composer/arranger
UK Music Hall of Fame | music supervisor
BBC Teaching Awards 2006 | composer
BBC's Children In Need | music supervisor/music director
VE Day Concert 2005 | music supervisor/music director
The Olympic Torch Concert | music supervisor/music director
ITV's 50 Years of Television | music supervisor/arranger
The Royal Variety Performance | arrangement contribution
Live 8 | arrangement contribution
Chris Moyles Quiz Night | composer
Stars In Their Eyes | arrangement contribution
Soapstar Superstar | arrangement contribution
Star For a Night | arrangement contribution
Reborn In The USA | arrangement contribution
SERIES (CONTINUED)
Tina Turner's 60th Birthday | arrangement contribution
One Night with Robbie Williams | musical arranger/music director
Harry and the Wrinklies | composer
COMMERCIALS
Honda – "Honda Choir"
Samsung – Seductive Motion
Hugo Boss – "Cayenne Man"
Dulux Watches
Volkswagon Passat
Virgin – "Holidays"
Stella Artois – "Apartomatic"
Stella Artois – "Triple Filtered"
Stella Artois – "Triple Piano"
Nokia
M&S – "Ice Hotel"
Heineken – "Italy"
Guinness – "Moth"
Guinness – "Mustang"
Coca Cola
Boots – Summer Holiday
McDonalds – "Sunny Side of the Street"
RECORDINGS (As Orchestrator/Arranger)
Beautiful—The Carole King Musical
Robbie Williams
Robbie Williams + Nicole Kidman
Seal
Nelson Mandela's 46664 Appeal
Paul Carrack
Amaral
RECORDINGS (As Player)
George Michael
Enya
Matt Bianco
Hue & Cry
Level 42
Robbie Williams
SPECIAL EVENTS
79th Academy Awards | Composer/Arranger/Conductor
"Elements in Motion"
* Emmy Nomination for Outstanding Picture Editing for a Special
Habitat For Humanity | Composer/Arranger
CONCERT
Robbie Williams Live at the Albert Hall | Arranger
Robbie Williams Albert Hall | Production
THEATRE
Beautiful—The Carole King Musical | Composer/Arranger/Conductor
* GRAMMY Winner, Best Musical Theater Album
* Tony Nomination for Best Orchestrations
Queen
"We Will Rock You" | Arranger
"No One But You" | Arranger
Madness
"Our House" | Arranger
"Daddy Cool" | Arranger