Sean Hosein
& Jim Guttridge
Composers
---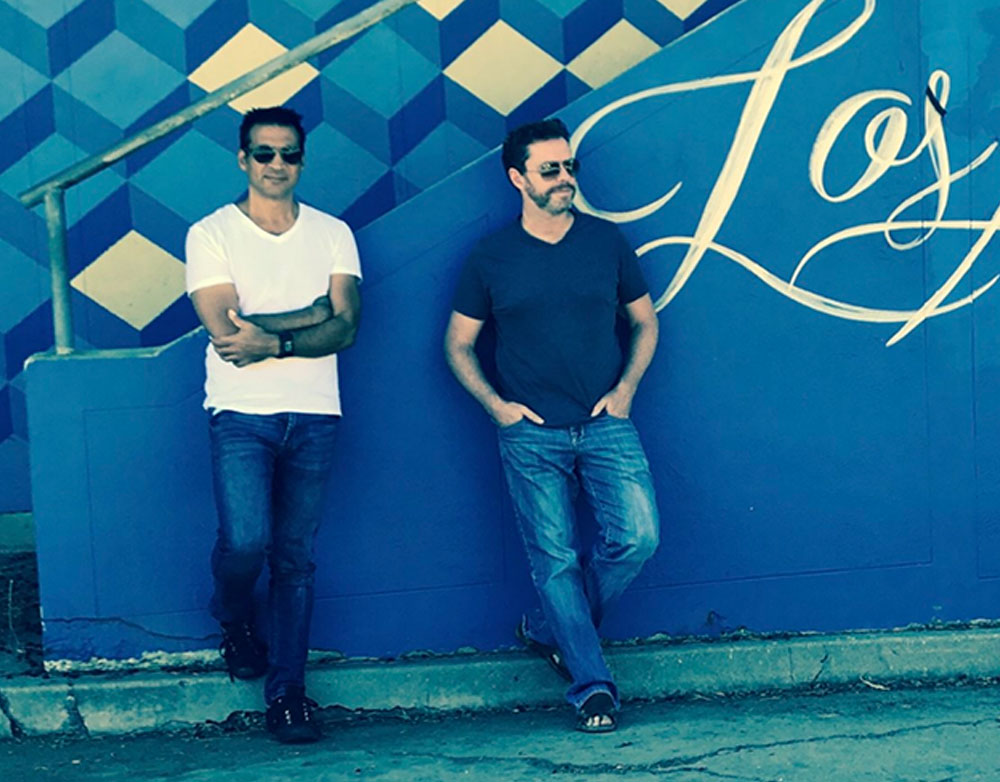 Sean Hosein and James Guttridge are multi-instrumentalist composers, seamlessly mixing traditional score with a modern production sound. Their music is a unique hybrid.
Jim and Sean have Canadian and UK/EU citizenship and meet all the requirements for treaty coproductions. They have studio facilities in Canada and Paris, France. Hitower Studio Los Angeles is located in the historic Hightower house near the Hollywood Bowl, offering directors and collaborators a central yet relaxed environment to work.
Scoring and soundtrack credits include films and television projects for Fox, Sony, Warner, Spike, SyFy, and Universal among others, and includes the title track for Runaway Bride starring Julia Roberts and Richard Gere. Most recently HiTower completed the music for Riverworld a sci-fi series based on the best-selling books by Philip José Farmer, Dawn Rider a western starring Donald Sutherland and Christian Slater and the CBS/CW series BEAUTY AND THE BEAST. The series ran for 4 seasons and is currently airing worldwide.
FILM
Bachelors For Life (Short)
Director: Gary Ravenscroft
Producer: Tabitha Brownstone
Starring: Eric Brownstone, Tabitha Brownstone, Nick Isham
Christmas Miracle
The Nasser Group
Director: Terry Ingram
Producer: Jack Nasser
Starring: Aaron Pearl, Allison Hossack, Dan Payne
Dragon's Rage*
Brightspark Productions
Director: Philip Spink
Producer: Lisa Richardson
Starring: David James Elliott, Natassia Malthe, Dru Viergever
Dawn Rider
The Nasser Group
Director: Terry Miles
Producers: Jack Nasser, Kendra Voth
Starring: Christian Slater, Jill Hennessy, Donald Sutherland
Code 5 (Short)
Cognito.Studios.
Director: Todd Donald
Producers: Attila, James Ferguson
Starring: Arpad Balogh, Sven Soukup, Sheldon Trosko
Messages Deleted*
Waterfront Pictures
Director: Rob Cowan
Producers: Jim O'Grady, David Doerksen
Starring: Matthew Lillard, Deborah Kara Unger, Gina Holden
The Godchild*
Director: Philip Spink
Producer: Philip Spink
Starring: Kari Townsend, Steve Dhillon, Michael Heltay
Dress to Kill*
Cinevu Productions Inc.
Director: Roger Larry
Producers: Roger Larry, Sandra Tomc
Starring: Sebastian Spence, Crystal Bublé, A.C. Peterson
Decoys*
Sound Venture Productions
Director: Matthew Hastings
Producer: Franco Battista
Starring: Corey Sevier, Stefanie von Pfetten, Kim Poirier
Little Brother of War*
Jove Pictures
Director: Damon Vignale
Producers: Andrew Hamilton, Damon Vignale
Starring: Frank Cassini, Nancy Sivak, Kurt Max Runte
Last Vegas Warrior*
No More Productions Inc.
Director: Nastasha Baron
Producers: Nastasha Baron, Suk Woo Nam
Starring: Laurie Hanley, Suk Woo Nam, Earl Wadden
FILM (CONTINUED)
Wishmaster 4: The Prophecy Fulfilled*
Overseas FilmGroup
Director: Chris Angel
Producers: Gary Howsam, Gilles Paquin
Starring: Tara Spencer-Nairn, Michael Trucco, Jason Thompson
Wishmaster 3: Beyond the Gates of Hell*
Overseas FilmGroup
Director: Chris Angel
Producers: Gary Howsam, Craig Nicholls, Gilles Paquin
Starring: Jason Connery, A.J. Cook, Tobias Mehler
Dangerous Attraction*
Banana Brothers Entertainment
Director: Penelope Buitenhuis
Producer: Glen Tedham
Starring: Linden Ashby, Rae Dawn Chong, Andrea Roth
Zacharia Farted*
Windowshot Productions Inc.
Director: Mike Rohl
Producers: Colin Cunningham, Damon Vignale
Starring: Colin Cunningham, Benjamin Ratner, Madison Graie
Scams, Schemes, and Scoundrels*
A&E Home Video
Director: Aerlyn Weissman
Producer: Howard Dancyger
Starring: James Randi, Mathew Affron, Bill Barlee
Once in a Blue Moon*
Ark Films
Director: Philip Spink
Producers: Jane Charles, Sarah Duncan
Starring: Cody Serpa, Simon Baker, Deanna Milligan
Knocking on Heaven's Door*
Director: Roger Larry
Producers: Jane Charles, Sarah Duncan, Roger Larry
Starring: Suveer Bains, Fabian Bains, Natasha Kong
SERIES
GWAR: Phallus in Wonderland*
MVD
Directors: Judas Bullhorn, Distortion Wells
Producer: Dean English
Starring: Gwar
Beauty and the Beast
The CW
Producers: John Weber, Frank Siracusa, Ron Koslow
Starring: Kristin Kreuk, Jay Ryan, Nina Lisandrello
The Passion Play Documentary
Philip Spink Productions
Director: Philip Spink
Producer: Philip Spink
Riverworld (TV Film)*
Reunion Pictures
Director: Stuart Gillard
Producer: Michael O'Connor
Starring: Tahmoh Penikett, Mark Deklin, Alan Cumming
Meteor Storm (TV Film)*
Syfy
Director: Tibor Takács
Producer: Tracey Jeffrey
Starring: Michael Trucco, Kari Matchett, Brett Dier
SERIES (CONTINUED)
Knights of Bloodsteel (2 Episodes)*
Reunion Pictures
Director: Philip Spink
Producers: Cindi Rice, Pascal Verschooris
Starring: David James Elliott, Natassia Malthe, Christopher Jacot
Kung Fu Killer (TV Film)*
Reunion Pictures
Director: Philip Spink
Producers: Matthew O'Connor, Michael O'Connor, Shan Tam
Starring: David Carradine, Daryl Hannah, Jimmy Taenaka
Don't Eat the Neighbours*
Granada Productions
Producer: Tom Rowe
Starring: Gord Robertson, Simon Callow, Jeny Cassady
Voyage of the Unicorn (TV Film)*
Hallmark Entertainment
Director: Philip Spink
Producers: Matthew O'Connor, Michael O'Connor
Starring: Beau Bridges, Chantal Conlin, Heather McEwen
Higher Ground*
Paramount Television
Producers: Michael Braverman, Kira Domaschuk, Frank Giustra
Starring: Joe Lando, Hayden Christensen, A.J. Cook
Beggars and Choosers (5 Episodes)*
Granada Entertainment
Producers: Lily Tartikoff, Scott Kaufer, Brad Buckner
Starring: Brian Kerwin, Charlotte Ross, Tuc Watkins
The Darklings (TV Film)*
Fox Family Channel
Director: Jeffrey Reiner
Producers: James Shavick, Shawn Williamson
Starring: Suzanne Somers, Timothy Busfield, Meghan Ory
Big and Hairy (TV Film)*
Hallmark Entertainment
Director: Philip Spink
Producer: Colleen Nystedt
Starring: Robert Burke, Trevor Jones, Greg Thirloway
Police Academy: The Series (9 Episodes)*
Warner Bros. Television
Producers: Paul Bronfman, Gary M. Goodman, Steve Levitan
Starring: Matthew Borlenghi, Rod Crawford, Toby Proctor
Ronnie & Julie (TV Film)*
Showtime Networks
Director: Philip Spink
Producer: Larry Sugar
Starring: Teri Garr, Joshua Jackson, Margot Finley
Death Game (TV Film)*
Concorde-New Horizons
Director: Randy Cheveldave
Producer: Maurice Smith