Ruth Barrett
Composer
---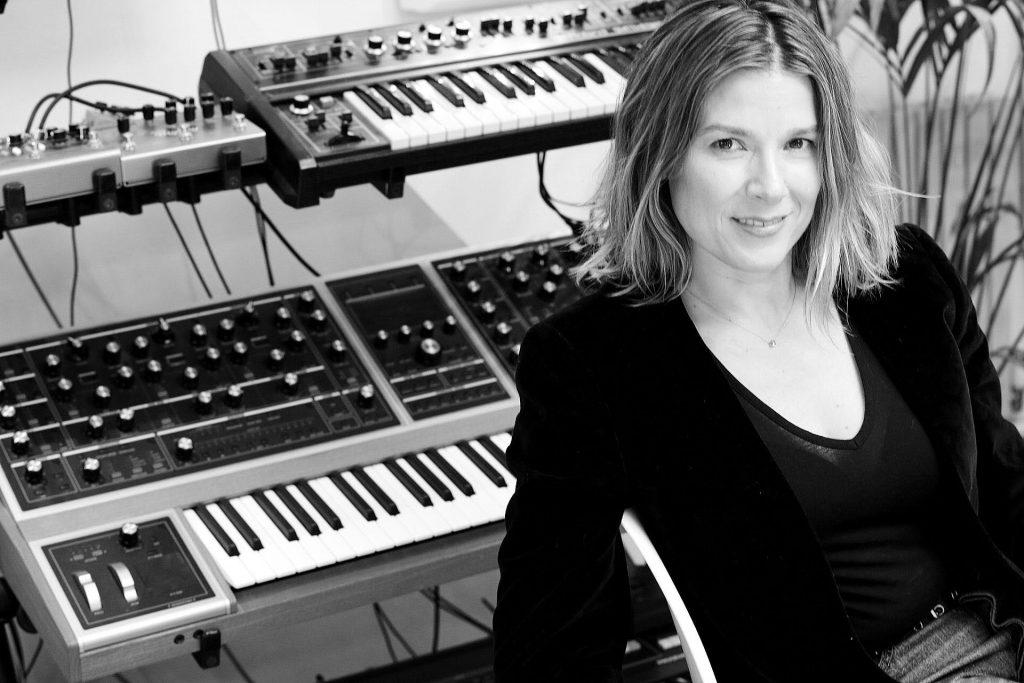 Emmy-nominee Ruth Barrett has quickly become one of the most sought-after film and television composers in the UK. Her music is unmistakably original and eclectic, spanning feature films and high-end TV drama.
Ruth's film credits include City of Tiny Lights and Legacy, both directed by Pete Travis (Dredd), Harry Brown (co-written with Martin Phipps) starring Michael Caine, Toast directed by S.J Clarkson, and the gritty Paul Abbott penned feature Twenty8k.
In television, Ruth has amassed over thirty scores in her twelve years of composing. She has recently scored the upcoming Pete Travis directed series Bloodlands, The Sister for ITV, Sanditon – an 8-part series based on Jane Austen's unfinished novel, Bodyguard – Jed Mercurio's hit series for BBC, Victoria series 3 and The Durrells series 4. Other TV projects include David Hare's Collateral (BBC) starring Carey Mulligan, Critical (Sky), Love Nina (BBC) starring Helena Bonham Carter, Wuthering Heights(ITV/PBS) starring Tom Hardy, Wallander (BBC) and Whitechapel (ITV).
Ruth studied composition at The Royal Academy of Music and read music at Cambridge University. She started her career composing for theatre and commercials before setting up a music production company, Rubykon, with composer and engineer Ruskin Williamson. Between them, they have scored numerous documentaries, ad campaigns and short films.
SERIES
The Decameron
Netflix
Director: Michael Uppendahl, Anya Adams, Andrew Young
Producers: Anthony Natoli, Ashley Glazier, Jenji Kohan, Kathleen Jordan
Starring: Saoirse-Monica Jackson, Tony Hale, Zosia Mamet
The Terminal List 
Amazon Prime Video
Directors: Antoine Fuqua , Frederick E.O. Toye, Sylvain White, M.J. Bassett
Producers: Max Adams, Kat Samick, David DiGilio
Starring: Chris Pratt, LaMonica Garrett, Alexis Louder   
Law & Order: Organized Crime
NBC
Created by: Ilene Chaiken, Warren Leight, Matt Olmstead, Dick Wolf
Producers: Ilene Chaiken, Anastasia Puglisi, Dick Wolf, Fred Werner
Starring: Christopher Meloni, Dylan McDermott, Danielle Mone Truitt
Bloodlands
Ale Kino +
Director: Pete Travis, Jon East
Producers: Jed Mercurio, Christopher Hall, Jimmy Mulville, Mark Redhead Starring: James Nesbitt, Lorcan Cranitch, Charlene McKenna
The Sister
Fremantle
Director: Niall MacCormick
Producers: Neil Cross, Jonathan Curling, Kate Harwood, Noemi Spanos Starring: Russell Tovey, Bertie Carvel, Amrita Archaria
The Durrells (Series 4)
ITV
Director: Roger Goldby, Steve Barron, Niall MacCormick, Edward Hall
Producers: Steven Ashley, Erin Delaney, Rebecca Eaton, Christopher Hall, Lee Morris, Simon Nye
Starring: Keeley Hawes, Josh O'Connor, Milo Parker
Sanditon
PBS
Director: Charles Sturridge, Olly Blackburn, Lisa Clarke
Producers: Belinda Campbell, Andrew Davies, Rebecca Eaton
Starring: Crystal Clarke, Rose Williams, Kris Marshall
Victoria
Masterpiece Theatre
Director: Geoffrey Sax, Olly Blackburn, Tom Vaughan
Producers: Rebecca Eaton, Daisy Goodwin, Damien Timmer, Paul Frift Starring: Jenna Coleman, Adrian Schiller, Tommy Knight
Bodyguard
Netflix
Director: John Strickland, Thomas Vincent
Producers: Eric Coulter, Simon Heath, Jed Mercurio, Priscilla Parish
Starring: Richard Madden, Sophie Rundle, Vincent Franklin
Collateral
Netflix
Director: S.J. Clarkson
Producers: Elizabeth Binns
Starring: Carey Mulligan, Hayley Squires, Nathaniel Martello-White
Fearless
Elephant Films
Director: Pete Travis
Producers: Adrian Sturges
Starring: Helen McCrory, Sam Swainsbury, Jonathan Forbes
Love, Nina
BBC
Director: S.J. Clarkson
Producers: Derrin Schlesinger
Starring: Faye Marsay, Ethan Rouse, Harry Webster
Critical
British Sky Broadcasting
Director: Jon East, Michael Keillor,Philippa Langdale
Producers: Christopher Hall, Jed Mercurio, Mark Redhead, Cameron Roach
Starring: Lenni James, Sheri Sadd, Peter Sullivan
Remember Me
BBC One
Director: Ashley Pearce
Producers: Chris Carey, Gwyneth Hughes, Rebecca Keane, Damien Timmer
Starring: Michael Palin, Mark Addy, Jodie Comer
Whitechapel
HBO Max
Director: Jon East, S.J. Clarkson, David Evans
Producers: Sally Woodward Gentle, David Boulter, Patrick Schweitzer
Starring: Robert Penry-Jones, Steve Pemberton, Phil Davis
SERIES (Continued)
Wuthering Heights
PBS
Director: Coky Giedroyc
Producers: Radford NevilleStarring: Tom Hardy, Charlotte Riley, Andrew Lincoln
FILM
The Old Guard 2 (Co-Composer)
Netflix
Director: Victoria Mahoney
Producers: A.J. Dix, David Ellison, Marc Evans, Dana Goldberg
Starring: Charlize Theron, Uma Therman, Matthias Schoenaerts
City of Tiny Lights
Netflix
Director: Pete Travis
Producers: Rebecca O'Brien, Ado Yoshizaki Cassuto
Starring: Riz Ahmed, Billie Piper, James Krishna Floyd
The Young and Prodigious T.S. Spivet (Song)
The Weinstein Company
"The White Queen"
Director: Jean-Pierre Jeunet
Producers: Frédéric Brillion, Suzanne Girard, Gilles Legrand
Starring: Helena Bonham Carter, Judy Davis, Callum Keith Rennie
Twenty8k
Osiris Entertainment
Director: David Kew, Neil Thompson
Producers: Martin Carr, Neil Thompson
Starring: Sebastian Nanena, Bhasker Patel, Rani Moorthy
Brighton Rock (Additional Music)
MPI Home Video
Director: Rowan Joffe
Producers: Paul Webster
Starring: Sam Riley, Andrea Riseborough, Helen Mirren

Harry Brown
Samuel Goldwyn Films
Director: Daniel Barber
Producers: Keith Bell, Matthew Brown, Kris Thykier, Matthew Vaughn
Starring: Michael Caine, Emily Mortimer, Charlie Creed-Miles
Endgame (Additional Music)
Dalton Pictures
Director: Pete Travis
Producers: Hal Vogel
Starring: William Hurt, Chiwetel Ejiofor, Jonny Lee Miller
Inkheart (Music Editor)
Warner Bros.
Director: Iain Softley
Producers: Cornelia Funke, Diana Pokorny, Iain Softley
Starring: Brendan Fraser, Sienna Guillory, Eliza Bennett
What The Durrells Did Next (Documentary)
ITV Hub
Director: Toby Roebuck, Ewen Thomson
Producers: Toby Roebuck
Starring: Keeley Hawes, Gerald Durrell, Lawrence Durrell
Legacy
BBC
Director: Pete Travis
Producers: Rob Bullock
Starring: Charlie Cox, Andrew Scott, Romola Garai
Toast
Emerging Pictures
Director: S.J. Clarkson
Producers: Faye Ward
Starring: Oscar Kennedy, Victoria Hamilton, Matthew McNulty
Hancock & Joan
BBC
Director: Richard Laxton
Producers: Simon Heath
Starring: Ken Stott, Maxine Peake, Alex Jennings
Clapham Junction
Here TV
Director: Adrian Shergold
Producers: Elinor Day
Starring: Tom Beard, Rachael Blake, Samantha Bond, Stuart Bunce
FILM (Continued)
A Very British Sex Scandal
Channel 4
Director: Patrick Reams
Producers:Edmund Coulthard
Starring: Nicholas Le Prevost, Harriet Eastcott, Sam Heughan
The Grey Man
BBC
Director: Declan O'Dwyer
Producers: Amanda Jenks
Starring: Daniel Ryan, Nitin Ganatra, Christopher Fulford
To Be First
Wall to Wall Media
Director: Patrick Reams
Producers: Simon Chinn
Starring: Rupert Graves, Ben Miles, Darrell D'Silva
What We Did On Our Holiday
Wall to Wall Media
Director: Jeremy Webb
Producers: Chris Carey
Starring: Shane Richie, Pauline Collins, Roger Lloyd Pack
SHORT FILM
Janet and Bernard
BBC One
Director: Archie Powell, Steve Lawes
Producers: Ros Edwards
Starring: Cavan Clerkin, Jo Hartley, Anna-Maria Nabirye
Schizofredric
A1 Pictures
Director: Andy Poyiadgi
Producers: Jo Smith
Starring: Spencer Jones, Martin Collins, Laura Evans
Without You
Invasive Films
Director: Emma Passmore
Producers: Emma Passmore, Helena Smith
Starring: Neil Bennun, Morven Macbeth