Peymon Maskan
Music Supervisor
---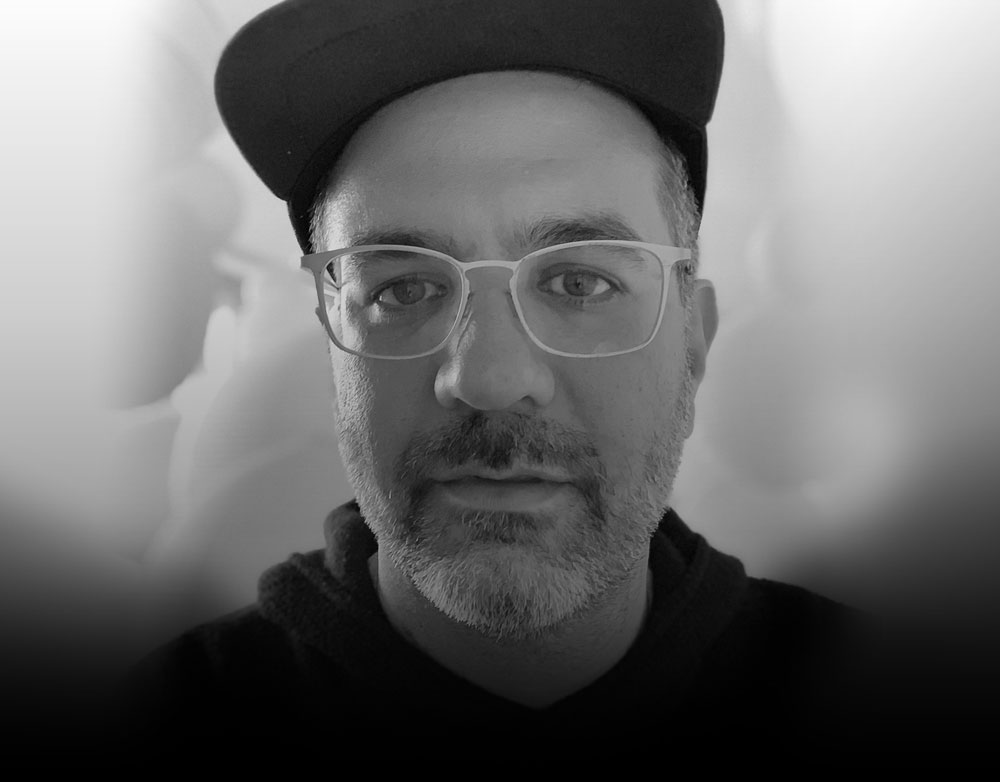 Since 2012, I've been a Music Supervisor at Apple's long standing external ad agency Media Arts Lab, and had the privilege of being the Music Director since 2015 and Global Music Director since 2017, leading a worldwide team.
We created iconic musical moments for the brand, including the Spike Jonze directed 2018 HomePod launch ad "Welcome Home", which featured a new song by Anderson Paak, marking the beginning of his leap to mainstream awareness. 2018 also introduced our Grand Clio Music winning ad "Share Your Gifts" with original song by Billie Eilish. Our 2017 Silver Cannes Lion winning ad "Stroll" endeared Marian Hill's "Down" to a worldwide audience, and Emmy Award winning "Misunderstood" hinged on a newly created cover from Cat Power.
During my 7 years, the Music Department's output increased 5 fold, while our global Music Supervision team tripled. We created hundreds of ads and worked with the most incredible storytellers and craftspeople around. My passion for being the Global Music Director to a world class creative team is only equaled by my love for working hands on as a Music Supervisor.
Before working in advertising, I was Music Supervisor for over 30 film and TV projects. Working on projects of all lengths has given me a unique perspective on the role of music for many platforms and story types.
As I create my next chapter, I am open to something totally unexpected or uniquely challenging.
FILM
Monkey Man
Netflix / BRON Studios
Director: Dev Patel
Producers: Basil Iwanyk , Erica Lee , Anjay Nagpal , Dev Patel, Samarth Sahni, Jomon Thomas , Christine Haebler
Starring: Sharlto Copley, Dev Patel, Sobhita Dhulipala
Pools
Director: Sam Hayes
Producers: Jack Heston, Seth Savoy, Adonis Tountas, Mike Ware
Starring: Mason Gooding, Michael Vlamis, Tyler Alvarez, Ariel Winter
The Fallout
Clear Horizon Entertainment
Director: Megan Park
Starring: Shailene Woodly, Jena Ortega, Maddie Ziegler
* Winner, Grand Jury Award – SXSW 2021
Apple: Stroll (Musical Director)
Apple
Director: Sam Brown
Starring: Lil Buck
Loaded
Reder & Fig
Director: Chris Zonnas
Producer: Linda L. Miller
Starring: Kumail Nanjiani, Patrick John Flueger, Andrew W. Walker
Brahmin Bulls
Philote Factory
Director: Mahesh Pailoor
Producer: Yoshinobu Tsuji
Starring: Sendhil Ramamurthy, Roshan Seth, Mary Steenburgen
Aachi & Ssipak
Lionsgate Digital / Mondo
Directors: Zack Keller, Ed Skudder
Producers: John Evershed, Curt Marvis, Aaron Simpson
* Original Score by Mad Decent
Far (Short)
Variegated Films
Director: Brian James Crewe
Producer: Hugh Aodh O'Brien
Starring: Marion Kerr, Andre Hall, Lauren Mora
The Final Member (Documentary) (Music Consultant)
Independent
Directors: Jonah Bekhor, Zach Math
Producers: Jonah Bekhor, Zach Math
Starring: Sigurdur Hjartarson, Paul Arason, Tom Mitchell
6 Month Rule
Secret Identity Productions
Director: Blayne Weaver
Producers: Brandon Barrera, Steak House, Dan Stoloff
Starring: Jamie Pressly, Natale Morales, Blayne Weaver
A Good Old Fashioned Orgy
Sony Pictures
Directors: Alex Gregory, Peter Huyck
Producers: Ram Bergman, George Parra
Starring: Jason Sudeikis, Will Forte, Leslie Bibb
* Music Coordinator credit
Biker Fox (Documentary)
Biker Fox Productions
Director: Jeremy Lamberton
Producers: Jeremy Lamberton, Todd Lincoln
Starring: Frank Paul DeLarzalere
Footsteps
Director: Gavin James
Producers: Taylor Cohen, Gavin James, Flo Speakman
Starring: Marshall Bell, Challen Cates, Amy Ferguson
Norman
North by Northwest Entertainment
Director: Jonathan Segal
Producers: Rich Cowan, Hawk Koch
Starring: Richard Jenkins, Dan Byrd, Adam Goldberg, Emily VanCamp
* Grand Prize for Best Feature Narrative Rhode Island IFF 2010
* Original Score and Songs by Andrew Bird
Todd P. Goes to Austin
FVMMO Films
Director: Jason Buim
Producers: Taylor Cohen, Otto Arsenault
Starring: Matt and Kim, Mika Miko, Juiceboxx, Dan Deacon, Best Fwends
* Original Score by Japanther
Father Vs. Son
Film Crewe Productions
Director: Joe Ballarini
Producer: Brian Crewe
* Winner Best World Premier Film 2010 Houston Worldfest
Neighborhood Watch
Bleiberg Entertainment
Director: Gregg Bishop
Producer: Brian Crewe
FILM (CONTINUED)
The Playground
Smokehouse Production Company
Director: Libby Spears
Producer: George Clooney
* Original Score features vocals by Kazu Makino of Blonde Redhead
Pressure Cooker
Participant Productions
Director: Jennifer Grausman
Producers: Jeff Skoll, Diane Weyermann
*2010 Emmy nomination for Exceptional Merit in Nonfiction Filmmaking
* Original Score by Prince Paul and Don Newkirk
* Music Coordinator credit
Humboldt County
Magnolia Pictures
Director: Darren Grodsky, Danny Jacobs
Producers: Michael O. Gallant, Todd Senturia, Jason Weiss
Starring: Fairuza Balk
* Official SXSW 2008 Entry
Dance of the Dead
Ghost House Pictures / Lionsgate
Director: Gregg Bishop
Producers: Ehud Bleiberg, Chad Eikoff, Brian Crewe
* Official SXSW 2008 Entry
Gardens of the Night
City Lights Pictures
Director: Damian Harris
Producers: Pascal Franchot, RD Robb
Starring: Tom Arnold, John Malkovich
* Officially in Competition, Berlin Film Fesitval 2008
Footsteps
Footsteps, LLC
Director: Gavin James
Producers: Gavin James, Flo Speakman
Starring: Brendan Sexton III
Expired
FR Productions
Director: Cecilia Miniucchi
Producers: Fred Roos, Jeffrey Coulter
Starring: Samantha Morton, Jason Patric
* Official Sundance 2007 Entry
* Official Cannes 2007 Entry
Heaven Come Down
Sundance Institute
Director: Gabriel Wrye, Michael Mees
Producers: Gabriel Wrye, Michael Mees
Greetings from Earth
HKM & GFE, Inc.
Director: Kim Jacobs
Producer: Sara Seiferheld
Starring: Mariel Hemingway, Patton Oswalt
* Original Score by ISAN
Alone With Her
Pin Hole Productions
Director: Eric Nicholas
Producers: Robert Engelman, Tom Engelman
Starring: Colin Hanks, Ana Claudia Talancon, Jordana Spiro
* Music Coordinator credit
The Other Side
Wonder Studios
Director: Gregg Bishop
Producers: Chad Eikhoff, Gregg Bishop
Starring: Nathan Mobley, Jaime Alexander
Aquamarine
Fox 2000
Director: Elizabeth Allen
Producer: Susan Cartsonis
Starring: Sara Paxton, Emma Roberts
Into The Blue
MGM
Director: John Stockwell
Producer: David Zelon
Starring: Paul Walker, Jessica Alba, Scott Caan, Josh Brolin
The Man
New Line
Director: Les Mayfield
Producer: Robert N. Fried
Starring: Eugene Levy, Samuel Jackson
Monster In Law
New Line
Director: Robert Luketic
Producers: Paula Weinstein, Chris Bender, J.C. Spink
Starring: Jane Fonda, Jennifer Lopez
The Big Bounce
Warner Bros.
Director: George Armitage
Producers: Steve Bing, Jorge Saralegui, George Armitage
Starring: Owen Wilson, Morgan Freeman, Gary Sinise, Charlie Sheen
FILM (CONTINUED)
A Man Apart
New Line Cinema
Director: F. Gary Gray
Producers: Bob Degus, Vin Diesel, Vincent Newman, Joey Nittolo, Tucker Tooley
Starring: Vin Diesel, Larenz Tate, Timothy Olyphant
Blue Crush
Universal
Director: John Stockwell
Producers: Brian Grazer, Karen Kehela
Starring: Michelle Rodriguez, Kate Bosworth
SERIES
MLS Season Pass (Series – Theme, Songs)
Apple TV+
Starring: Taylor Twellman, Max Bretos, Adrian Healey
More Noise (Limited Doc Series)
Imagine Entertainment
Producers: Brian Grazer, Zoë Morrison
A Man In Full
Netflix
Director: Regina King
Producers: David E. Kelley, Tom Wolfe
Starring: L. Warren Young, Jeff Daniels, Bill Camp
The Long Game Apple TV+
Director: Seth Gordon
Producers: Nikki Calabrese, Andrew Fried, Seth Gordon, Dane Lillegard, Sarina Roma, Jordan Wynn
Let's Big Happy (7 episodes, web series)
Fox Digital
Producers: Stephen Feder, Vikram Gandhi
Starring: Angela Sarafyan, Andrew W.K.
* Music Coordinator credit
Vin Diesel Presents: The Ropes (18 episodes, web series)
Fox Digital
Directors: Vin Diesel, Zoe Saldana, Frank Flowers
Producer: Samantha Vincent
The Middleman (1 hour episodic)
ABC Family
Producers: Javier Grillo-Marxuach, John Ziffren
Starring: Natalie Morales, Matt Keeslar
Fallen (Mini Series)
ABC Family
Director: Kevin Kerslake
Producers: Edward Bates, Rochelle Bates
Starring: Paul Wesley, Rick Worthy, Ivana Milicevic
Rocky Point
The WB
Producers: Sarah Timberman, Lizzy Weiss, John Stockwell
Starring: Bill Campbell, Lauren Holly, Chyler Leig
The Break
FOX
Producers: Brian Grazer, David Nevins, John Stockwell
Starring: Kris Kristofferson, Dylan Bruno
Iron Jawed Angels
HBO
Producers: Paula Weinstein, Len Amato, Lydia Pilcher, Robin Forman
Starring: Hilary Swank, Angelica Huston
ADVERTISING / BRANDING / TRAILERS
6 Month Rule (Independent Feature)
A Good Old Fashioned Orgy (Sony Pictures / MGM)
Norman (Independent Feature)
Axe Body Spray
Twinnings Tea
BUCK.tv
ABC Network Promotions
GrownUps (Big Picture Entertainment)
Ariflex Cameras
FIFA
City National Bank
AUDI (Hum Creative)
NIKE (Hum Creative)
Gardens of the Night (Independent Feature)
History Channel (Crew Creative)
Acura "Smile"
Adidas "Adicolor: Black" campaign / Director: Saiman Chow
The Wire (FX Network)
Love My Way (Fox Australia)
KIA Automotive
2008 Hollywood Reporter
Universal Pictures Marketing – Fall/Winter 2006 Film/TV campaigns
FX 2005 Urban Branding Campaign