Patrick
Kirst
Composer
---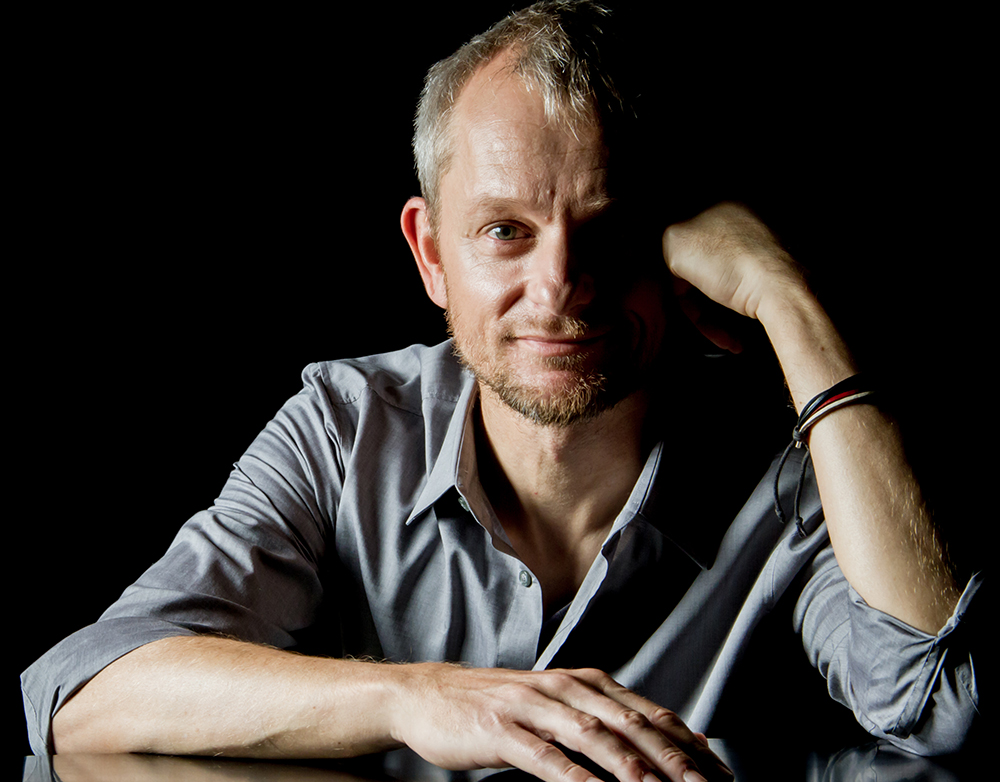 Patrick Kirst is a German-born film composer based in Los Angeles. He's best known for his work on the highly successful romantic comedy trilogy, The Kissing Booth. The sequel was released in summer 2020 and for a second time achieved a record-shattering number of streams on the platform. The release of The Kissing Booth 3 in 2021 completed the trilogy as one of the most successful franchises on the Netflix platform.
In 2007, Kirst became an integral part of Aaron Zigman's team where he earned orchestration and additional music credits on top-grossing films such as The Proposal, The Ugly Truth, Sex and the City: The Movie, Mr. Magorium's Wonder Emporium, The Shack, and The War With Grandpa, to name a few. The composer's other composing credits include Disney's first nature documentary Earth, Seaworld's documentary-style theme park show Orca Encounter, the Swedish survival drama Breaking Surface, the political documentary Welcome to Pine Lake (CBSN), the opioid crime drama Inherit the Viper (Lionsgate), and the Netflix crime series Totenfrau.
As an integral part of the thriving media industry in Los Angeles, Kirst continues to share classic composition techniques and new innovations through both his work as a respected composer and as a professor at the University of Southern California.
FILM
Darby and the Dead
Hulu
Director: Silas Howard
Producers: Mac Hendrickson, Eddie Rubin, Adam Saunders, Sarah Shepard
Starring: Riele Downs, Auli'i Cravalho, Kylie Liya Page
No Ordinary Life (Documentary)
Array Films
Director: Heather O'Neill
Producers: Heather O'Neill, Rich Brooks
Starring: Christiane Amanpour
The Kissing Booth 3
Netflix
Director: Vince Marcello
Producers: Andrew Cole-Bulgin, Ed Glauser, Vince Marcello, Michele Weisler
Starring: Joey King, Joel Courtney, Jacob Elordi
Breaking Surface
Music Box Films
Director: Joachim Hedén
Producers: Julia Gebauer, Jonas Sörensson
Starring: Moa Gammel, Madeleine Martin, Trine Wiggen
The War with Grandpa (Additional Music)
101 Studios
Director: Tim Hill
Producers: Phillip Glasser, Marvin Peart, Rosa Morris Peart
Starring: Robert De Niro, Uma Therman, Rob Riggle
Welcome to Pine Lake
CBSN
Director: Elisa Gambino
Producers: Aubrey Aden-Buie, Layla Bozek, Wendy Eley Jackson
The Kissing Booth 2
Netflix
Director: Vince Marcello
Producers: Andrew Cole-Bulgin, Ed Glauser, Vince Marcello, Michele Weisler
Starring: Joey King, Joel Courtney, Jacob Elordi
Inherit the Viper
Lionsgate
Director: Anthony Jerjen
Producers: Michel Merkt, Benito Mueller
Starring: Tara Buck, Margarta Levieva, Lobo Sebastan
Villa Eva
ARD Degeto Film
Director: Michael Riebl
Starring: Andreas Ankle, Mohammad-Ali Behboudi, Katharina Behrens
The Kissing Booth
Netflix
Director: Vince Marcello
Producers: Andrew Cole-Bulgin, Ed Glauser, Vince Marcello, Michele Weisler
Starring: Joey King, Joel Courtney, Jacob Elordi
The Shack (Electronic Programming)
Lionsgate
Director: Stuart Hazeldine
Producers: Brad Cummings, Gil Netter
Starring: Sam Worthington, Octavia Spencer, Tim McGraw
Convergence
High Octane Pictures
Director: Drew Hall
Producers: Scott Robinson
Starring: Clayne Crawford, Ethan Embry, Mykelti Williamson
Hitchhiking to the Edge of Sanity (Documentary)
Scott Petersen
Director: Scott Petersen
Producers: Scott Petersen
The Longest Road
Hall Legacy
Director: Matthew Charles Hall, Jennifer Salcido
Producers: Matthew Charles Hall
Starring: Richard Campos, Jimmy Cooper, Nemam Ghafouri
Grace Stirs Up Success (Composer, Theme)
Universal Pictures Home Entertainment
Director: Vince Marcello
Producers: Vince Marcello, Philip Waley
Starring: Olivia Rodrigo, Virginia Madsen, Caitlin Carmichael
Help Us Find Sunil Tripathi (Documentary)
Director: Neal Broffman
Producers: Heather O'Neill
Eldur Á Himni (Documentary)
Director: Boris Schaarschmidt
Producers: Boris Schaarschmidt
Isabelle Dances Into the Spotlight
Disney Channel
Director: Vince Marcello
Producers: Debra Martin Chase, Avram 'Butch' Kaplan, Vince Marcello, Jean McKenzie
Starring: Erin Pitt, Melora Hardin, Grace Davidson
The Vineyard
Kinokater
Director: James Katz
Producers: Barnard Steele, Igal Weitzman
Starring: Aislinn Derbez, Aurelien Wiik, Jose Maria De Tavira
10 000 timmar
Netflix
Director: Joachim Hedén
Producers: Julia Gebauer, Jonas Sörensson
Starring: Peter Magnusson, Karin Lithman, Ozz Nujen
Sons of Liberty
All Channel Films
Director: Drew Hall
Producers: Drew Hall, D. Scott Lumpkin
Starring: Tamer Hassan, Keith David, Elyse Levesque
Stepping High
Content Media Co.
Director: Henry Charr
Producers: Jess Mancilla
Starring: Palmer Davis, Amir M. Korangy, Mary Carrig
The Phoenix Rises
Midnight Releasing
Director: Drew Hall
Producers: Drew Hall, D. Scott Lumpkin
Starring: James Black, Adam Cardon, John DeLong
McKenna Shoots for the Stars (Additional Music)
Universal Home Video
Director: Vince Marcello
Producers: Ellen L. Brothers, Debra Martin Chase
Starring: Jade Pettyjohn, Kerris Dorsey, Nia Vardalos
Madea's Witness Protection (Orchestrations)
Lionsgate
Director: Tyler Perry
Producers: Ozzie Areu, Paul Hall, Tyler Perry
Starring: Tyler Perry, Eugene Levy, Denise Richards
Skyhook
Summer Hill Films
Director: Drew Hall
Producers: Robert Abramoff, D. Scott Lumpkin, Denny Wilkins
Starring: Catalina Soto-Aguilar Kind, John DeLong, Philip Fornah
I Love Your Moves
Harmony Gold
Director: Henri Charr
Producers: Henri Charr, Jess Mancilla
Starring: Andoni Zorbas, Erika Cortes, Scott Cullen
The Bad Intentions
3C Films Group
Director: Rosario Garcia-Montero
Producers: Rosario Garcia-Montero, Benito Mueller, Wolfgang Mueller, Paul Typaldos
Starring: Fatima Buntinx, Katerina D'Onofrio, Melchor Gorrochategui
Where the Road Meets the Sun
Maya Entertainment
Director: Mun Chee Yong
Producers: Brett Henenberg, Delon Tio, Mun Chee Yong
Starring: Eric Mabius, Will Yun Lee, Fernando Noriega
An African Election (Documentary)
The Cinema Guild
Director: Jarreth J. Merz, Kevin Merz
Producers: Brigitte Agustoni, Franco Agustoni
Der grosse Kater
Central Film
Director: Wolfgang Panzer
Producers: Wolfgang Behr, Dietmar Güntsche, Benito Mueller, Wolfgang Mueller, Claudia Wick
Starring: Bruno Ganz, Ulrich Tukur, Marie Baumer
FILM (continued)
Framily
Synchpost
Director: Joachim Hedén
Producers: Julia Gebauer
Starring: Richard Gunn, Jennifer Christopher, Jennifer O'Kain
Sex and the City 2 (Additional Orchestrations)
Warner Bros.
Director: Michael Patrick King
Producers: Michael Patrick King, John P. Melfi, Sarah Jessica Parker, Darren Star
Starring: Sarah Jessica Parker, Kristin Davis, Cynthia Nixon, Kim Cattrall
The Renaissance of Mata Ortiz (Documentary)
Director: Scott Petersen
Producers: Scott Petersen
Starring: Jerry Boyd, Juan Quezada Celado, Spencr MacCallum
The Polo Kid (Documentary)
Cinetic Rights Management
Director: Nathaniel McCullagh
Producers: Nathaniel McCullagh
Starring: Adolfo Cambiaso, Nacho Figueras, Jordan Leigh
The Ugly Truth (Orchestrator)
Columbia Pictures
Director: Robert Luketic
Producers: Kimberly di Bonaventura, Gary Lucchesi, Deborah Jelin Newmyer, Steven Reuther, Tom Rosenberg
Starring: Katherine Heigl, Gerard Butler, Bree Turner
The Proposal (Orchestrator)
Walt Disney Studios Motion Pictures
Director: Anne Fletcher
Producers: David Hoberman, Todd Lieberman
Starring: Sandra Bullock, Ryan Reynolds, Mary Steenburgen
Sweet Thing
Director: Joe Lia
Producers: Joe Lia, Matt McUsic, Guillermo R. Rodríguez
Starring: Leon Cohen, Jennipher Foster, Patricia Haines-Ainsworth
Sex and the City (Additional Orchestrations)
Warner Bros.
Director: Michael Patrick King
Producers: Michael Patrick King, John P. Melfi, Sarah Jessica Parker, Darren Star
Starring: Sarah Jessica Parker, Kristin Davis, Cynthia Nixon, Kim Cattrall
Rigged
Phase 4 Films
Director: Jonathan M. Dillon
Producers: Jonathan M. Dillon, Bobby McGee
Starring: Chad Ortis, Rebecca Neuenswander, Will Fowler
Mr. Magorium's Wonder Emporium (Orchestrator)
Fox-Walden
Director: Zach Helm
Producers: James Garavente, Richard N. Gladstein
Starring: Ted Ludzik, Natalie Portman, Zach Mills
The Shadows
Director: Guillermo R. Rodríguez
Producers: David Person, Guillermo R. Rodríguez
Starring: Emett Allen, Trace Barnes, Michelle Baxter
Heart of Fear
Harmony Gold
Director: Henri Charr
Producers: Henri Charr, Jess Mancilla
Starring: Annie Wood, Brad Sergi, Thomas Garner
SERIES
Woman of the Dead (Fka Totenfrau)
Netflix
Director: Nicolai Rohde
Producers: Thomas Hroch, Benito Mueller, Wolfgang Mueller, Gerald Podgornig
Starring: Yousef 'Joe' Sweid, Romina Küper, Anna Maria Muhe, Stephanie Lexer
Wasteland
CBS / Paramount +
Director: Elisa Gambino
Producers: Theresa R. Adams, Aubrey Aden-Buie, Heather O'Neill
Starring: Adam Yamaguchi
Tatort (Additional Music)
ARD
Director: Nikolaus Leytner
Producers: Annemarie Pilgram-Ribitsch
Starring: Harald Krassnitzer, Adele Neuhauser, Karl Fischer
Kebab Extrascharf (Additional Music)
ARTE
Director: Wolfgang Murnberger
Producers: Gabi Stefansich
Starring: Andreas Vitásek, Fanny Stavjanik, Tim Seyfi
Maximilian (Orchestrator)
Polyband
Director: Andreas Prochaska
Producers: Oliver Auspitz, Andreas Kamm, Kurt J. Mrkwicka
Starring: Christa Theret, Jannis Niewohner, Alix Poisson
Shark Week
Discovery UK
Director: Heather O'Neill
Producers: Philippe Cousteau Jr., Ashlan Gorse Cousteau, Patric Douglas
Starring: Ashlan Gorse Cousteau, Philippe Cousteau Jr., Jacques-Yves Cousteau
Lopez (Additional Music)
Dakota Pictures
Director: Troy Miller
Producers: John Altschuler, Dave Krinsky, George Lopez
Starring: George Lopez, Anthony "Critic" Campos, Maronzio Vance
Foodies
Junction Film
Director: Sinne Mutsaers
Producers: Jarreth J. Merz, Sinne Mutsaers
Liar, Liar, Vampire (TV Movie)
CBS All Access
Director: Vince Marcello
Producers: Amy Sydorick
Starring: Rahart Adams, Brec Bassinger, Tiera Skovbye
Schon wieder Henriette (TV Movie, Additional Music)
MCP Sound & Media AG
Director: Nikolaus Leytner
Producers: Thomas Hroch, Gerald Podgornig
Starring: Christiane Hörbiger, Erwin Steinhauer, Harald Schrott
Saige Paints the Sky (TV Movie)
NBC
Director: Vince Marcello
Producers: Debra Martin Chase, Jean McKenzie
Starring: Sidney Fullmer, Alexandra Peters, Alana Gordillo
Meine Schwester (TV Movie, Additional Music)
MCP Sound & Media AG
Director: Sascha Bigler
Producers: Thomas Hroch, Gerald Podgornig
Starring: Christiane Hörbiger, Maresa Hörbiger, August Zirner
Burned (TV Movie)
BET
Director: Phyllis Bancroft
Producers: Phyllis Bancroft
Starring: Josef Cannon, Joseph Caston, Carlos Ciurlizza
Foreclosed: The Series
Lion's Claw Productions
Director: Sean M. Hickey
Producers: Sean M. Hickey, Donald A. Perez
Starring: Joaquin Echavarria, Donald A. Perez, Sarina Quintero
The 19th Wife (TV Movie, Additional Music)
Sony Pictures Television
Director: Rod Holcomb
Producers: Brian Leslie Parker
Starring: Chyler Leigh, Alexia Fast, Matt Czuchry
The Soul of Ashanti (TV Movie)
The Africa Channel
Director: Jarreth J. Merz
The Prince of Motor City (TV Movie, Additional Music)
ABC Signature
Director: Jack Bender
Producers: Justis Greene
Starring: Mike Allen, Max Bassett, Megan Byrne
Blue Smoke (TV Movie, Additional Music)
Lifetime Television
Director: David Carson
Producers: Salli Newman
Starring: Alicia Witt, Scott Bakula, Matthew Settle
Abe & Bruno (TV Movie)
Harmony Gold
Director: Henri Charr
Producers: Jess Mancilla
Starring: Brad Sergi, Kevin Scott Allen, Noah Crawford
SHORT FILM
We Eat Socca Here
Scott Petersen
Director: Scott Petersen
Producers: Scott Petersen
Starring: Steeve Bernardo, Stephane Pentolini, Olivier Gasquet
Henrietta Bulkowski
Lift Animation
Director: Rachel Johnson
Starring: Christina Hendricks, Chris Cooper, Finn Douglas
Head Over Heels
Director: Boris Schaarschmidt
Starring: Daniel Evich, Kambra Potter
Jesse Gray POC
AMPM Productions
Director: Alba Morera
Producers: Nathalie Sar-Shalom, Rosana Tomas
Starring: Erin Way, Marcella Lentz-Pope
Killer Black
High Noon Pictures
Director: J. Fox Berry
Producers: J. Fox Berry
Starring: Fred Melamed, Will Brittain
Heirloom HDR
Frame 29 Films
Director: Drew Hall
Producers: Drew Hall, Jeff Worley
Starring: Michael Ford, Andrea Izaguirre, Elena Marie Ray
Aether: Prologue
Drama Free Zone
Director: Drew Hall, Horst Sarubin
Producers: Scott Robinson
Starring: Tim Fields, Jasi Cotton Lanier, Jeremy Sande
First Steps
Director: Ramiro Cazaux
Producers: Begoña Castillo, Ramiro Cazaux
Starring: Nahuel Cazaux, Matthew Thomas Lange, Reena Popiel
Fort Apache
The Magisterium
Director: Addison Mehr
Producers: Sara Eklund
Starring: Josh Salatin, Hale Lytle, Lindsay Burdge
Haleema
Director: Boris Schaarschmidt
Producers: Boris Schaarschmidt | Michaela Ullmann
Starring: Dani Dare, Elijah Emuge, Niki Guluchi
Mousy Brown
Director: Jarreth J. Merz
Producers: Jarreth J. Merz
Starring: Robin Halloway, Jerreth J. Merz, Amy Moorman
Hot Spots: Martin Parr in the American South
F-Stop Films
Director: Neal Broffman
She, Who Excels in Solitude
Film Houston
Director: Mako Kamitsuna
Producers: Ralf Weinfurtner
Starring: Minna Brighton, William Fichtner, Leslie Stevens
Der Fisch
Director: Shari Yantra Marcacci
Producers: Shari Yantra Marcacci, Marques Miles
Starring: Robin Galloway, Nina Hauser, Oleg Vidov
Figure of Speech
1904 Pictures
Director: J. Fox Berry
Producers: Jami Burke, J. Fox Berry, Adam Powell
Starring: Jesse Steccato, Travis Hammer, Jennifer Christopher
Good Expectations
Director: Daniel D'Alimonte
Producers: Zainab Burmawalla
Starring: Daniel D'Alimonte, George Dickson, Amir Malaklou
The Haymaker
Rouge Valley
Director: Daniel D'Alimonte
Producers: Daniel D'Alimonte, Eric Rowe
Starring: Trevor Morgan, Chris Butler, Susan Floyd
The Desperate
NewDawn Pictures
Director: Ben-Hur Sepehr
Producers: Ben-Hur Sepehr
Starring: Peter Mark Richman, Greg Mullavey, Alexander Leeb
Long Awaited
Siu and Sakai Productions
Director: Chris Commons
Producers: Jed Linder, James E. Roberts
Starring: Rob Allen, Eric Clarke, Laurie Jones
At the End of Slavery
Director: Ted Haddock
Producers: Neal Broffman
Starring: Danny Glover
Walter
Purple Bench Films
Director: Jonathan M. Dillon
Producers: Brenden Patrick Hill, Philippe Ifergan
Starring: Andrew J. West, Robert Gant, Lauren Banuvar
Monstrous Nature
Cinemonster Films
Director: Jason Cuadrado
Producers: Nestor Miranda
Starring: Camillia Monet, Gary Perez
Kavi
Shorts International
Director: Gregg Helvey
Producers: Harish Amin, Gregg Helvey, Guneet Monga, Tom Rice
Starring: Sagar Salunke, Ulhas Tayade, Rajesh Kumar
See You Later
1904 Pictures
Director: J. Fox Berry
Producers: J. Fox Berry
Starring: Mike Geary, Joe Lemieux, Eleese Longino
The Assassin Project
Schadenfreude Industries
Director: Hal Jordan
Producers: Nick Rossier, Monique Yamaguchi
Starring: Miranda Allgood, Dean Cates, Jennifer Neal
Return to Sender
Heavy B Production
Director: Boris Schaarschmidt
Producers: Boris Schaarschmidt
Starring: Tracy Coogan, Tim Coston, Joseph Culliton
Green
Director: Boris Schaarschmidt
Producers: Stacie Gediman
Starring: John Gowans, John Hayden, Jake Head
Spent
Director: Boris Schaarschmidt
Producers: Phyllis Bancroft
Starring: Bradford Bancroft, Phyllis Bancroft, Tracey Costello
Have You Ever Heard About Vukovar?
USC
Director: Paolo Borraccetti
Producers: Annie Lukowski, Zak Mechanic
Starring: Ash Mayberry, Josip Kuchan