Matt
Novack
Composer
---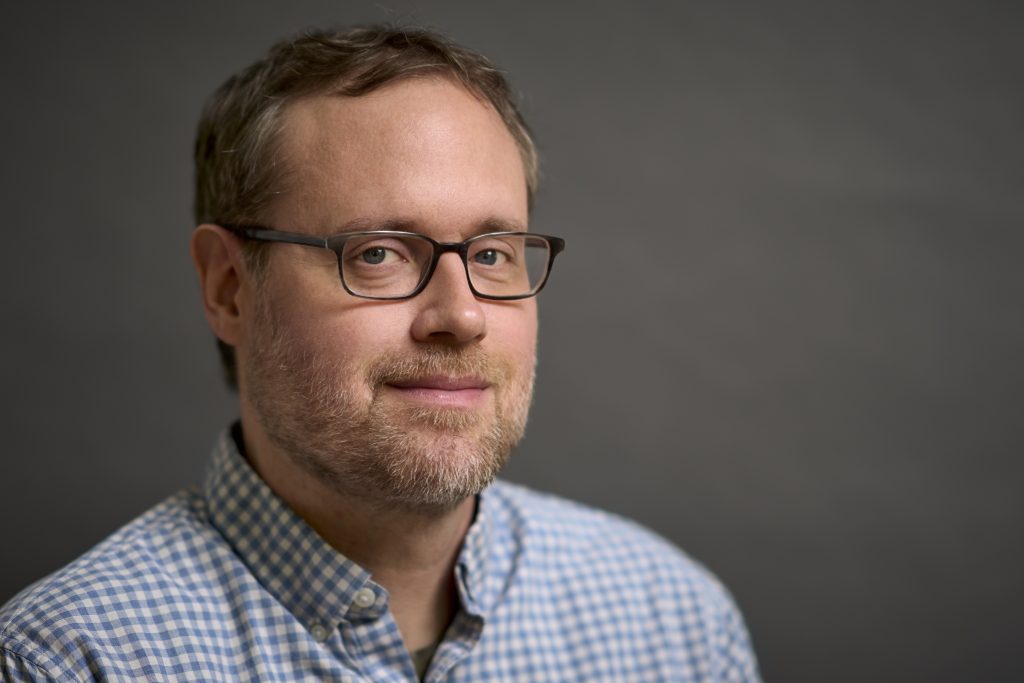 Matt Novack is a classically trained composer and percussionist whose intuitively smart scores have created indelible moments in (mostly) comedy projects across series and film. Matt's music supports performances by many of today's greatest comedic actors, including Amy Poelher, Paul Rudd, Rob Cordrry, Megan Mullally, Henry Winlkler and Will Arnett. His most recent work can be heard on the hit Netflix series, Murderville, starring Will Arnett, as well as the series Harley Quinn on HBOMAX.
A regular fixture in the surreal world of Adult Swim's live-action comedies, Novack was the composer for NTSF:SD:SUV, Filthy Preppy Teens, and, most notably, the three-time Emmy award-winning Childrens Hospital, starring Rob Corddry, Megan Mullally, and Henry Winkler. Matt is also a longtime collaborator with the composer Craig Wedren, having provided music for Universal's Role Models & amp; Wanderlust, Showtime's The United States of Tara, and Netflix's Wet Hot American Summer: First Day of Camp. Novack scored his first feature They Came Together, starring Paul Rudd and Amy Poehler for Lionsgate.
Matt lives in Los Angeles with his wife. When not composing, he enjoys sci-fi novels, video games, and playing second base on the Abominable Pictures softball team.
FILM
State of Pride (Documentary)
Portal A
Director: Rob Epstein, Jeffrey Friedman
Producers: Zach Blume, Rob Epstein, Jeffrey Friedman, Kai Hasson
Starring: Raymond Braun
Formaldehyde (Short)
Film Circus LLC
Director: David Swinburne
Producers: Cameron Boling, Garrett Detrixhe
Starring: Kathryn Prescott, John Reynolds, Mark Rowe
My Beloved (Short)
Director: Eleanor Monahan
Producers: Devon Albert-Stone, Sarah Casolaro, Eleanor Monahan
Starring: Michael Showalter, Francis Polo, Dan Rob
Repetition is Poetic (Short)
Ladies Lunch Productions
Director: Kate Murdoch
Producers: Tina Carbone, Cassandra Cardenes, Kate Murdoch
Starring: Cassandra Cardenes, Siaka Massaquoi
Anna with the Violin (Short)
Ladies Lunch Productions
Director: Kate Murdoch
Producers: Tina Carbone, Cassandra Cardenes, Kate Murdoch
Starring: Alexandra Stamler, Cassandra Cardenes
Dog Days
LD Entertainment
Director: Ken Marino
Producers: Mickey Liddell, Jennifer Monroe, Pete Shilaimon
Starring: Lauren Lapkus, Nina Dobrev, Eva Longoria
Dear You (Short)
Director: Kathryn Prescott
Producer: Ashley Sugarman
Starring: Ben Winchell
How to Be a Latin Lover (Additional Music & Orchestrations)
Pantelion Films
Director: Ken Marino
Producers: Eugenio Derbez, Ben Odell
Starring: Eugenio Derbez, Salma Hayek, Rob Lowe
A Place to Call Home (Short)
Director: Veronica Garcia
Producers: Amber Watt, Veronica Garcia
The Akron Holy War (Documentary)
Aphotic
Director: Anthony Fanelli
Producer: Anthony Fanelli
Starring: Jamie Adaway, Michelle Agnoni, Christopher Albanese
Bedroom Window (Short)
Aphotic
Director: Calvin Main
Producers: Randie Liberatore, Dave Weathers
Starring: Alison Becker, Chris Alvarado, Jason Beaubien
The Dweller (Short)
Aphotic
Directors: Calvin Main, Dave Weathers
Producers: Randie Liberatore, Dave Weathers
Starring: Tessa Netting, Kalyna Leigh
The Experiment (Short)
Aphotic
Director: Calvin Main
Producers: Randie Liberatore, Dave Weathers
Starring: Anthony Fanelli, Arielle McFadden, Brock Powell
The Sneak (Short)
Aphotic
Director: Calvin Main
Producers: Randie Liberatore, Dave Weathers
Starring: Shelley Regner, Reggie Couz, Brock Powell
FILM (CONTINUED)
The Second Sound Barrier (Short)
Supermarché
Director: David Wain
Producers: Henry Joost, Ariel Schulman, Orlee-Rose Strauss
Starring: Vincent Kartheiser, Juliette Lewis, Ken Marino
Good Evening (Short)
Aphotic
Director: Calvin Main
Producers: Randie Liberatore, Dave Weathers
Starring: Steve Brewster, Brock Powell
We (Short)
Vol. Unlimited Entertainment
Director: Becca Gleason
Producers: Alex P. Creasia, Alexander Greer, Becca Gleason
Starring: Stephanie Ellis, Joshua Close, John Weselcouch
Spare Change
Directors: Arturo Guzman, Jonathan Talbert
Producers: Anthony Fanelli, Arturo Guzman, Jonathan Talbert
Starring: Lissa Lauria, Elyse Levesque, Curt Mega
Search Party (Additional Music)
Gold Circle Films
Director: Scot Armstrong
Producers: Paul Brooks, Neal H. Moritz, Ravi Nandan
Starring: Adam Pally, T.J. Miller, Thomas Middleditch
Immobile Home (Short)
Kira Hesser Productions
Director: Kira Spencer Hesser
Producers: Kira Spencer Hesser
Starring: Rose Abdoo, Anna Anderson, Brandon Bales
A Better You
FilmBuff
Director: Matt Walsh
Producer: Kirk Roos
Starring: Brian Huskey, Matt Walsh, Erinn Hayes
They Came Together
Lionsgate
Director: David Wain
Producer: Michael Showalter
Starring: Paul Rudd, Amy Poehler, Bill Hader
Upldr (Short)
Director: Tim Christensen
Producers: Steven Christensen, Marc Gawley, Jordan Mendenhall
Starring: Melissa Bergman, Eric Lauritzen, Amir Levi
Wanderlust (Additional Music)
Relativity Media
Director: David Wain
Producers: Judd Apatow, Ken Marino, Paul Rudd
Starring: Paul Rudd, Jennifer Aniston, Justin Theroux
Rose White
Breakwall Pictures
Director: Daniel Kuhlman
Producers: Daniel Kuhlman, Deneen Melody
Starring: Erin Breen, Deneen Melody, Daniel Kuhlman
Tracks of Saints (Short)
Wildfire Productions
Director: Nathan Atkinson
Producer: Robert Gran
Starring: Nic D'Avirro, Vanessa Fiore, Dan Patovian
Secrets of the Clown
Badman Productions
Director: Ryan Badalamenti
Producers: Ryan Badalamenti, Matthew Goodwin
Starring: Tami Badalamenti, Ryan Badalamenti, John Blick
Single White Female 2: The Psycho (Additional Music)
3rd Street Pictures
Director: Keith Samples
Producer: Marc Bienstock
Starring: Kristen Miller, Allison Lange, Todd Babcock
SERIES
Miracle Workers: End Times
TBS
Producers: Daniel Mirk, Robert Padnick
Starring: Daniel Radcliffe, Geraldine Viswanathan, Steve Buscemi
Murderville
Netflix
Producers: Franny Baldwin, David Soldinger, Will Arnett, Trish Hadley
Starring: Will Arnett, Sharon Stone, Ken Jeong, Annie Murphy, Conan O'Brien
Scooby Doo, Where Are You Now!
The CW / Warner Bros. Animation
Director: Jonathan Stern
Producer: Jonathan Stern, Franny Baldwin | David Soldinger
Starring: Janel Parrish, Frank Welker, Grey Griffin, Matthew Lillard
Helluva Boss
SpindleHorse Toons
Producers: Vivienne Medrano, Lauren Partington, Timothy Cubbison Starring: Brandon Rogers, Richard Steven Horvitz, Erica Lindbeck
Medical Police
Netflix
Producers: Rob Corddry, Krister Johnson, Jonathan Stern, David Wain
Starring: Erin Hayes, Rob Huebel
Harley Quinn (Additional Music)
DC Universe
Producers: Justin Halpern, Dean Lorey, Patrick Schumacker
Starring: Kaley Cuoco, Lake Bell, Alan Tudyk, Ron Funches, Tony Hale
Today's Special (TV Movie)
Jax Media / Warner Media
Producers: A.D. Miles, Khoby Rowe, David Wain
Starring: Nelson Franklin, Jane Lynch, Natalie Morales, Felix Solis, James Urbaniak
Wet Hot American Summer: Ten Years Later (Additional Music)
Netflix
Producers: Michael Showalter, David Wain
Starring: Paul Rudd, Janeane Garofalo, Marguerite Moreau
Starstuck
Producers: Micaela Canedo, Riley Ettinger, Michael Salomon
Starring: Angelique Scarpelli, Sam Bangs, Michael Patrick
Childrens Hospital
Adult Swim
Producers: Rob Corddry, David Wain, Jonathan Stern
Starring: Rob Huebel, Rob Corddry, Ken Marino
Wet Hot American Summer: First Day of Camp (Additional Music)
Netflix
Producers: Michael Showalter, David Wain
Starring: Paul Rudd, Janeane Garofalo, Marguerite Moreau
Chapters of Horror
Crypt TV
Producers: Katie Krentz, Randie Liberatore, Dave Weathers
Starring: Brock Powell, Alison Becker, Chris Alvarado
Filthy Preppy Teen$
Abominable Pictures
Producers: Paul Scheer, Curtis Gwinn, Jonathan Stern
Starring: Hannah Kasulka, Max Carver, Dylan Gelula
Filthy Sexxy Teen$ (TV Film)
Adult Swim
Producers: Paul Scheer, Curtis Gwinn, Jonathan Stern
Starring: Marshall Allman, Chelsea Harris, Hannah Kasulka
Don't Trust the B—- in Apartment 23 (Additional Music)
ABC
Producers: Nahnatchka Khan, Jeffrey Morton, David Hemingson
Starring: Krysten Ritter, Dreama Walker, James Van Der Beek
NTSF:SD:SUV
Adult Swim
Producers: Paul Scheer, Jonathan Stern, Curtis Gwinn
Starring: Paul Scheer, June Diane Raphael, Brandon Johnson
United States of Tara (Additional Music, 4 Episodes)
Showtime
Producers: Diablo Cody, Justin Falvey, Darryl Frank
Starring: Toni Collette, John Corbett, Rosemarie DeWitt
Funny or Die Presents… (7 Episodes)
Funny Or Die / HBO
Producers: Will Ferrell, Chris Henchy, Adam McKay
Starring: Steve Tom, Rob Huebel, Maya Rudolph