Marlon Espino
Composer
---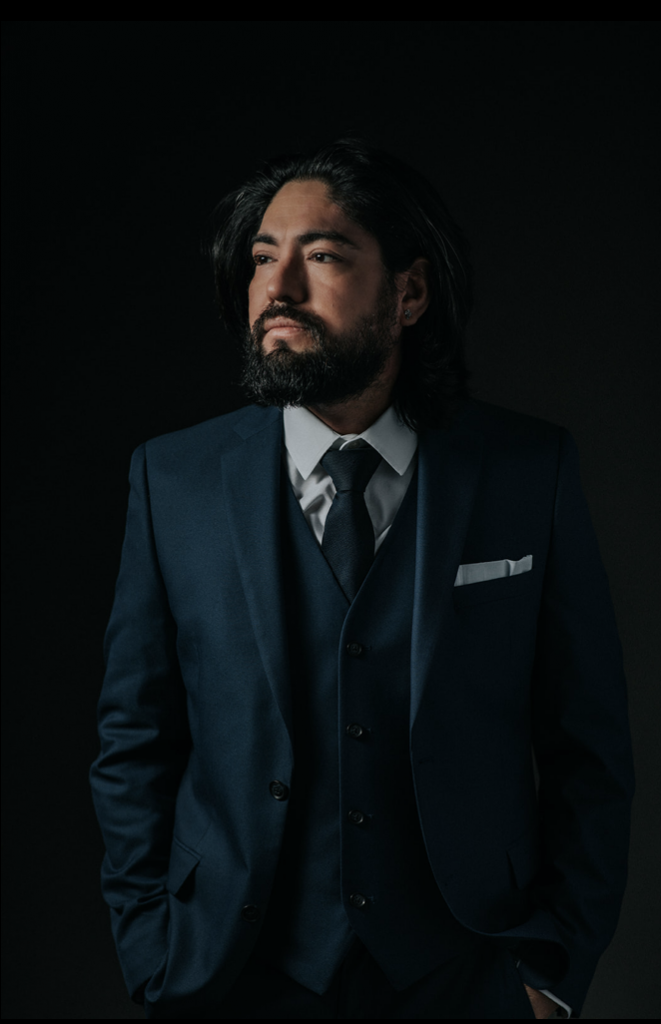 Born in West Texas, Marlon Espino came from a musical family and began his musical journey at an early age. He first learned about music from his grandmother, who began teaching him piano, and his father, a sax and keyboard player in the group Chicano Brotherhood. His love of music came naturally, and he later went on to study music and composition at Texas Tech University.
Marrying his passions for music and film, Marlon's early days as a composer included lending his musical talents to the three-time Grammy-winning Composer Mark Mancina, assisting on many of his film scores including; Disney's Moana, Planes, and Planes Fire & Rescue, among others. He recently scored the feature Inheritance, a dramatic thriller starring Lilly Collins, Simon Pegg, and Connie Nielsen.
Marlon is a multifaceted storyteller whose music is as strikingly diverse as his distinction of voice. His aesthetic sensibilities create cinematic art that traverses a variety of film genres.
Marlon and his wife, also a former Texan, welcomed a new daughter in 2018.
FILM
The Sea Beast (Additional Music)
Netflix
Director: Chris Williams
Producers: Jed Schlanger, Chris Williams
Starring: Karl Urban, Dan Stevens, Jared Harris
Cry Macho (Score Producer, Producer ("Find a New Home")
Warner Bros.
Director: Clint Eastwood
Producers: Clint Eastwood, Jessica Meier, Tim Moore, Albert S. Ruddy
Starring: Clint Eastwood, Dwight Yoakam, Fernando Urrejola
Every Breath You Take
Vertical Entertainment
Director: Vaughn Stein
Producers: Frank Buchs, Morgan Emmery, Veronica Ferres, Jean-Charles Levy, Richard Barton Lewis
Starring: Caffey Affleck, Michelle Monaghan, Sam Claflin
Inheritance
Blue Swan Entertainment
Director: Vaughn Stein
Producers: Arianne Fraser, Richard Barton Lewis, David M. Wulf
Starring: Lily Collins, Connie Nielson, Chace Crawford
The Lion King (Additional Engineering / Music Production)
Walt Disney Studios Motion Pictures
Director: Jon Favreau
Producers: Jon Favreau, Karen Gilchrist, Jeffrey Silver
Starring: Chiwetel Ejiofor, James Earl Jones, Donald Glover
FILM (CONTINUED)
Moana (Additional Music)
Walt Disney Studios Motion Pictures
Director: Ron Clements, John Musker
Producers: Osnat Shurer, John Lasseter
Starring: Auli'i Cravalho, Dwayne Johnson, Rachel House
Planes: Fire & Rescue (Additional Music)
Walt Disney Studios Motion Pictures
Director: Roberts Gannaway
Producers: Ferrell Barron, John Lasseter
Starring: Dane Cook, Ed Harris, Julie Bowen
Blindsided (Additional Music)
Dimension Films
Director: Joseph Ruben
Producers: Michael Baker, David Loughery, Robert Menzies, Jeff Sackman
Starring: Michelle Monaghan. Michael Keaton, Barry Sloane
Planes (Additional Music)
Walt Disney Studios Motion Pictures
Director: Klay Hall
Producers: Traci Balthazar
Starring: Dane Cook, Stacy Keach, Brad Garrett
Hello Stranger (Short)
Canon USA
Director: Alejandro Guimoye
Producers: Rosario Elena, Alejandro Guimoye
Starring: Janice Angela Burt, Tim Church, Doc Divecchio
FILM (CONTINUED)
Invictus (Additional Engineering / Music Production)
Warner Bros.
Director: Clint Eastwood
Producers: Clint Eastwood, Robert Lorenz, Lori McCreary, Mace Nuefeld
Starring: Morgan Freeman, Matt Damon, Tony Kgoroge
SERIES
Spirit and Friends
DreamWorks Animation
Director: Andrew Wilson
Producers: Ligiah Villalobos
Starring: McKenna Grace, Isabel Merced, Marsai Martin
Exit Strategy (Additional Music) 
20th Century Fox Television
Director: Antoine Fuqua
Producers: Ethan Hawke
Starring: Ethan Hawke, Tom Sizemore, Lina Esco
VIDEOGAME
Sorcery (Composer – Additional Music)
SCEA Santa Monica Studios / Workshop
Producers: Jennifer Losi, Matt Stokes
Call of Duty: Modern Warfare 2 (Music Technical Consultant)
Activision
Producer: Mark A. Rubin