Daniel Kluger
Composer
---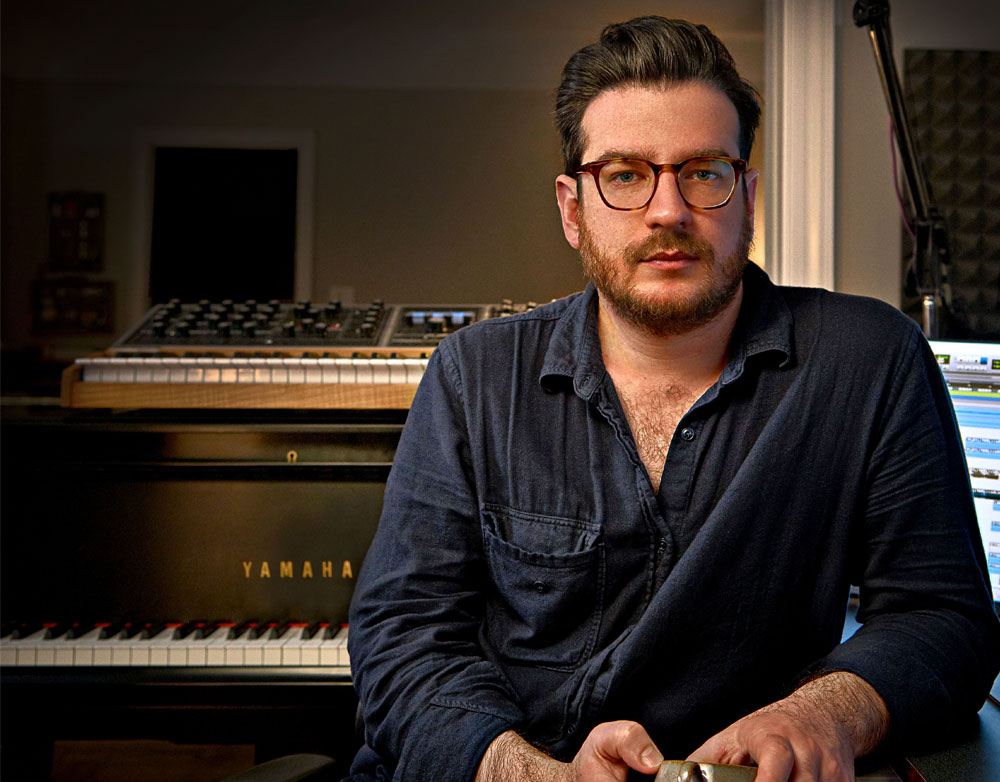 Daniel Kluger is a composer, whose experience as an arranger, music producer and sound designer uniquely informs his success at creating music for theater and film. Recent honors include four Tony nominations in three different categories, including two in 2020 for Best Sound Design for THE SOUND INSIDE and SEA WALL/A LIFE, and one for Best Original Score (music) Written for the Theatre for THE SOUND INSIDE. He earned a 2019 Tony nomination, 2020 Grammy nomination, Drama Desk Award, and Outer Critics Circle Award for his work on Daniel Fish's visionary Broadway revival of OKLAHOMA! As music producer, arranger and orchestrator, Kluger re-conceived the score for a seven piece bluegrass band, simultaneously giving it a more contemporary sound while also evoking the world of territory era Oklahoma, without changing a note of the music.
Kluger's scoring work echoes the neoclassical style of contemporary composers like Nico Muhly, Jóhann Jóhannsson and Hildur Gu›nadóttir. He produces scores for some of the most innovative theater directors, including Daniel Fish, Anne Kauffman, Sam Gold, David Cromer, Trip Cullman, Gaye Taylor Upchurch, Giovanna Sardelli, Oliver Butler, Arin Arbus and more.
Most recently at the Park Avenue Armory Kluger created an original score for Ödön von Horváth's JUDGMENT DAY, directed by Richard Jones and starring Emmy Award winner Luke Kirby (The Marvelous Mrs. Maisel). The score's palette features a thunderous brass section performed by The International Contemporary Ensemble.
Recent Broadway work includes the world premiere of THE SOUND INSIDE, directed by David Cromer (starring Mary-Louise Parker), the revival of MARVIN'S ROOM, directed by Anne Kauffman (starring Janeane Garofalo & Lili Taylor) and the world premiere of SIGNIFICANT OTHER, directed by Trip Cullman, starring Gideon Glick.
Kluger scored the critically acclaimed off-Broadway premieres of ANIMAL (starring Rebecca Hall), and THE VILLAGE BIKE (starring Greta Gerwig, directed by Sam Gold) as well as the lauded NYT Critics' Pick MAN FROM NEBRASKA by Tracy Letts, directed by David Cromer.
Originally from Philadelphia, Kluger studied English Literature at Yale College and lives in Manhattan with his wife and two cats.
BROADWAY
Oklahoma! (Orchestrator, Music Producer, Arranger)
Circle in the Square
Written by: Rodgers & Hammerstein
Directed by: Daniel Fish
*Nominee, Best Orchestrations – 2019 Tony Awards
*Nominee, Best Musical Theater Album – 2020 Grammy Awards
Sea Wall/ A Life (Sound)
Hudson Theatre
Written by: Simon Stephens, Nick Payne
Directed by: Carrie Cracknell
Starring: Jake Gyllenhaal
Marvin's Room (Music / Sound)
American Airlines
Written by: Scott McPherson
Directed by: Anne Kauffman
Starring: Janeane Garofalo, Lili Taylor
Significant Other (Sound / Additional Music)
The Booth
Written by: Joshua Harmon
Directed by: Trip Cullman
Starring: Gideon Glick
THEATER
Judgment Day (Music)
Park Avenue Armory
Written by: Ödön von Horváth
Directed by: Richard Jones
Starring: Luke Kirby
Sunday (Music)
Atlantic Theater
Written by: Jack Thorne
Directed by: Lee Sunday Evans
Animal (Music)
Atlantic Theater
Written by: Claire Lizzimore
Directed by: Taylor Upchurch
Starring: Rebecca Hall
By The Way, Meet Vera Stark (Music)
Signature Theatre
Written by: Lynn Nottage
Directed by: Kamilah Forbes
THEATER (CONTINUED)
I Was Most Alive With You (Music)
Playwrights Horizons
Written by: Craig Lucas
Directed by: Tyne Rafaeli
The Sound Inside (Music / Sound)
Williamstown Theatre Festival
Written by: Adam Rapp
Directed by: David Cromer
Starring: Mary Louise Parker
Peace For Mary Frances (Music / Sound)
The New Group
Written by: Lily Thorne
Directed by: Lila Neugebauer
Dutch Masters (Sound)
Partial Comfort Productions
Written by: Greg Keller
Directed by: Andrew Holland
Describe The Night (Music / Sound)
Atlantic Theatre Company
Written by: Rajiv Joseph
Directed by: Giovanna Sardelli
Man From Nebraska (Music / Sound)
Second Stage
Written by: Tracy Letts
Directed by: David Cromer
Antlia Pneumatica (Music)
Playwrights Horizons
Written by: Anne Washburn
Directed by: Ken Rus Schmoll
The Effect (Music)
Barrow Street Theater
Written by: Lucy Prebble
Directed by: David Cromer
The Village Bike (Music / Sound)
MCC Theater
Written by: Penelope Skinner
Directed by: Sam Gold
Starring: Greta Gerwig
Women or Nothing (Music / Sound)
Atlantic Theater Company
Written by: Ethan Coen
Directed by: David Cromer
FILM
The Courtroom (Composer)
The Courtroom LLC
Director: Lee Sunday Evans
Producers: Damon Owlia
*2022 Tribeca Film Festival
Charles Dickens' A Christmas Carol (Composer)
Director: Michael Arden
Producers: Hunter Arnold, George Bamber, Kayla Greenspan
Starring: Jefferson Mays
Hello Again (Orchestrator)
The Orchard
Director: Tom Gustafson
Producers: Hunter Arnold, Ash Christian, Tom Gustafson, Cory Krueckeberg
Starring: Audra McDonald, Martha Plimpton
SHORT FILM
The Interpreter (Composer)
Five on a Match
Director: Robin Weigert
Producers: Nastaran Ahmadi, Alisa Matlovsky, Jennifer Taher, Robin Weigert
Starring: Josh Hamilton, Elvy, Roberta Maxwell
The Belle of New Orleans (Composer)
Director: Kamilah Forbes
The Bishop (Composer)
Director: Kip Fagan
Producers: Michael Cuomo, Kip Fagan
Starring: Kevin Lawler, Keith Nobbs, Deirdre O'Connell
Mary (Composer)
Director: Jess Coles
Health to the King (Composer)
Director: Aaron Costa Ganis
Producers: Aaron Costa Ganis, Kelly Woyan
Starring: Gayle Rankin, Emily Swallow, Michael Gladis
Duolo (Composer)
Director: Nick Jones
Marie (Composer)
Director: Jess Coles
Buzzer (Composer)
Director: Anne Kauffman
Producers: Jennifer Morris
Starring: Eddie Boroevich, Rebecca Henderson, Gayle Rankin
PODCASTS
The Miranda Obsession (Composer)
Audible
Writer: Jen Silverman
Producers: Rachel Brosnahan, Shannon Gibson, Samantha Schlaifer
Starring: Rachel Brosnahan, Josh Groban, Milo Ventimiglia
Vapor Trail (Music Production, Sound Design, Producer)
Audible
Director: Knud Adams
Writer: Ken Urban
Producers: Daniel Kluger, John Albert Harris
*2022 Tribeca Film Festival
Offense (Music Production)
Audible