Charlotte Caffey
Composer
---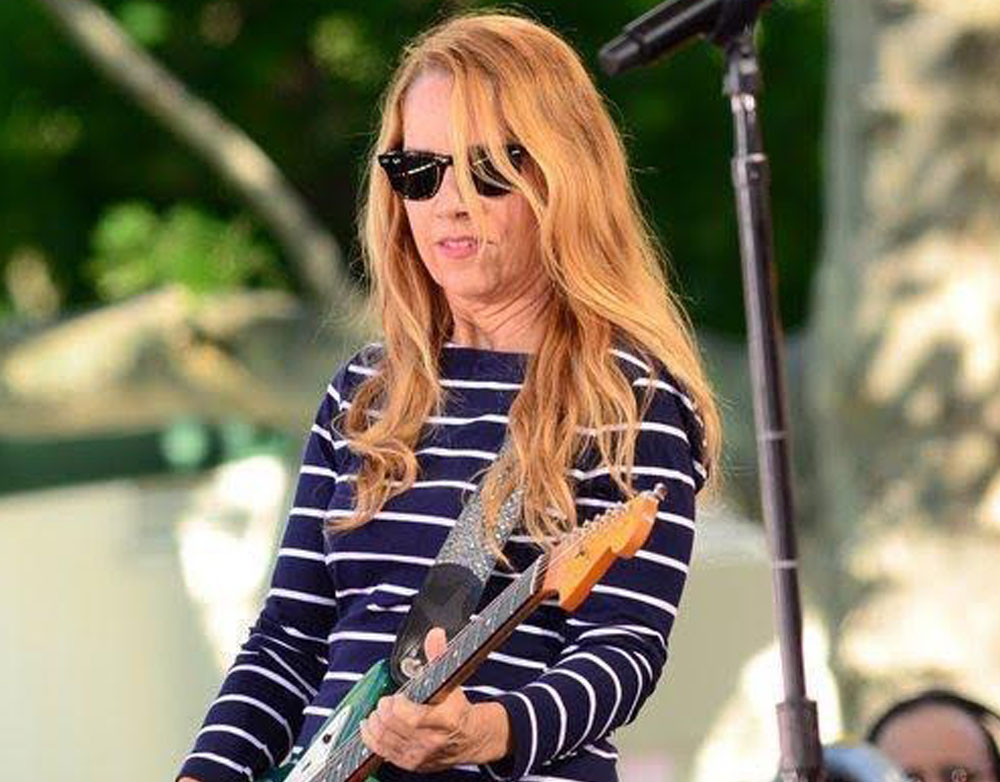 Charlotte Caffey is a die-hard songwriter and a founding member of The Go-Go's, who wrote the classic hits "We Got The Beat", "Vacation" and "Head Over Heels". She has also written and recorded with such diverse artists such as Keith Urban (co-writing his first #1 song), Carol King, Courtney Love (Hole), The Bangles, Jewel, Heart, Lindsey Buckingham, and Jon Bon Jovi to name just a few. Her melodic, riff-laden songs have been licensed in dozens of classic movies like "Fast Times At Ridgemont High", "Romy and Michelle", "Superstar", "13 Going On 30" and most recently "My Little Pony: The Movie". She has written theme songs for TV shows from Clueless (1995) to Welcome To The Wayne on Nickelodeon (2017) as well as composing original songs for Jell-o and T-Mobile commercials.
In addition to her success in film, television and songwriting, Caffey is a composer and playwright for theater. Her first endeavor was Lovelace: A Rock Opera, co-written with frequent writing partner and sister-in-law, Anna Waronker. Caffey and Waronker wrote the book, music, and lyrics to this completely sung-through masterpiece, which ran in Los Angeles, CA from 2008-2009 and went on to the Fringe Festival in Edinburgh. "Lovelace" starred a then unknown, now Broadway darling and Tony Award winner, Katrina Lenk (The Band's Visit).
In 2015, Caffey worked with Lily Tomlin and Jane Wagner on a re-imagined version of Searching for Signs Of IntelligentLife In The Universe co-composing the underscore for this beloved play.
Head Over Heels, a new musical, opened on Broadway in July of 2018, directed by Michael Mayer with arrangements and orchestrations by Tom Kitt. The songs of The Go-Go's, including all of Caffey's well known hits and other classic songs she wrote for her band, tell this story of love and acceptance.
Currently, Caffey has co-written the end-title song called Club Zero for The Go-Go's, the new documentary about the extraordinary story of this iconic group directed by Alison Ellwood. The doc had its debut at Sundance 2020 to rave reviews and standing ovations and will premiere on Showtime this summer (2020).
SONG LICENSING
Santa Clarita Diet (Co-Writer)
Netflix
"This Old Feeling"
Director: Marc Buckland
Producers: Nancy Juvonen, Ben Smith (VIII), Jimmy Simmons
Starring: Drew Barrymore, Timothy Olyphant, Liv Hewson
My Little Pony: The Movie (Songwriter)
Lionsgate
"We Got The Beat"
Director: Jayson Thiessen
Producers: Haven Alexander, Stephen Davis, Brian Goldner
Starring: Uzo Aduba, Ashleigh Ball, Adam Bengis
Lazy Susan (Co-Writer)
Stargazer Films USA
"Head Over Heels"
Director: Nick Peet
Producers: Todd Milliner, Carl Moellenberg, Shane O'Brien
Starring: Sean Hayes, Allison Janney, Matthew Broderick
Like Father (Co-Writer)
Netflix
"Vacation"
Director: Lauren Miller Rogen
Producers: Anders Bard, Amanda Bowers, Molly Conners
Starring: Kristen Bell, Danielle Davenport, Kimiko Glenn
When We First Met (Songwriter)
Netflix
"We Got The Beat"
Director: Ari Sandel
Producers: Michelle Knudsen, McG, Mason Novick
Starring: Adam Devine, Alexandra Daddario, Shelley Hennig
MAIN TITLES
Welcome To The Wayne (Co-Writer, Main Title)
Nickelodeon
Director: Tahir Rana, Rick Ritter
Producers: Lacey Stanton, Michael Pecoriello, Heather Walker
Starring: Billy Lopez, Dana Steingold, Alanna Ubach
THEATER
The Search for Signs of Intelligent Life In The Universe: Revisited (Music, Lyrics)
Director: Ken Sawyer
The Davidson/Valentini Theater
Hit The Wall (Music, Lyrics)
Director: Ken Sawyer
The Davidson/Valentini Theater
Lovelace: A Rock Opera (Music, Lyrics)
Director: Ken Sawyer
Hayworth Theatre, Edinburgh Fringe Festival
BROADWAY
Head Over Heels (Music, Lyrics)
Director: Michael Mayer
Hudson Theater
SOUNDTRACKS
Head Over Heels Original Broadway Cast Recording (Co-Writer)
Sony Masterworks
INTERACTIVE
Guitar Hero (Songwriter)
"We Got The Beat" Red Octane/Activision
Rocksmith (Songwriter, Co-writer)
Ubisoft
"We Got The Beat"
"Vacation"
COMMERCIALS
Honda
Bailey's
CO-WRITING
Anna Waronker Ellen Shipley
Annie Roboff Gregg Alexander
Belinda Carlisle (Go-Go's) Greg Wells
Gina Shock (The Go-Go's) Jill Sobule
Jane Wiedlin (The Go-Go's) Jon Bon Jovi
Kathy Valentine (The Go-Go's) Keith Urban
Beth Nielsen Chapman Linda Perry
Billy Steinberg Lindsey Buckingham
Bob Crewe Louise Goffin
Carol King Rick Nowels
China Forbes (Pink Martini) Shelby Lynne
Courtney Love (Hole) Susanna Hoffs (The Bangles)
Craig Wiseman Vicki Peterson (The Bangles)
Dana Parish
Dave Bassett