Brian Reitzell
Composer/Artist/
Songwriter/Music
Supervisor
---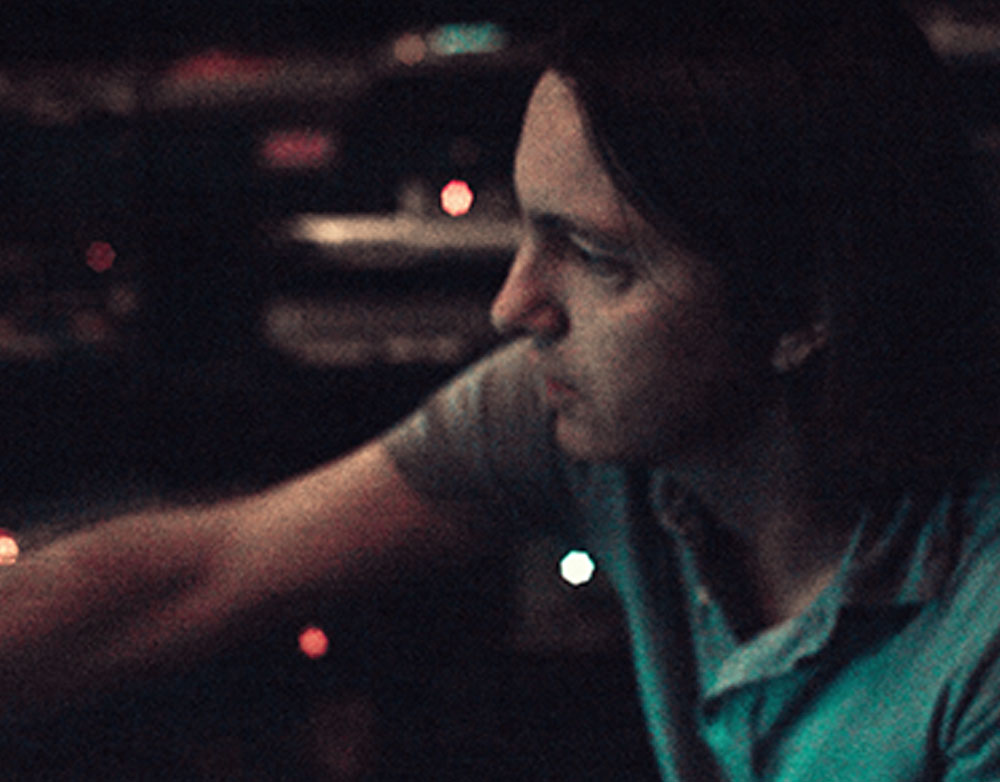 Since 1999, when he exploded on the scene with Sofia Coppola's The Virgin Suicides, multi-instrumentalist, composer, producer, and music supervisor Brian Reitzell has been on a mission to change the way people think about music in visual media.
Brian draws from his experience as a recording and touring musician with bands such as Redd Kross and Air, his massive referential knowledge of film music, and his technical ability to create new sounds from instruments of his own design, to create highly individual and diverse soundtracks.
Often acting as both music supervisor and composer, Brian enjoys blurring the lines between score, source music, and sound design. He wholeheartedly embraces the Brian Eno philosophy of the recording studio as his instrument.
Brian collaborates regularly with musicians outside the traditional Hollywood film composer network, including Jim James (My Morning Jacket), Air, Richard James (Aphex Twin), Mark Lanegan (Screaming Trees), Britt Daniel (Spoon), Explosions in the Sky, Kevin Shields (My Bloody Valentine) and Daniel Lopatin (OneohtrixPointNever).
Reitzell was tasked by Director David Slade to provide music for Bandersnatch, the groundbreaking and emmy-winning interactive episode of Black Mirror, whichrequired hundreds of minutes of music that could be manipulated by the audience based on their choices. Reitzell has also been a long-time collaborator with Sofia Coppola, having supervised and provided music for The Virgin Suicides, Lost In Translation (for which he received a BAFTA award nomination), The Bling Ring, and Marie Antoinette. His work with Explosions in the Sky on the original film version of Friday Night Lights redefined the way music is played against picture in sports films and even televised sporting events. His widely admired work on NBC's Hannibal provided audiences with some of the most sophisticated electronic music to be heard on television and was a showcase for his amazing one-of-a-kind collection of instruments.
He produced and co-wrote the final episode closing song "Love Crime" with the song's performer, Siouxsie Sioux. Other film projects include the Will Ferrell comedy Stranger Than Fiction, Thumbsucker, The Brothers Bloom, Beginners, Red Riding Hood, and Tribeca Film Festival opener Kicks. His television work includes the cult favorite Starz episodic Boss (which featured an end finale Reitzell remix of Robert Plant's Satan Your Kingdom Must Come Down), National Geographic's Mars (season 2) and the premiere season of another Starz series American Gods, for which Reitzell composed the score, produced and wrote songs and collaborated with artists including the above mentioned Lanegan, Deborah Harry, and Shirley Manson (Garbage). Reitzell's video game credits include his critically acclaimed score for THQ's Red Faction: Armageddon and Ubisoft's Watch Dogs.
Reitzell lives in Los Angeles with his partner, Stephanie, and daughter, Hazel.
FILM
Dark Harvest (Composer)
MGM
Director: David Slade
Producers: David Manpearl, Matt Tolmach
Starring: Emyri Crutchfield, Dustin Ceithamer, Casey Likes
God's Time (Composer)
Topic
Director: Daniel Antebi 
Producers: Reid Hannaford, Andrew Hutcheson, Emily Korteweg 
Starring: Jared Abrahamson, Christiane Seidel, Dion Costelloe
Untitled Chef Trotter Documentary (Composer) 
Oak Street Pictures
Director: Rebecca Halpern 
Producer: Holly Meehl
Us Kids (Co-Composer)
Greenwich Entertainment
Director: Kim A. Snyder
Producers: Lori Cheatle, Maria Cuomo Cole, Kim A. Snyder
Starring: David Hogg, Emma Gonzalez, Jaclyn Corin
Relic (Composer)
AGBO
Director: Natalie Erika James
Producers: Anna McLeish, Sarah Shaw, Anthony Russo, Joe Russo, Riva Marker, Jake Gyllenhaal
Starring: Emily Mortimer, Bella Heathcote, Robyn Nevin
Kicks (Composer)
Focus Features
Director: Justin Tipping
Producers: David Kaplan, Joshua Astrachan, Frederick W. Green
Starring: Jahking Guillory, Christopher Jordan Wallace, Mahershala Ali
* 2016 Tribeca Film Festival – U.S. Narrative Competition Opening Film
The Bling Ring (Composer, Music Supervisor)
Zoetrope Studios
Director: Sofia Coppola
Producers: Sofia Coppola, Roman Coppola, Youree Henley
Starring: Katie Chang, Emma Watson, Taissa Farmiga
Promised Land (Music Supervisor)
Focus Features
Director: Gus Van Sant
Producers: Chris Moore, Michael Sablone, Drew Vinton
Starring: Matt Damon, Rosemarie DeWitt, John Krasinski
Goats (Songs)
Red Crown Productions
Director: Christopher Neil
Producers: Eric Kopeloff, Shannon Lail, Daniela Taplin Lundberg
Starring: Vera Farmiga, David Duchovny, Will Arnett
Red Riding Hood (Co-Composer)
Warner Bros. Pictures
Director: Catherine Hardwicke
Producers: Leonardo DiCaprio, Michael Ireland, Julie Yorn
Starring: Amanda Seyfried, Lukas Haas, Gary Oldman
Beginners (Composer)
Northwood Productions
Director: Mike Mills
Producers: Lars Knudsen, Leslie Urdang, Jay Van Hoy
Starring: Ewan McGregor, Christopher Plummer, Mélanie Laurent
FILM (CONTINUED)
Shrink (Co-Composer, Music Supervisor)
Ignite Entertainment
Director: Jonas Pate
Producers: Kevin Spacey, Braxton Pope, Dana Brunetti
Starring: Kevin Spacey, Saffron Burrows
Peacock (Composer, Music Supervisor)
Mandate Pictures
Director: Michael Lander
Producers: Nathan Kahane, Nicole Brown, Barry Mendel
Starring: Ellen Page, Cillian Murphy
The Brothers Bloom (Music Supervisor)
Endgame Entertainment
Director: Rian Johnson
Producers: Ram Bergman, Douglas Hansen, Wendy Japhet, James D. Stern
Starring: Adrian Brody, Rachel Weisz, Mark Ruffalo
* 2008 Toronto Film Festival Selection
30 Days of Night (Music Producer, Music Supervisor and Composer)
Sony Pictures
Director: David Slade
Producers: Nathan Kahane, Sam Raimi
Starring: Josh Hartnett, Danny Huston, Melissa George
Marie Antoinette (Music Producer, Music Supervisor)
Sony Pictures
Director: Sofia Coppola
Producers: Francis Ford Coppola, Fred Roos, Ross Katz, Sofia Coppola
Starring: Kirsten Dunst, Jason Schwartzman, Judy Davis, Rip Torn
Stranger Than Fiction (Co-Composer, Music Supervisor)
Sony Pictures
Director: Marc Forster
Producer: Lindsay Doran
Starring: Will Ferrell, Maggie Gyllenhaal, Dustin Hoffman
Friday Night Lights (Music Producer, Music Supervisor)
Universal
Director: Peter Berg
Producer: Brian Grazer
Starring: Billy Bob Thornton, Derek Luke, Tim McGraw
Thumbsucker (Music Supervisor)
Sony Pictures Classics
Director: Mike Mills
Producers: Anthony Bregman, Anne Carey
Starring: Vincent D'Onofrio, Keanu Reeves, Tilda Swinton
Lost in Translation (Music Producer, Music Supervisor)
Focus Features
Director: Sofia Coppola
Producers: Francis Ford Coppola, Fred Roos
Starring: Bill Murray, Scarlett Johansson, Anna Farris
CQ (Music Supervisor)
MGM
Director: Roman Coppola
Producer: Gary Marcus
Starring: Jeremy Davies, Angela Lindvall, Giancarlo Giannini
The Virgin Suicides (Music Supervisor)
Paramount
Director: Sofia Coppola
Producers: Fred Fuchs, Francis Ford Coppola
Starring: James Woods, Kathleen Turner, Kirsten Dunst
SERIES
Back Mirror: Bandersnatch (Composer)
Director: David Slade Netflix
Producers: Russell McLean, Charlie Brooker, Annabel Jones
Starring: Fionn Whitehead, Craig Parkinson, Asim Chaudhry
* Winner, Outstanding Television Movie – 2019 Emmy Awards
Red Bird Lane (Composer – Pilot)
John Wells Productions
Director: David Slade Producers: David Slade, John Wells, Sara Gran, Erin Jontow
Starring: Kiersey Clemons, Crispin Glover, Fiona Dourif
American Gods (Composer, Music Supervisor)
Starz
Producers: Bryan Fuller, Michael Green, Neil Gaiman
Starring: Emily Browning, Ricky Whittle, Ian McShane
Mars (Season 2) (Composer)
National Geographic
Producers: Tommy Turtle, Meredith Kaulfers, Ildiko Kemeny
Starring: Jihae, Alberto Ammann, Anamaria Marinca
Breaking2 (Composer)
National Geographic
Director: Martin Desmond Roe
Producer: Kathlyn Horan
Hannibal (Composer, Music Supervisor)
NBC
Producers: Bryan Fuller, Jesse Alexander, Katie O'Connell
Starring: Hugh Dancy, Laurence Fishburne, Mads Mikkelsen
Boss (Composer, Music Supervisor)
Starz
Producers: Gus Van Sant, Peter Giuliano
Starring: Kelsey Grammer, Jeff Hephner, Thomas Kosik
Awake (Pilot)
NBC
Producers: Howard Gordon, Valerie Joseph, Kyle Killen
Starring: Jason Isaacs, Wilmer Valderrama, B.D. Wong
INTERACTIVE
Watch Dogs Ubisoft
Red Faction: Armageddon THQ
Dead Rising 3