Cheche Alara
Composer
---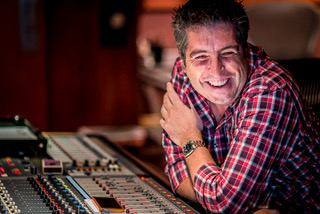 Cheche Alara is a composer, arranger, producer, music director, conductor and virtuoso keyboardist—a skillset expansive enough to make him "one-stop shopping" for creatives. Among those who've availed themselves of Alara's various abilities are Barbra Streisand, Natalia Lafourcade, Christina Aguilera, Mike Patton, Lady Gaga, Alejandro Sanz and Colbie Caillat.
He's been brought in to produce Natalia Lafourcade's Latin Grammy winning "Musas" Vol. 1 & 2, Thalia's "Habítame Siempre" and Il Volo's "Grande Amore"; served as Music Producer and Musical Director for the Grammys Premiere Ceremony, the Latin Grammys, and Person of the Year galas for Caetano Veloso, Shakira, Alejandro Sanz and Placido Domingo; lead Mike Patton's Mondo Cane orchestra, penning arrangements, conducting and playing keys; and composing for projects like The Titan Games, (NBC) Death by Magic (Netflix) and To Tell the Truth (ABC). Barbra Streisand invited him to join The Music, The Mem'ries, The Magic tour as keyboardist—then tasked him to arrange and record the opening and closing sequences for the production of the tour's Netflix concert special.
Whatever the musical adventure, Alara brings something fundamental to the table beyond his considerable musical chops—a profound warmth and good humor that make him the guy that artists and musicians want in the room. And whether that room is a recording studio, a concert hall or a rehearsal space, what you get is a guy whose joy in creating music is utterly infectious, and whose generosity in composing, arranging and playing lifts up everyone in its presence.
Those qualities have helped him orchestrate moments, not just tunes—like pairing Luis Fonsi and Martina McBride at the Alma Awards, or spearheading a duet between Robbie Williams and Thalia. His musical sensibility is global, but so is his ability to connect and establish trust with creative professionals. They may bring him in for his chops, but they want him around for that essential spark.
2019 Grammy Awards
*Winner, Best Latin Pop Album – "Sincera" | Claudia Brant
*Nominee, Best Latin Pop Album – "Musas Vol. 2" | Natalie Lafourcade
2019 Imagen Foundation Awards
*Recipient, Powerful & Influential Latinos in Entertainment
2018 Latin Grammy Awards
*Winner, Best Folk Music – "Musas Vol. 2" | Natalie Lafourcade
*Nominee, Best Latin Pop Album – "Musas Vol. 1" | Natalie Lafourcade
2018 Imagen Foundation Awards
*Recipient, Powerful & Influential Latinos in Entertainment
2017 Latin Grammy Awards
*Winner, Best Folk Music – "Musas Vol. 1" | Natalie Lafourcade
*Nominee, Album of the Year – "Musas Vol. 1" | Natalie Lafourcade
*Nominee, Song of the Year – "Musas Vol. 1" | Natalie Lafourcade
SERIES
B-Loved (Original Songs, Music Producer)
HBO Max
Director: Emily Ting
Producers: Bill Andrew, Mark Burton, Ryan Malachowsky, Aaron Parry, Tracy K. Price, Jill Sanford
Starring: Peyton List, Michael Cimino, Andrea Navedo
Clash of the Cover Bands (Composer)
Universal TV – Alternative Studios / E!
Director: Ryan Goble, Justin Mabardi
Producers: Timothy Maticic, Angie Melo
Starring: Adam Lambert, Stephen Boss, Meghan Trainer
Celebrity Dating Game (Composer, Music Producer & Music Director) ABC
Director: Ken Fuchs
Producers: Angie Melo
Starring: Michael Bolton, Zooey Deschanel
Olympic Dreams Featuring Jonas Brothers (Composer)
NBC
Producers: Mike Yurchuk
Starring: Joe Jonas, Nick Jonas, Kevin Jonas
The Titan Games
NBC
Director: Phil Heyes, Chris Stott. Stotty, Alex Rudzinski
Producers: Matt Barker, Kevin Hill, Katie Franzeo, Kristian Hansen, Dwayne Johnson
Starring: Dwayne Johnson, Caro Champion
To Tell the Truth (Composer, Music Director & Arranger) ABC
Director: Ivan Dudynsky, Razor Rizotti
Producers: Micki Boden, Salvador Vasquez, Keegan Heise, Kevin Hurley
Starring: Anthony Anderson
Death by Magic
Netflix
Director: Simon Dinsell
Producers: Maria Afshari
Starring: Drummond Money-Coutts, Troy Dillinger, L.A James
Dance Machine (Additional Music)
Director: Michael Simon
Producers: Michael Goss, Matt Laesch, Andrew Lipson, Steven Patterson-Rosso, Mike Duffy
Starring: Jimmy R.O. Smith
The Bonnie Hunt Show (Additional Music)
NBC
Director: Ann Rogerson, Paul Nichols, Brad Kreisberg
Producers: Kim Tushinsky, Lisa Guarino, Steve O'Donnell, Jennifer Ryan
Starring: Bonnie Hunt
FILM
Another Cinderella Story (Additional Music)
Warner Premiere
Director: Damon Santostefano
Producers: Dylan Sellers
Starring: Selena Gomez, Drew Seeley, Jane Lynch
ALBUMS & SOUNDTRACK PRODUCTION
Camila Cabello: Bam Bam (Ft. Ed Sheeran) & Buena Vida (Producer, Arranger, Songwriter)
Epic Records
Camila Cabello: I'll Be Home For Christmas (Producer, Arranger)
Epic Records & Amazon Music
Lost City of D: Lagrimas Sin Fin; Danza de Dos & Bolerito de la Isla (Producer, Songwriter)
Paramount Pictures
Rumble: Alegria (Producer & Songwriter)
Paramount Pictures
Rumble: De Lao a Lao (Songwriter)
Paramount Pictures
Rumble: Eye of the Tiger (Producer)
Paramount Pictures
High School Musical: The Musical: The Series: A Dancer's Heart (Producer & Songwriter)
Disney Channel
High School Musical: The Musical: The Series: Acoustic Video Sessions (Producer and Arranger) Disney Channel
Claudia Brant: Sincera (Producer, Arranger & Songwriter)
Sony Music Latin
Natalia Lafourcade: Musas, Vol. 2 (Producer & Arranger)
Sony Music Mexico
Natalia Lafourcade: Musas, Vol. 1 (Producer & Arranger)
Sony Music Mexico
Il Volo: Grande Amoré (Producer, Arranger & Conductor)
Sony Music Latin
Estopa: Rumba A Lo Desconocido (Producer, Arranger & Conductor)
Sony Music Latin
Estopa: Live from Mexico City (Producer, Arranger & Conductor)
Sony Music Latin
Thalia: Habitame Siempre (Producer, Arranger & Conductor)
Sony Music Latin
Pepe Aguilar: Negociaré Con La Pena (Producer & Arranger)
Sony Music
Thalia: Primera Fila (Producer & Arranger)
Sony Music Latin
TELEVISION PERFORMANCES
Southland Sessions: A Tribute to Linda Ronstadt, feat. Aida Cuevas & La Marisoul
(Music Producer, Music Director & Arranger) PBS
Barbra Streisand: The Music, The Mem'ries, The Magic
(Arranger: Additional Orchestrations and Programming) Netflix
The 62nd Grammy Awards Premiere Ceremony (Music Producer, Music Director & Arranger) CBS
Live in Front of a Studio Audience: All in the Family & Good Times (Music Producer & Music Director) ABC
Live in Front of a Studio Audience: All in the Family & The Jeffersons (Music Consultant) ABC
The 61st Grammy Awards Premiere Ceremony (Music Producer, Music Director &
Arranger) CBS
TELEVISION PERFORMANCES (CONTINUED)
Latin Grammy Awards: Person of the Year: Alejandro Sanz (Music Producer,
Music Director & Arranger) Univision
The 18th Latin Grammy Awards: Alejandro Sanz & Natalia Lafourcade Performance (Music Producer, Music Director & Arranger) Univision
The 59th Grammy Awards Premiere Ceremony (Music Director & Arranger) CBS
Jordan Smith: 'Tis the Season, featuring David Foster (Music
Producer, Music Director, Arranger & Conductor) American Public Television
The 17th Latin Grammy Awards: Natalia Lafourcade (Music
Director & Arranger) Univision
The Winner Is (Music Director & Arranger) NBC
The 14th Latin Grammy Awards (Music Director & Arranger) Univision
The 14th Latin Grammy Awards: Person of the Year: Miguel Bosé (Music Director & Arranger) Univision
The ALMA Awards (Music Director, Arranger, Conductor & Additional Music) NBC
The 13th Latin Grammy Awards: Person of the Year: Caetano Veloso (Music Director & Arranger) Univision
MTV Unplugged: Los Tigres del Norte (Music Director & Arranger) MTV
The 12th Latin Grammy Awards: Person of the Year: Shakira (Music Director & Arranger) Univision
The 11th Latin Grammy Awards: Person of the Year: Placido Domingo (Music Director & Arranger) Univision
The 6th Latin Grammy Awards: Person of the Year: José José (Music Director & Arranger) Univision
MTV Unplugged: Alejandro Sanz (Music Director, Arranger & Conductor) MTV
LIVE EVENTS
Selma: Live Score with Jason Moran & The New West Symphony (Music Director & Conductor)
Mike Patton: Mondo Cane (Music Director and Conductor)
Maluma (Music Producer and Music Director)
Earth's Call: Aspen (Music Producer, Music Director & Conductor)
Chayanne (Music Producer, Music Director &
Arranger)
Colbie Caillat (Music Director & Arranger)
Mike Patton: Rock in (Music Director & Conductor)
Thalia: Primera Fila (Music Director & Arranger – Live Album & DVD)
High School Musical: The Concert Tour (Music Director & Arranger – Concert Tour & DVD)
American Idol: The Concert Tour (Music Director & Arranger)Paulina Rubio (Music Director & Arranger)