Asaf
Sagiv
Composer
---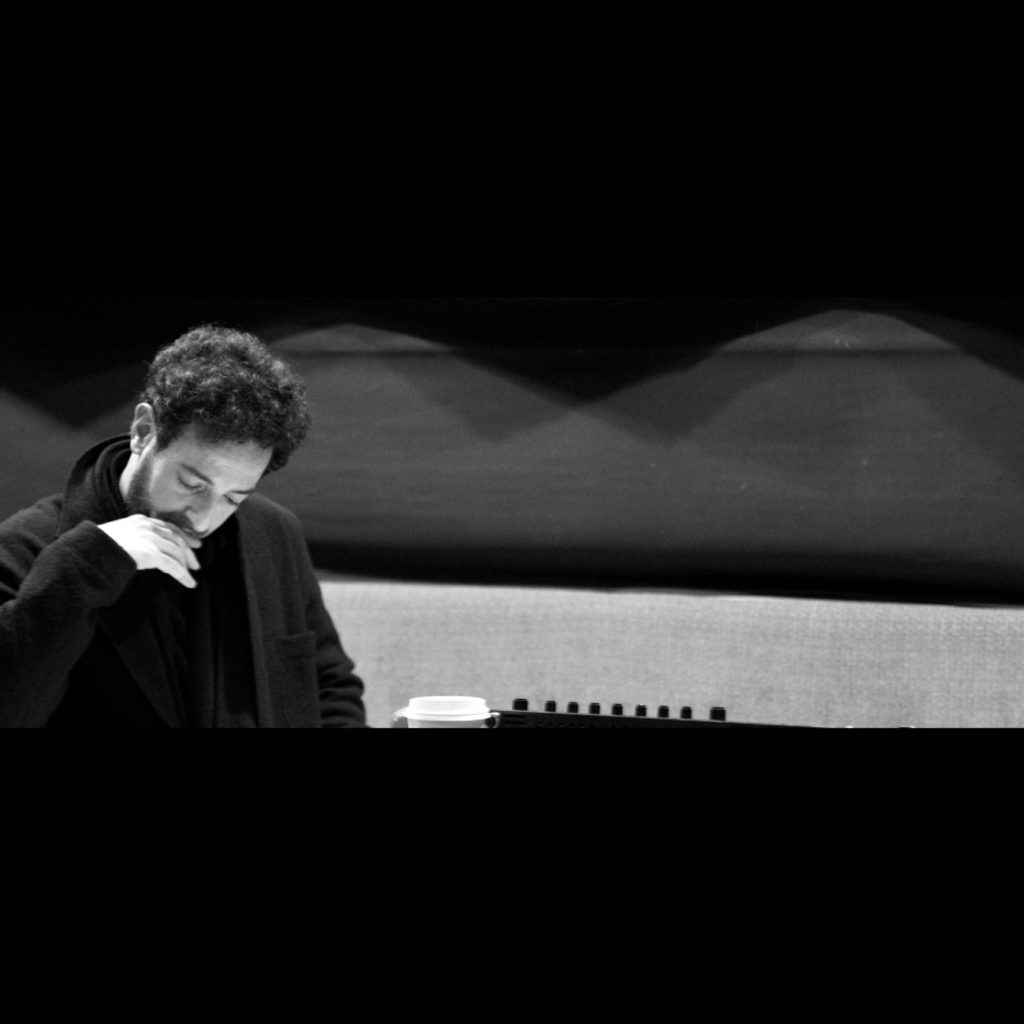 Asaf Sagiv is a Los Angeles based composer, best known for his work for the Netflix Original 'Who Shot The Sheriff?' (2018) directed by Academy Award nominated director Kief Davidson, and for Foxhound's feature film 'Drugs' (2018) directed by Jonathan Marshall Thompson.
He spent his early life growing up in Israel, playing guitar and studying composition, and later relocated to the USA. He is a Summa Cum Laude graduate of Berklee College of Music in Boston ('07), and a recipient of the Film Scoring department Doug Timm Award for Outstanding Musicianship. He was selected to attend the Society of Composers & Lyricists (SCL) Mentor Program in Los Angeles Fall 2007. His work for the short film Dreamwisher (2019) won the Southern Shorts Award Of Excellence for Individual Achievement In Music.
After spending a couple of years living and working in Hollywood making music for film, TV and commercials, he moved back to Israel to form his band Water Knot. He led their EP tour of Europe and the US, culminating at Bonnaroo Festival, before settling in London for a couple of years. Living in London saw Asaf return to scoring, with the feature 'Last Summer', directed by Leonardo Guerra Seragnoli and starring Rinko Kikuchi (Babel). The film premiered at Rome International Film Festival, was nominated for Best Feature Film Award and received AITS Best Sound Award.
His music has been since featured in two major blockbusters; Gary Felder's 'Homefront' produced by Nu Image / Millennium Films, and 'Misconduct' released by Lionsgate starring Anthony Hopkins and Al Pacino – the latter of which selected his work for the official soundtrack. His music has recently appeared on a soundtrack alongside Beck for the feature drama 'Like Me Back'(2018).
SERIES
Council of Dads (Additional Music)
NBC
Director: Jerry Bruckheimer
Producers: Bruce Feiler
Starring: Sarah Wayne Callies, Clive Standon, Michelle Weaver
Outer Banks (Additional Music)
Netflix
Director: Cherie Nowlan, Jonas Pete, Valerie Weiss
Producers: Sunny Hodge
Executive Producer: Shannon Burke, Jonas Pate, Josh Pate
Starring: Chase Stokes, Madelyn Cline, Charles Esten
ReMastered: Who Shot the Sheriff? (Documentary)
Netflix
Director: Kief Davidson
Producers: Bill Wheeler
Executive Producer: Irving Azoff
Starring: Bob Marley, Arnold Bertram, Cindy Breakspere
Cold Case Files (Additional Music)
A&E
Director: Philip Lott
Producers: Jeana Dill, Stephen Neely, Aaron Simard
Starring: Danny Glover, Bill Kurtis, Laurent Andruet
Coopers Treasure (Additional Music)
Discovery Channel
Director: Philip Lott
Producers: Adams Coles
Starring: Darrell Miklos, Roger Miklos, Manuel Rodriquez
Lawless Oceans (Additional Music)
National Geographic
Director: Darius Bazargan
Producers: Meg Bernard, Emma Cleave, Krystina Meens
Starring: Karsten Von Hoesslin
I Love Bekka & Lucy (Songwriter)
Stage 13
Director: Rachel Holder
Producers: Amanda Sayeg, Christopher Boyd, Kevin Mann

FILM
Continue
Hopeful Romantix Productions
Director: Nadine Crocker
Producers: Anthony Caravella, Nadine Crocker, Jay Seals Starring: Emily Deschanel, Lio Tipton, Dale Dickey
Drug$
Director: Jonathan Marshall Thompson
Producers: Andy Carney, Hilary Smith, Jonathan Marshall Thompson
Starring: J.K. Simmons, Jerry Avorn, Elijah Cummings, Merrill Goozner
Likemeback (Songwriter)
New Select K.K.
"Every Day"
"Losing Control"
"Moving Forward (Imagine)"
Director: Leonardo Guerra Seragnoli
Producers: Fabrizio Donvito, Leonardo Guerra Seragnoli, Nicola Lusuardi
Starring: Denise Tantucci, Angela Fontana, Blu Yoshimi
Misconduct (Songwriter)
Grindstone Entertainment
"Lust"
Director: Shintaro Shimosawa
Producers: Ellen Wander
Starring: Josh Duhamel, Anthony Hopkins, Al Pacino
Last Summer
Bolero Film
Director: Leonardo Guerra Seragnoli
Producers: Elda Ferri, Luigi Musini
Starring: Rinko Kikuchi, Yorick Van Wageningen, Lucy Griffiths
Homefront (Songwriter)
Open Road Films
"Lust"
Director: Gary Fleder
Producers: Sylvester Stallone, Kevin King Templeton, John Thompson
Starring: Jason Statham, James Franco, Kate Bosworth, Winona Ryder
The Kids Grow Up (Additional Music)
Shadow Distribution
Director: Doug Block
Producers: Doug Block, Lori Cheatle
Starring: Doug Block
16 to Life (Additional Music)
Gravitas Ventures
Director: Becky Smith
Producers: Denise Mann, Becky Smith
Starring: Hallee Hirsh, Theresa Russell, Shiloh Fernandez
SHORT FILM
Black Slide
Miyu Distribution
Director: Uri Lotan
Producers: Amit Gicelter, Andrew Lord
Crybaby
Director: Gennady Fridman
Producers: Gennady Fridman, Leigh Joel Scott Starring: Leigh Joel Scott, Leigh Joel Scott
Love Never Forgets
AG Global Media Group
Director: Fred Grant
Producers: Cici Lau, Merlin Showalter
Starring: Atticus Guo, Cici Lau, Davis Choh
Bread Pudding
Director: Gennady Fridman
Producers: Gennady Fridman, Rebekah Fridman
Starring: Bre Mueck, Crosby Fitzgerald, Josh Covitt
Post Mortem
Director: Nick Kilgore, Erynn Baldwin
Producers: Erynn Baldwin, Nick Kilgore, Ben Rosenblatt
Starring: Nick Kilgore, Erynn Baldwin
Dreamwisher
Positively Positive
Director: Colin Costello
Producers: Eric Handler
Starring: Jolie Natalia Handler, Jemma Handler, Antonia Cytrynowicz
The Critic
The Punk Floyd Company
Director: Stella Velon
Producers: Jean Gabriel Kauss
Starring: Stella Velon, Alan Smyth, Todd Karner
Footloose
Director: David Tenenbaum
Producers: Tanya Bershadsky
Starring: Katherine Kampko, Tatiana Lee
Will
Essentia
Director: Leonardo Guerra Seragnoli
Producers: Scott Beardslee, Leonardo Guerra Seragnoli
Starring: Gabe Nevins, Linda Thorson
Rachel
Essentia
Director: Leonardo Guerra Seragnoli
Producers: Scott Beardslee, Leonardo Guerra Seragnoli
Starring: Jena Malone, Wass Stevens, Daniel Ball
A Thousand Suns (Additional Music)
Global Oneness Project
Director: Stephen Marshall
Producers: Gayatri Roshan, Emmanuel Vaughan-Lee
Starring: Joe Devries, Mburu Gathuru, Mazge Gazeto
The Center
Essentia
Director: Leonardo Guerra Seragnoli
Producers: Nick London, Martina Vergnani
Starring: Albano Guatti, Martina Vernani, Jennifer Arvay
Alfred
Essentia
Director: Leonardo Guerra Seragnoli
Producers: Scott Beardslee, Yaque Silva-Doyle
Starring: Daniel Ball