Matthew Pusti
Composer
---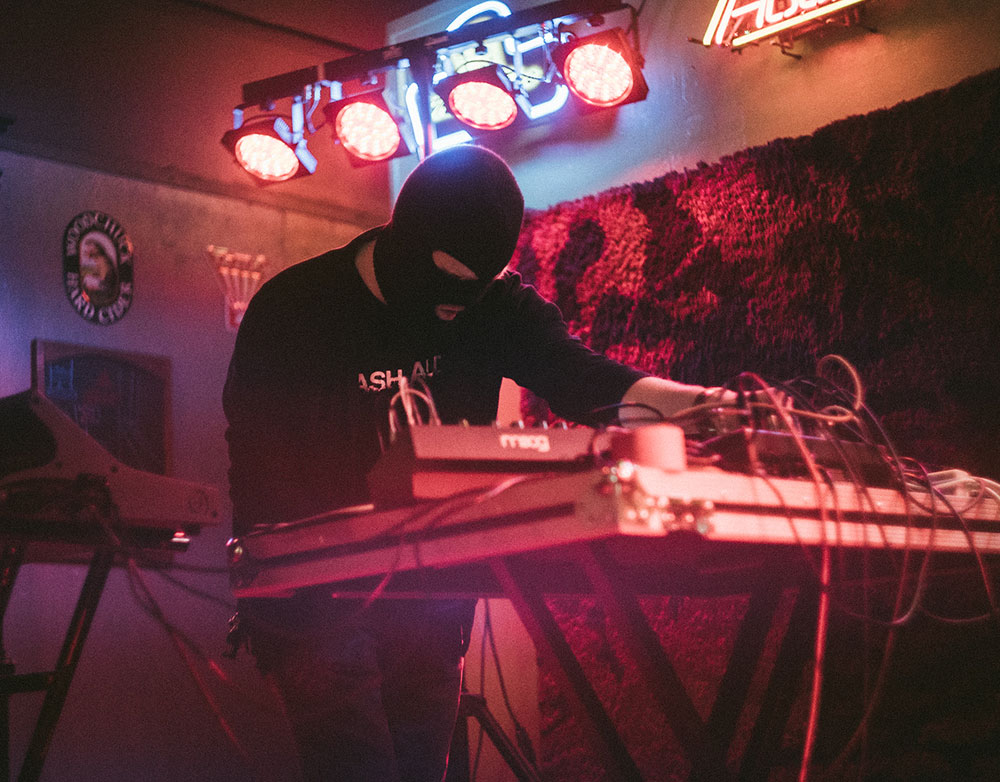 MAKEUP AND VANITY SET is an American electronic musician from Nashville, TN. He has been creating dark, expansive electronic music for the past two decades, releasing numerous albums, EPs and soundtracks. His past work includes season 3 of STARZ series The Girlfriend Experience, the horror anthology CHARLES PARK, the science fiction epic 88:88 and the dystopian double-album WILDERNESS. MAVS' output has included releases with Telefuture Records (US), YK Records (US), Data Airlines (FR) and Electric Dreams Records (US). His soundtrack work includes films such as DEATH NOTE (Netflix), Godzilla vs. Kong (Legendary) A Good Woman is Hard to Find and the podcasts RADIO RENTAL, UP AND VANISHED, MONSTER, and TO LIVE AND DIE IN LA (Tenderfoot).
Makeup and Vanity Set was born and raised in Cleveland and currently resides in Nashville. He studied electronic music and production at Middle Tennessee State University from 2000-2005, where he began to perform live and prolifically write and create music. In 2005, he relocated to Los Angeles, where he began to shift from experimental music to more aggressive electronic music. He returned to Nashville a year later, where he began writing and recording as Makeup and Vanity Set. He released a series of seminal albums, the Charles Park Anthology, 88:88 and the double album Wilderness. He has released a large array of albums with the pioneering synthwave record label Telefuture Records, as well as YK Records in Nashville, Electric Dream Records in Chicago and Data Airlines in France. His music has been streamed over 20 million times.
MAVS' first film score was for the short film 88:88, directed by Joey Ciccoline, which won acclaim during Ridley Scott's YouTube Film Festival and was screened at the Venice International Film Festival. After that, he collaborated with Anthony Scott Burns and Ash Thorp on their dystopian science fiction film Manifold.
During this time, his film work expanded into darker spaces, and the work became more in demand. He composed music for a multitude of short films as well as videos games, including the much lauded soundtrack for Stellar Jockey's Brigador, which spawned four albums of material.
In 2016, he composed music for two feature films, Tim Sutton's harrowing film Dark Night, and Adam Wingard's live-action Netflix adaptation of Death Note. Both films had considerable showings at festivals and conventions. The following year he continued to collaborate with Wingard, contributing music to his upcoming Legendary epic Godzilla vs. Kong.
In 2017, MAVS was brought on with Tenderfoot TV and HowStuffWorks in Atlanta, to compose the soundtrack to a 10-episode podcast called Atlanta Monster. The chilling podcast followed the Atlanta Child Murders. The podcast was a runaway hit, claiming the No. 1 spot on Apple Podcasts for 45-days during the first three months it was released. The podcast itself has been downloaded over 20 million times. The work led to MAVS being brought on to compose for all of Tenderfoot TV's projects, including Up and Vanished, To Live and Die in LA, Sworn, Insomniac, Monster: The Zodiac Killer, Culpable and their current hit podcast Radio Rental. Tenderfoot TV podcasts have been downloaded more than 330 million times, achieving 5 back-to-back No. 1 podcasts worldwide.
In 2018, in addition to his podcast work and touring the US, MAVS completed his first full feature film score, for Abner Pastoll's film A Good Woman is Hard to Find, a gritty UK film about a widowed mother of two who confronts her husband's killer and must fend for herself. The film has received universal acclaim and screened at Fantasy Filmfest, FrightFest (where it was the closing film), MOTELx, and Screamfest. MAVS is currently working on a full length album for Data Airlines that will release in 2020, as well as a slate of upcoming new projects for Tenderfoot TV.
FILM
Godzilla vs. Kong (Composer – Additional Music) Warner Bros.
Director: Adam Wingard
Producers: Alex Garcia, John Jashni, Eric McLeod
Starring: Eliza Gonzalez, Millie Bobby Brown, Alexander Skarsgard
A Good Woman Is Hard to Find
Film Movement
Director: Abner Pastoll
Producers: Guillaume Benski, Junyoung Jang
Starring: Sarah Bolger, Edward Hogg, Andrew Simpson
Death Note (Composer – Additional Music)
Warner Bros.
"Blood Oath", "Ono-Sendai"
Director: Adam Wingard
Producers: Jason Hoffs, Roy Lee, Dan Lin, Masi Oka, Ted Sarandos
Starring: Nat Wolff, LaKeith Stanfield, Margaret Qualley
Dark Night (Composer – Additional Music)
Cinelicious Pics
"Offret"
Director: Tim Sutton
Producers: Alexandra Byer
Starring: Robert Jumper, Anna Rose Hopkins, Rosie Rodriguez
SERIES
Stranger Things (Additional Music)
Netflix
Producers: Matt Duffer, Ross Duffer, Dan Cohen, Shawn Levy, Justin Doble
Starring: Winona Ryder, Finn Wolfhard, Millie Bobby Brown, David Harbor, Gaten Matarazzo
Watchmen (Composer – Behind the Scenes)
HBO
Producers: John Blair, Karen Wacker
Starring: Regina King, Yahya Abdul-Mateen II, Tom Mison
The Girlfriend Experience (Composer – Season 3)
STARZ
Director: Anja Marquardt
Producers: Steven Soderbergh, Philip Fleishman, Jeff Cuban
Starring: Julia Goldani
SHORT FILM
Hearth (Short)
H264 Distribution
Director: Sophie B. Jacques
Producers: Charlotte Beaudoin-Poisson, Sophie Ricard-Harvey
Starring: Marilyn Castonguay, Marianne Farley, Joel Marin
A Strange Calm (Short)
American Film Institute
Director: Austin Rourke
Producers: Jai Pellerin
Starring: Giovanna Bush, Jacob Sandler, Price Carson
Immortal Vigilante (Short)
Studio West Productions
Director: Austin Rourke
Producers: Alexander Gray, Scott McCulloch, Bonnie Spence
Starring: Jovan Adepo, Lila Byock, Christal Henry
Soon Comes Night (Short)
Director: Austin Rourke
Producers: Jai Pellerin
Starring: Meia Carr, Arthur Hinson, Martin Killion
Mather (Short)
Burtonmotion Pictures
Director: Chase Burton
Producers: Chase Burton
Starring: Obba Babatunde, Christopher Desouza, Treshelle Edmond
Leaving Hope (Short)
Director: Caspar Newbolt
Producers: Alexander Byer, Matthew Smaglik
Starring: Andy Bean, Jeff Brown, Giles Copp
Jogger (Short)
Director: Falk Klemm, Mathieu Naert
Producers: Falk Klemm, Mathieu Naert
Starring: Mathieu Naert, Anne Paris
SHORT FILM (CONTINUED)
Norad (Short)
Director: Josiah Newbolt
Producers: Josiah Newbolt
Starring: Simon Dobson
Getaway Driver (Short)
February Films
Director: Abner Pastoll
Producers: Richard C Bell
Starring: Stephanie Carey, Tony Lucken
Hit TV: The Prologue (Short)
Hulu
Director: Saman Kesh
Producers: Jason Cole, Stephane Elfassi, Saman Kesh, Kimberly Stuckwisch
Starring: Cru Ennis, Serinda Swan, Shelly Townsend
Eidolon (Short)
Director: Joey Ciccoline
Producers: Anne Ciccoline, Joey Ciccoline
Starring: Ross Bolen, Logan George, Della Saba
Manifold (Short)
Bravo! Fact
Director: Anthony Scott Burns
Producers: Johnny Hockin
Starring: Greg Calderone, Rafael Kalamat, Stephen McHattie
88:88 (Short)
Director: Joey Ciccoline
Producers: Joey Ciccoline, Sean Wilson
Starring: Ramon De Ocampo, Rachael Kahne, Robin Moore
INTERACTIVE
Brigador Killers (Upcoming) Stellar Jockeys
Brigador Stellar Jockeys
Overpass Studio Bean