Danny Mulhern
Composer
---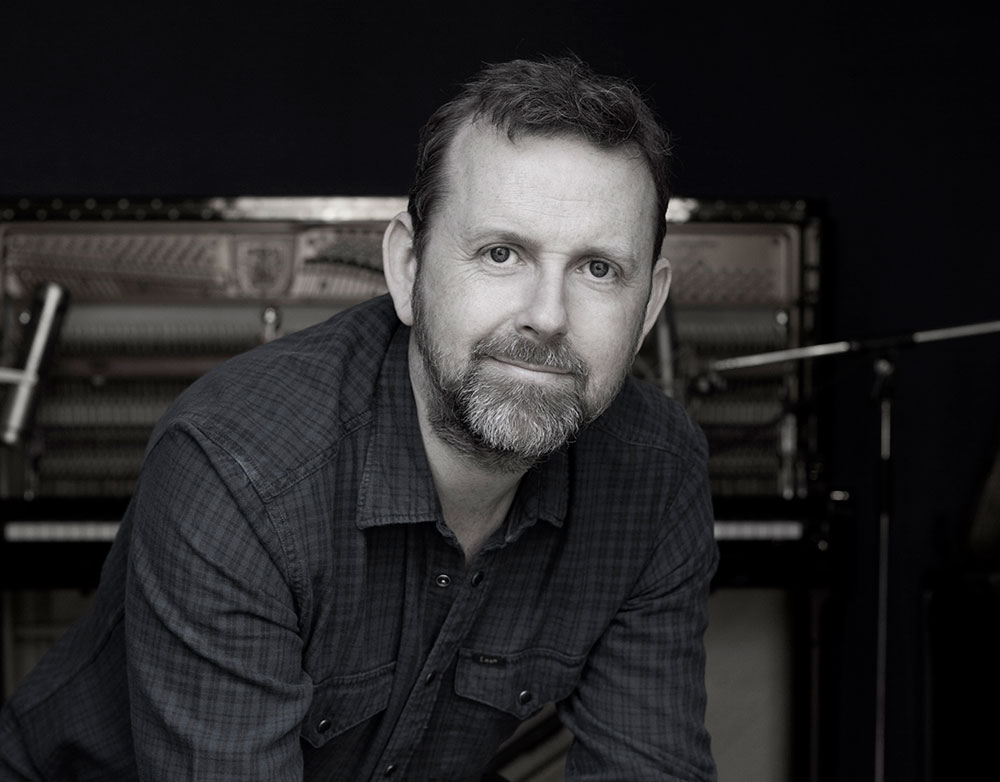 Danny Mulhern is a composer, multi-instrumentalist and producer from London. He releases instrumental music and writes music for film, mostly working with small ensembles, combining contemporary classical with ambient/electronic.
Much of his recent work has been in collaboration with the London Contemporary Orchestra on records and film scores, including the critically acclaimed What They Had, starring Hilary Swank, Michael Shannon and Robert Forster.
Other scores include long-running forensic crime drama Silent Witness (BBC Drama), BBC wildlife documentary strand The Natural World, numerous arts and science documentaries for the BBC including How Art Made The World and Alternative Medicine, plus entertainment shows with Derren Brown, Matt Lucas and Simon Pegg.
Danny recently finished a two-hour BBC biography of Princess Margaret, and is currently recording two instrumental records featuring London Contemporary Orchestra, exploring philosophical ideas around improvisation and other related topics.
FILM
What They Had
Bleecker Street Media
Director: Elizabeth Chomko
Producers: Albert Berger, Sefton Fincham, Bill Holderman
Starring: Hilary Swank, Michael Shannon, Robert Forster
Undercover in the Alt-Right
NHK BS1
Director: Bosse Lindquist
Producers: Chris Holland
Starring: Patrik Hermansson, Joe Mulhall, Stead Steadman
TELEVISION
Fake Britain (Season 9)
BBC
Director: Ben Thomas, Emily Wallis
Producers: Ben Thonas, Emily Wallis
Starring: Dominic Littlewood, Michelle Ackerley, Matt Allwright
The Sheriffs Are Coming
BBC
Director: Elliot Carr-Barnsley, Robert Murray
Producers: Emma Barker, Ben Laidlow, Julie Shaw
Starring: David Reed
Princess Margaret: The Rebel Royal
BBC
Director: Hannah Berryman
Producers: Hannah Berryman
Starring: Craig Brown, Anne De Courcy, Lady Glenconner
The House That 100k Built
Endemol Shine Group
Director: Oliver Clark, Tom McTaggart, Tom Weston
Producers: Oliver Clark, Tom Weston
Starring: Kieran Long, Piers Taylor
Staying Healthy: A Doctor's Guide
Channel 4 Television
Director: Catherine Gale
Producers: Catherine Gale
Starring: Pixie McKenna, Guatam Mehta
Oxford Street Revealed
BBC
Director: Peter Gowing, Michael Bennett
Producers: Emma Barker, Peter Lowe, Gerard Melling, Rowland Stone
Starring: David Reed, Dave Berry, Cheryl
Nature Nuts with Julian Clary
ITV 1
Director: Charlie Bingham, Simon Nash, Rob Neil
Producers: Alice Keens-Soper, Simon Nash
Starring: Julian Clary
Carol Klein's Plant Odysseys
Oxford Scientific Films
Director: Jonathan Barker
Producers: Caroline Hawkins
Starring: Carol Klein
TELEVISION (CONTINUED)
A Town & Country Murder
Crime & Investigation Network
Director: Gareth Rowlands
Producers: Michael Rees, Hayden King Gareth Rowlands
Starring: Fiona Foster
Ottolenghi's Mediterranean Island Feast
Channel 4 Television Corporation
Director: James Nutt
Producers: James Nutt
Starring: Yotam Ottolenghi
A Very English Education (TV Movie)
BBC
Director: Hannah Berryman
Producers: Hannah Berryman, Clare Sillery
Natural World – Meerkats: Secrets of an Animal Superstar
BBC
Director: Virginia Quinn
Producers: Virginia Quinn, Chris Cole, Roger Webb
Starring: David Attenborough, Tim Clutton-Brock
The Human Mannequin (Documentary)
Channel 4 Television Corporation
Director: Pip Banyard
Producers: Pip Banyard
Wonderland – I Was Once a Beauty Queen
BBC
Director: Hannah Berryman
Producers: Hannah Berryman
Starring: Tracy Dodds, Della Dolan, Craig Draper
Wonderland – Meet Britain's Chinese Tiger Mums
BBC
Director: Hannah Berryman
Producers: Hannah Berryman, Nick Mirsky
Exploring China: A Culinary Adventure
BBC
Director: James Nutt, Emma Peach
Producers: James Nutt
Starring: Ken Hom, Ching-He Huang
Silent Witness (Composer, Additional Music – Seasons 12-15)
BBC
Director: Mike Barker, Farren Blackburn, Andy Hay
Producers: Lachlan Mackinnon, Ruth Kenley Letts, Richard Burrell
Starring: Emilia Fox, David Caves, Richard Lintern
H£ir Hunt£rs
BBC
Director: Sarah Thornton, Karen Beland, Andrea Bellamy, John Widdup
Producers: Sarah Thornton, Steve Carson, Roger Bolton
Starring: Nadia Sawalha, Lisa Falkner, David Pacifico
TELEVISION (CONTINUED)
Dickens Secret Lover (TV Movie)
BBC
Director: Sarah Aspinall
Starring: Charles Dance, David Haig, Amy Shiels
Monty Python: Before the Flying Circus (TV Movie)
Netflix
Director: Will Yapp
Producers: Will Yapp
Starring: Robert Bathurst, Eric Idle, John Cleese
Derren Brown: The Heist
Channel 4 Television Corporation
Director: Benjamin Caron
Producers: Simon Mills
Starring: Derren Brown, Marc Cass, Peter Clifford
How Art Made the World
BBC Video
Director: Robin Dashwood, Mark Hedgecoe, Ben McPherson
Producers: Mark Hedgecoe, David Neiman, Kim Thomas, Douglas Varchol
Starring: Nigel Spivey, Dominic Ffytche, James David Lewis-Williams
Gifted (Composer – Additional Music)
ITV
Director: Douglas Mackinnon
Producers: Pippa Cross
Starring: Kenny Doughty, Claire Goose, Paul Popplewell
SHORT FILM
The Dead Sea (Short)
Director: Stuart Gatt
Producers: Tabitha Breese, Stuart Gatt, Kate Glover
Starring: Yasen Atour, Fayez Bakhsh, Peter Bankole
Bloom (Short)
Territory Studio
Director: Daniel Hojlund
Producers: Sam Hart
Koan (Short)
Territory Studio
Director: Daniel Hojlund
Producers: Sam Hart
Year of the Rabbit (Short)
Silhouette Productions
Director: Dan Grigson
Poisoned (Short)
Director: Darren Doherty
Producers: Darren Doherty, Martin Murphy
Starring: Peter Basham, Drew Horner, Elinor Lawless
The Fishmonger (Short)
FilmFour
Director: Jonathan Soper
Producers: Jane Harrison
Starring: John Henshaw, Rupert Procter