Dan
Marocco
Composer
---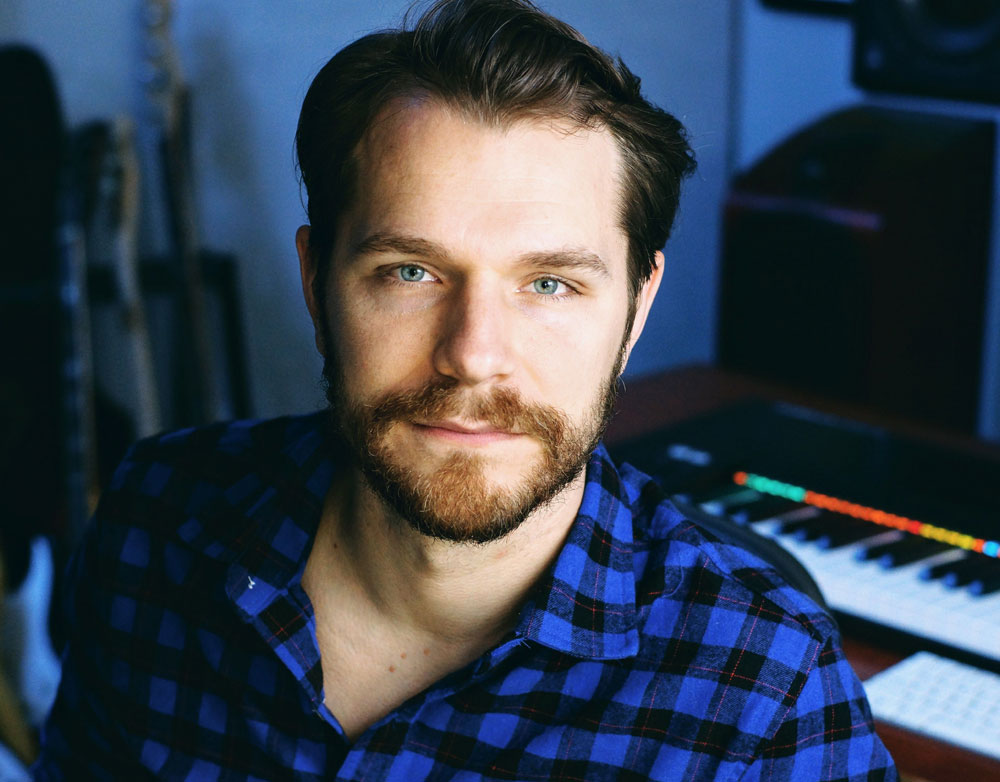 Dan Marocco is a Los Angeles-based composer for film and television. Born in Texas, and raised in Osaka, Japan; Dan's music builds from an eclectic range of influences. As the son of a music teacher, he got an early start playing the piano, trumpet and guitar. While studying at NYU, he began scoring music to picture.

From his comedic-action score for the Golden Globe winning BROOKLYN NINE-NINE, to his foreboding orchestral score for the Dimension thriller DEMONIC, Dan thrives on creating a unique sound for each project.
Dan's recent work includes scoring FLIPPED, a hilarious new dramedy on Quibi, feature films BOYS OF ABU GHRAIB and BROTHERHOOD, the adult|swim TV show NTSF:SD:SUV::, and the VICE series PILLOWTALK. Dan has also had the pleasure of assisting several notable composers including Alexandre Desplat (Argo, The King's Speech, Zero Dark Thirty) and Javier Navarrete (Pan's Labyrinth, Wrath of the Titans, Hemingway and Gellhorn).
Dan's music has also been featured on MODERN FAMILY, SAY YES TO THE DRESS and many advertisements including commercials for AT&T, Budweiser, BMW, McDonald's among others.
Dan enjoys writing from his studio in Glendale, CA with frequent visits from his wife, three young children and studio-dog, Diego.
FILM
Demonic
Dimension Films
Director: Will Canon
Producers: Lee Clay, James Wan
Starring: Maria Bello, Frank Grillo, Cody Horn
Boys of Abu Ghraib
Rebel One Pictures
Director: Luke Moran
Producers: Edward Zwick, Cru Ennis, Luke Moran
Starring: Luke Moran, Sean Astin, Sara Paxton
Brotherhood
Hunting Lane Films
Director: Will Canon
Producers: Jason Croft, Steve Hein, Tim O'Hair
Starring: Lou Taylor Pucci, Trevor Morgan, Jon Foster
Zero Dark Thirty (Music Programmer)
Columbia Pictures
Director: Kathryn Bigelow
Producers: Stephanie Antosca, Mark Boal, Megan Ellison
Starring: Jessica Chastain, Kyle Chandler, Joel Edgerton
Argo (Music Programmer)
Warner Bros.
Director: Ben Affleck
Producers: George Clooney, Grant Heslov, Ben Affleck
Starring: Ben Affleck, Bryan Cranston, John Goodman
Deadline (Documentary)
Arts Engine
Directors: Katy Chevigny, Kirsten Johnson
Producers: Dallas Brennan, Katy Chevigny
TELEVISION
Flipped
Quibi / Funny or Die
Producers: Ryan Case, Damon Jones, Steve Mallory
Starring: Will Forte, Kaitlin Olson, Arturo Castro, Andy Garcia
Brooklyn Nine-Nine
Universal TV/20th Century Fox TV
Producers: Dan Goor, Mike Schur, David Miner
Starring: Andy Samberg, Andre Braugher, Chelsea Peretti, Terry Crews
Pillow Talk
Pulse Films/VICE
Producer: Sharon Horgan, Mike Piscitelli, Rachael Taylor
Starring: Patrick J. Adams, Luka Jones, Erin Moriarty
NTSF:SD:SUV
Warner Bros. TV/Cartoon Network
Producers: Paul Scheer, Curtis Gwinn, Jonathan Stern
Starring: Paul Scheer, Kate Mulgrew, Martin Starr, Karen Gillan
Modern Family (Original Music Licensed)
20th Century Fox/ABC
Producers: Steven Levitan, Christopher Lloyd
Starring: Ed O'Neill, Sophia Vergara, Julie Bowen, Ty Burrell
NYC 22 (Additional Music)
CBS
Producers: Richard Price, Carter Harris, David Rambo
Starring: Adam Goldberg, Leelee Sobieski, Mark Sands
TELEVISION (CONTINUED)
Lie to Me (Additional Music)
20th Century Fox TV
Producers: Samuel Baum, Brian Grazer, Daniel Sackheim
Starring: Tim Roth, Kelli Williams, Brendan Hines
Rubicon (Additional Music)
Warner Horizon TV/AMC
Producers: Jason Horwitch, Henry Bromell, Blake Masters
Starring: James Badge Dale, Jessica Collins, Lauren Hodges
Life on Mars (Additional Music)
ABC Studios/20th Century Fox TV
Producers: Josh Appelbaum, Jane Featherstone, Stephen Garrett
Starring: Jason O'Mara, Gretchen Mol, Harvey Keitel
Dirty Sexy Money (Additional Music)
ABC
Producers: Craig Wright, Greg Berlanti, Bryan Singer
Starring: Peter Krause, Donald Sutherland, William Baldwin
Say Yes to the Dress (Theme Music)
TLC
Producers: Amy Rogers, Cornelia Showalter, Holly Silber